Cash Mortgage Refinance with FHA
Homeowners have a distinct advantage when refinancing with a cash back mortgage, because of the access to money at cheap rate with tax advantages as well. Yes you can get money back when refinancing with the Federal Housing Administration. This popular refinance product called the "203B" allows for people to receive cash when their loan closes escrow. In today's market, cash out refinance opportunities are more cherished.
In the past cash back was allowed up 95% loan to value but today FHA is approving cash refinancing up to 85% loan to value. For example if you would like to finance some home remodeling and it's worth $450,000 and you want to get an additional $75,000 to cover the costs it won't be a problem. Compare our FHA refinancing with subprime or traditional mortgages and you will be pleasantly surprised.
Nationwide Mortgages is a direct lender who prides themselves in providing quick approvals and quick painless closings. FHA is one of the last cash mortgage products that allow borrowers to receive funds back in a refinance transaction with low credit scores.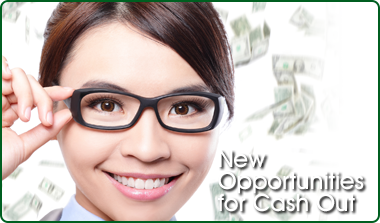 Fund Your Dreams with Cash Mortgage Refinancing from FHA
With home improvement costs falling, now is a great time to get cash out and make those needed repairs. Today, FHA rates continue to make headlines as falling below the 4% barrier offers a clear path for homeowners to save money when taking action with regards to available refinance offers. It's important to know that traditional lenders are requiring more equity on their cash out refinance loans.
Fixed FHA Refinancing Pays Cash to Borrowers
Evaluate our FHA choices; cash back options, loan terms and get helpful advice on government home mortgages. FHA refinancing is ideal for homeowners shopping for a reliable fixed rate loan.
Cash mortgages by FHA is still protected and insured by our government. Consumers are encouraged to apply online with lenders like Nationwide. We are HUD approved to extend credit for refinance mortgage liens with residential collateral.
More Unique FHA Refinance Programs to Consider:
FHA Mortgage Loan Highlights
FHA refinancing amounts range from $271,000 to $700,000 (based on HUD high cost limits in county)
Low Credit Scores Allowed
95% LTV for getting cash in hand
Maximum Debt to Income - 43- 55% depending on equity and credit history
Documentation Types - Full Doc with Cash Out
Consolidate all your high rate revolving debts into new home loan
Cash Mortgage Approved with Low Fico Scores
30-Year Amortization Term
30-Year Fixed Interest Rates
Maximum CLTV up to 96.5%
No Fees for Early Pay-Off
Cash Out Mortgage Option to 85%
15-Year Amortization Term
No mortgage insurance for 15 year terms under 90% Loan to Value