Fixed Second Mortgage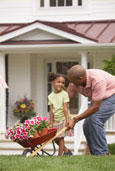 The Nationwide lending team offers fixed second mortgage loans that lock in the interest rate for the duration of the term. Most consumers are looking for a fixed rate and fixed payment that they can calculate into their monthly budget. Many borrowers are complaining of the rising payments from their home equity lines of credit and the solution is a fixed home equity mortgage. We continue to lend to borrowers with both good and bad credit. If your credit is not good you will be limited to 100% loan to value. If your credit and income are good, then you may qualify.
Lowest 2nd Mortgage Rates Online
We pride ourselves in providing competitive 2nd mortgage products at an affordable rate of interest. If you are looking to get cash out of your home and need help finding the right loan, then let Nationwide Mortgages help you set up a second mortgage. We offer favorable fixed mortgage rates for refinancing or debt consolidation. With house prices on the rise again, equity lines and 2nd mortgages have become fashionable once again.
Find Out More About the Best Second Mortgage Rates
Shop second mortgage rates and compare home equity mortgages for 15 to 30-year fixed rate, variable or interest only. Nationwide Mortgages will keep you updated with financing news with helpful home equity advice and information about your loan in process. Get a free loan quote from an experienced loan officer. There is never any application fee or any obligation for researching fixed mortgage rates or home loan programs.