Credit for Home Buying Loans and Mortgages
If you are searching for a loan to buy a home with bad credit, Nationwide can introduce you to several mortgage financing options. Fannie Mae, Freddie Mac and FHA offer the most popular home buying loans for people with bad credit and no history of making mortgage payments. If you are renting now and are entertaining homeownership, Nationwide can match you with trusted lenders offering affordable home loan programs. Why not let a professional hold your hand so you can learn how buy a home with limited or no credit without having to break your piggy bank.
Why Credit Scores Remain Important for Buying a House in Today's Market
Owning a home is the dream of just about everyone. In fact, this particular goal is the cornerstone of the American dream. Unfortunately, there are plenty of people out there who find that their dream is unattainable because they did not take the proper steps to make sure that their credit was in good shape before going to a bank or other lending institution and requesting a mortgage loan. If you are concerned about your credit score and how it might affect your ability to get favorable terms on a home loan, there are a few things you can do before you ever step foot in a bank.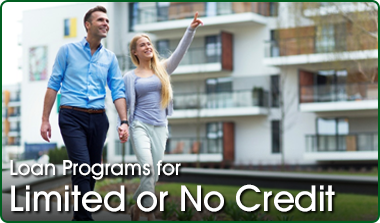 The first step should be to find out exactly what your credit score is. Fortunately, there are a number of free resources available online that can tell you what your credit score is with the three major credit reporting bureaus. This will also give you the opportunity to take a closer look at your history. It is a good idea to spend a lot of time carefully sifting through your credit history in order to make sure that there is no inaccurate information that can negatively affect your ability to get a loan. If you have the ability to qualify for an "A" paper loan with a prime rate, you should because a bad credit house loan may require you pay a higher interest rate.
Keeping your credit in good shape means paying all of your bills on time and maintaining a low balance on any and all credit cards that you may have. It's not enough to simply have a high credit score, you also need to have a reliable credit history, which means that making all of your payments on time will definitely have a positive effect when it comes time to negotiate the best possible terms for your loan.
There are non-traditional sources that offer subprime loans for people buying a home with bad credit. Take some time to look around before jumping to a conclusion that you don't qualify.
While banks and other home lenders pay careful attention to credit scores and history, they also look at other factors such as an individual's debt to income ratio, the amount of money that they are able to put as a down payment, and even their employment history. Once you know exactly what banks are going to consider when determining your qualifications as a borrower, you will be better able to plan ahead and take care of any potential problems and you will find yourself in a better position to negotiate for the best terms possible. Being a smart borrower not only means putting yourself in a position where you can maximize your purchasing power, it also means comparing the rates and terms from several different lenders in order to find the loan that best suits your needs and goals.
Read the latest post by James Swift: Top 7 Things to Consider When Getting a First Time Home Buyer Loan