Stated Income Loans
Many borrowers need stated loans and no income verification mortgage programs, die to the difficulties of documenting income with many types of jobs in today's competitive global economy. The stated income loans that people became fond of a few years ago have disappeared. Nationwide Mortgages can introduce you to companies that offer streamline loans that allow borrowers to refinance with little or no documentation. Most lending companies no longer offer no income verification loans but our private lenders still offer these reduced paperwork home loans to qualified applicants.
At Nationwide Mortgages, we provide info on refinance and purchase mortgages that have reached 40-year record lows!! We can direct you to some of the unique mortgage lenders who specialize in stated loans for new home buying and mortgage refinancing. Learn more about qualifying for a no income mortgage. There are still a few stated income loan programs available to qualified borrowers.
Stated Loan Refinancing
Learn more about several streamline loans that enable homeowners the ability to refinance without having to provide income documentation. Take advantage of record rates and find out what it takes to lock into a fixed 30-year home loan.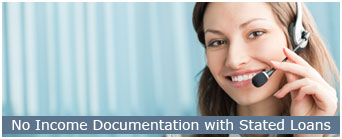 No Income Verification Mortgages
Stated Income Home Loans
No Income Verification Mortgage
No Doc Mortgage Loans
No Pay-Stubs Required
No Assets Home Mortgage
Stated Loan Programs for Self-Employed
Many banks and lending companies may be offering house refinance loans that seem too good to be true... In many cases that's exactly what it is—Too good to be true. A good sign of this usually happens when the loan officer from that bank refuses to call you back. Nationwide cannot guarantee you will qualify for the stated income loans, but we can direct you to the right lenders so that you can find out if these types of mortgages are good fit for you.
Nationwide has many special programs to choose from, so take advantage of our lending niches that were created to meet your needs.