Streamline Loan
Quick Refinance with FHA & VA
If you have a FHA or VA loan, chances are you will be eligible for a streamline loan refinance that guarantees a lower fixed interest rate with no pre-payment penalties. Many homeowners have jumped on the streamline loan bandwagon because the rates are low and guidelines have been expanded to help more people refinance. There are several types of streamline loans that are available with FHA and VA loan programs. 30-year mortgage rates for the streamline loan fell to a record low this year!
No Appraisal with Streamline Loans
No Equity Required with FHA and VA Streamlines
No Income Documentation when Streamline Loans
No Credit Scores Needed with Streamline Refinancing
Streamline Refinance Loans with FHA and VA
At Nationwide Mortgages we pride ourselves in matching you with experienced lenders who understand the ins and outs of both VA and FHA streamline loan programs.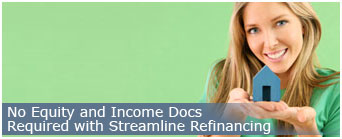 Streamline Loans Can Save You Money!
Find the lenders that just rolled out several streamline loans that enable homeowners the ability to refinance without having to provide income documentation. Both VA and FHA streamline refinance programs are unique and you must already have a government mortgage lien to be eligible. Take advantage of record low streamline mortgage rates and lock into a fixed 15 or 30-year loan starting at 3.75%. Ask your lender to compare the rates for conforming and the FHA refinance.
Make sure that when you are shopping streamline loans online that you only compare quotes from FHA Approved and VA credited mortgage lenders.