Adding a garden to the landscaping of your home will not only add to its curb appeal, but it can also bring in some beautiful color and lively plant and animal life for you to enjoy. Whether you consider yourself to have a green thumb or you're trying out gardening for the first time, there are several things you can do to ensure that your garden will thrive and survive throughout the different seasons. You can choose a variety of different flowers, plants, and vegetables or stick to one gardening type depending on your needs. If you know the best methods for planting in your particular zone, the possibilities for a beautiful garden you'll enjoy all year long are endless.
Vegetable Gardening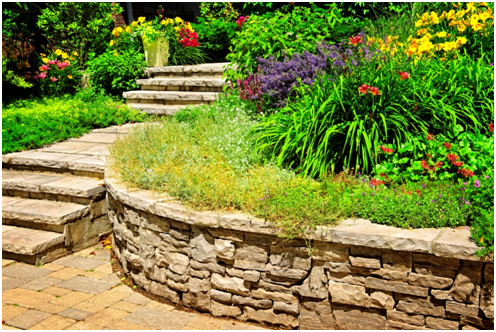 Before you decide to plant a vegetable garden, choose a location in your yard where you plan to plant. Keep in mind that certain vegetables need full sun, while others prefer shady spots. You will want to plant your veggies of choice in an area that will provide them with the best sun for their needs. For example, tomatoes like a lot of sunshine, while root vegetables such as carrots or potatoes that grow underground do not need as much direct sunlight. Plant the tallest vegetables behind the other plants so that they won't cast a shadow on lower-growing plants that need the sun. Make sure you apply a good-quality fertilizer or use compost when planting vegetables. These types of plants grow best in organic matter full of worms and natural enzymes. Be sure to till the soil well before planting since vegetables grow better in loose, less compacted dirt. Space each seed or seedling far enough apart so that your veggies will have plenty of room to spread out and grow, and organize them in rows by type. It's also helpful to label your garden now so that when everything begins to grow, you will easily be able to identify each vegetable. Make sure you water your vegetable garden slowly, and be careful not to over-water. Vegetables typically only need about one inch of water per week including natural rainfall.
Flower Gardening
A flower garden can add pops of color to your landscaping and attract butterflies and hummingbirds throughout the warmer months. Take a look at which zone you live in so you can purchase seeds or flowers that will be hardy in your particular area. Flower love full sun, so choose a planting spot where they will receive at least six to eight hours of full sun per day. The more sun they receive, the bigger the blooms will be. You'll also want to choose between planting annuals or perennials. Annuals will sprout, grow, and then last for one season before they die, while perennials will return year after year. If you prefer to change the look of your flower garden each season and don't mind planting new flowers every year, annuals are a good choice. You can also mix and match plant types; work around the perennials that return the following year and incorporate new annuals to change things up. Keep an eye out for small pests that like to feed on flower leaves, and use an organic pest control product that will keep them at bay while protecting your flowers. Arrange your flowers in a beautiful pattern by mixing different species and colors to give your garden a completely natural, beautiful feel. The look of your flower garden will really add appeal to the outside of your home.
Kids' Gardening
Kids love to play in the dirt, and giving them their very own space in the garden is a great way to teach them about nature and responsibility. Designate a place in your garden or yard where the kids can plant their own seeds. Let them pick out a few plants that they really like, and purchase smaller gardening tools made for children so they can be a part of the gardening process. Bring in some hummingbird feeders and place them in the garden. Kids love to watch these tiny birds zip around as they feed from the containers, and it's a great way to teach them about these mysterious birds. Choose plants that are easy to grow, like cherry tomatoes, sunflowers, and lettuce or cabbage. Let your child do all of the digging, and have them help you water the garden so that they can see the fruits of their labor as the plants begin to thrive and grow. When their garden begins to flourish, let them pick a bouquet of flowers to bring inside or harvest the veggies they've grown so you can eat them for dinner. This is a great way to spend quality time with your child while teaching them as they have fun.
Other Gardening Resources
If you're new to gardening and not sure where to begin, it's always a good idea to talk with your local plant nursery for advice. They can point you in the right direction and show you which plants should do best in your local area. Workshops and even lectures can also often be found throughout the planting season. Check with your local library or college to see if there are any gardening classes available. Talk with friends and family members who also enjoy gardening so they can provide you with some sound advice. With a little bit of hard work and patience, you'll be pleased with the way your garden adds some life and happiness to your home.