The Do's and Don'ts of Home Remodeling
Although home ownership comes along with a lot of responsibility, there is also a lot of flexibility when it comes to making a house feel like a home. Upgrades and remodels are often made to increase the growing needs of a family or to simply personalize the space to fit a homeowner's preferences. While these remodels can make a home more fitting to a specific homeowner's desires, it is important to consider how the changes will affect the value of the home in the long run. Naturally, most homeowners wish to perform remodels that will increase the overall value in the event that they decide to sell their home at some point. Surprisingly, even some of the smallest changes can drastically increase the resale value of a home. Others, however, may not increase the value at all, and in some instances, remodels may even decrease the overall value of a home. Before undergoing a home remodel, there are some do's and don'ts that homeowners should consider to maximize the value of their home.
When remodeling a home, the most important factor is that the work is done by a professional. A professional contractor will ensure that any remodel is done safely and properly, which is important when it comes to the value of a home. Homeowners may consider asking friends, family members, or co-workers for recommendations when hiring a contractor. Once a contractor is hired, it is vital to ensure that they have experience with the type of work that they will be performing on the home. An experienced contractor will be able to provide advice on the best methods, techniques, and styles for a particular style of home. Homeowners should consider starting with small and simple projects to best maximize the value of their home. The most popular projects for increasing the value of a home include ones that increase energy efficiency, those that add useable space to the home or its outdoor space, and those that add a few simple luxuries to the home. It is important to consider the area in which the home is located, although minor upgrades to areas such as attics, decks, kitchens, bathrooms, and entrances are generally excellent for increasing resale value.
Do hire a professional contractor with a good reputation and experience in performing similar remodels.
Do make energy-efficient home improvements and remodels.
Do research the value that certain features will add to a home based on location. For instance, a pool may dramatically increase the value of a home in a warm area, while it may not add much to a home located in a cooler climate.
Do convert attics or basements into finished and usable space.
Do replace windows with French-style or sliding glass doors that open to the outdoor area.
Do update or remodel front and garage doors.
Do invest in kitchen upgrades with updated appliances.
Do add simple and maintainable landscaping to outdoor spaces.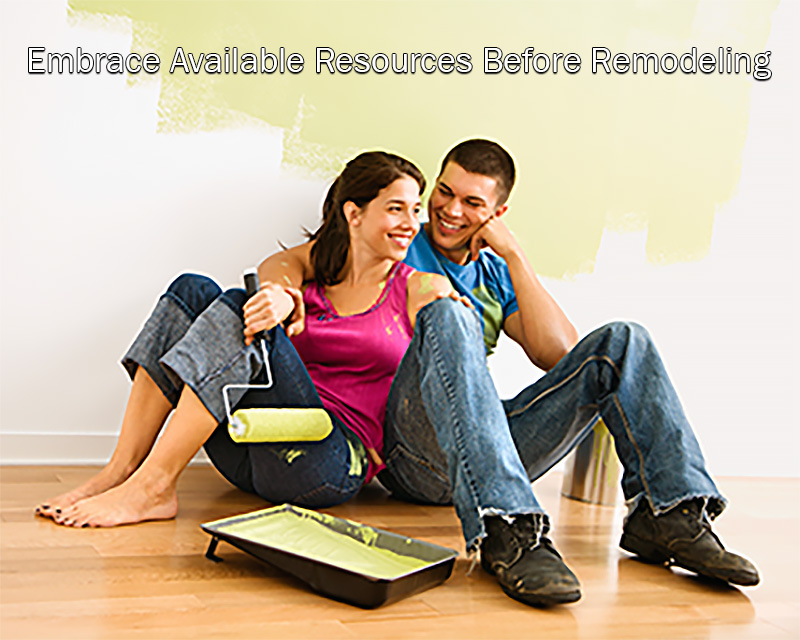 While there are numerous projects that increase the value of a home, there are just as many that simply waste money and may potentially decrease the overall value. The changes that often do not offer much financial return when it comes time to sell include major luxury or specialized upgrades. Remodels that feature high-end luxuries such as marble floors may not pay off later on, especially if the rest of the home does not feature these types of amenities. Other luxury items, such as pools, may increase the value of homes in some locations, while in others, they may be considered a safety hazard for families or too much of a hassle. Major upgrades in bathrooms or kitchens may also make the rest of the home appear outdated or not up to par. Before considering any major or luxury upgrade, homeowners should thoroughly research the return that they are likely to see based on the specific remodel and location.
Don't focus on high-end upgrades unless they fit in with the rest of the home.
Don't make major or extensive changes to only one room or one portion of the house if the house is older.
Don't make upgrades to a home that do not fit in with the style of the rest of the neighborhood.
Don't expect a big return on specialized or unique remodels, such as brightly colored carpeting, media rooms, or rooms designed specifically around a particular hobby.
Don't convert a garage into a space for a home addition or different use.
Don't expect to see an increase in home value for new plumbing, air conditioning, or heating systems.
Don't attempt to make major home remodels into do-it-yourself projects if you have little or no training or experience.
Don't work with a contractor without a detailed contract in place to protect both parties.
Don't leave floors or walls exposed during a remodel. Floors or walls may be damaged during renovations if they are not properly protected, which will cost more money in the end.
Don't go over budget with a remodel. Plan and discuss a budget with the contractor before the project is started.