Are you interested in refinancing your mortgage? How about managing your money better? You are in luck: There are outstanding, free apps available to help you do both! Refinancing your mortgage and managing your money has never been easier than with these 10 apps:
#1 Zillow Mortgage Calculator
For those who are looking to get a mortgage, refinance a mortgage, or find their dream home, this comprehensive Zillow app could be just the ticket. You can determine exactly how much house you can afford and estimate your new monthly mortgage payment.
Also, gain better control of your home refinance process with live mortgage rates from the best lenders in the country. You can compare loan refinance quotes and obtain pre-approval for your loan.
Special feature: The refinance calculator estimates the breakeven point on your new potential mortgage and illustrates money savings over time. The app also includes new HARP quoting that provides custom refinance rates for homeowners who are underwater on their mortgage. Check refinance mortgage rates today.
#2 Mint: Personal Finance & Money
This free Mint app will help you to spend your money smarter and to save. You can easily pull all of your accounts, cards and investments in one place to easily track spending. Create your budget, get daily bill reminders and receive tips every day for saving money.
See all personal finance accounts in one place.
Track cash, credit cards and checking accounts so you can save more money.
Manage your budget more effectively to understand your transaction patterns.
Set up financial goals, such as saving for a trip, paying down debt, getting a mortgage.
Beautiful charts and graphs that show you in one glance how you are spending money.
Your data and accounts are completely secure with 128-bit encryption.
#3 Mortgage Calculator Full
Are you looking for a home or want to refinance an existing mortgage? Try Swifmatic's simple mortgage app. You can quickly calculate if it is worth it to refinance; also easily determine when you will recover your refinance charges.
Discover how much you can afford and whether to opt for a 15 or 30-year mortgage.
Other cool features:
News and rates from Bankrate.com.
Possible US tax deductions.
Save unlimited profiles.
Many loan types.
#4 Karl's Mortgage Calculator
Easily calculate mortgage payments when given principal, interest and term. You can reverse calculate any one of the variables when given the other two. Enter down payment amount or percentage and have the calculator show you how large a mortgage you can have.
See how your monthly payment shifts when you factor in more monthly or annual loan costs – PMI, taxes, insurance and HOA fees.
Supports both fixed and adjustable mortgages with as many as five changes in interest rates.
Interest only mortgages supported.
Feature that shows how paying off your mortgage early can help you.
Choose from weekly to annual loan payments; adjust compounding from daily to annual periods.
#5 Personal Finance
Personal Finance is the perfect app for managing all of your personal finance needs:
Mortgage and loan rates updated in real time.
Mortgage and loan calculator.
Tip calculator.
Retirement and 401k calculator.
Market overview with indexes, funds and ETFs.
Currency portfolio and converter.
Track portfolio with shares and cost.
Compound interest calculator.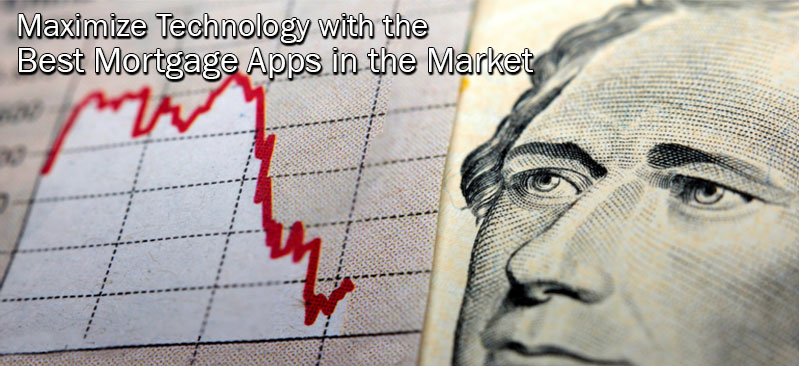 #6 Mortgage Coach
Advertised as the first and only app that allows homebuyers to work with a mortgage professional to obtain complete financial transparency about all mortgage options and refinance scenarios. Choose from rate and term or cash out refinance rates.
It is made to offer the user the most detailed home buying analysis. Helpful features include:
Easy to grasp loan comparisons.
Complete clarity via a video walkthrough of all loan details by your loan officer.
APR, interest rates and monthly payments at a glance.
Rich and colorful graphics show benefits of each mortgage option.
Real time changes that all user and mortgage professional to change details so new options are easily understood immediately.
#7 Mortgage Pro
If you are searching for a no-frills mortgage calculator, this Android app by Skynet Creations could be the solution. Mortgage features include:
Mortgage payment calculator.
How much home can I afford?
Should I get a 15 year or 30 year mortgage?
Should I pay points?
Balloon mortgage calculator.
Interest only mortgage calculator.
Features current Bankrate.com rates.
#8 Mortgage Calculator by QL
This comprehensive mortgage calculator by Quicken Loans makes it a breeze to calculate your mortgage payments, and even fun. You can calculate, save favorites and obtain real-time rates from this attractive mortgage calculator.
Payment refinance calculator – Determine what your monthly payment will be with a refinance.
Amortization calculator that shows the total cost of your loan, and what you can save with extra payments.
Home affordability calculator that easily illustrates what you can afford on your income.
#9 Money Lover – Money Manager
This fantastic money management app will make you better understand just where your money goes – spend more wisely! With this simple and handy phone app, keep track of all of your spending and plan your budget to save money.
Expense tracker/money manager – Keep easy track of daily spending in minutes. Just key in the numbers and select category.
Budget planner – Manage budgets for every expense for a week, month or year.
In-depth personal reports – Bar and pie charts that provide the most accurate image of all of your spending.
Bill reminder – Never miss a payment and incur a late fee again.
Cloud syncing – If you have more than one device, Money Lover will keep everything synced and up to date.
#10 Monify – Money Manager
How good are you at tracking your expenses? It has never been easier than with Monify. Add new transactions as you make them in seconds – in one click. If you want to track expenses with your significant other, you can easily and safely synch data between your devices.
Add new records with ease.
Intuitive and easy to use interface.
Built in calculators.
See all of your spending on slick, informative charts and obtain detailed information from transaction lists.
Try a few of these simple mortgage and money management apps today and tell us what you think of them!