6 Reasons Why a Mortgage is Perfect to Refinance Bad Loans and Credit Debt
Today credit card debt is the #3 debt source for Americans after their mortgages and student loans. The Federal Reserve stated in 2015 that the average US household held $15,000 of credit card debt.
But home prices are continuing to rise in many major markets across the country, leading to a buildup of equity in properties. Some home owners may have some very good options to help them to pay down those credit cards. The increase in property values is making many home owners flush with cash. If they choose to, they can refinance their home and pull out cash to pay off their credit cards.
This can be the perfect way to refinance bad loans and to get rid of credit card debt. Here are some of the best reasons to pull the trigger on a mortgage refi to pay off debt in 2017:
1. Refinance Mortgage Rates Are Very Low
Mortgage interest rates started to rise at the end of 2016, but lately, they have been declining. As of June 2017, some home owners will be able to refinance for less than 4%. This is very inexpensive credit, some of the cheapest that you probably will ever see.
If you can refinance your mortgage for 4% or 5% and pull out equity, you will be saving yourself a lot of interest. These days, the typical credit card interest rate is around 15%. So you could easily save 10% in interest per year.
As a bonus, you may be able to take advantage at tax time by writing off that additional mortgage interest on your taxes. The US Congress likes to encourage home ownership as much as it can. One of the ways it does so is to allow mortgage holders to write off the interest on their mortgage up to a certain annual amount.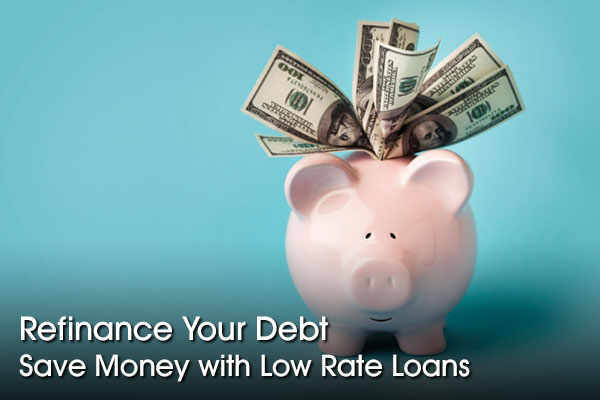 2. Simplicity of Consolidating Debt in a Fixed Rate Mortgage Refinance
Many home owners find that having to pay several credit card payments per month is confusing and hard to do. It is easy to miss a payment and you will usually be hit with a $35 or more late fee. And, if you miss a payment by 30 days, it will go as a black mark on your credit report.
An easy solution is to do a cash out refinance of your mortgage, and pay off your credit cards with your equity. This gives one, simple, low interest payment each month.
3. Bigger Loan Amounts with Refinance Mortgages
Depending upon how much equity you have in your property, you may be able to borrow a good deal more money than you could if you take out an unsecured loan.
The mortgage lender knows that the home is your primary residence and are highly likely to pay back the loan. Otherwise, you can lose your home.
Loans that are unsecured are higher risk and carry lower limits and higher interest rates. If you have $40,000 of credit card debt, there are few better options available than pulling equity out of your home and paying it off.
4. Adjustable Rate Refinance Mortgage Loans Available
If you decide to get an adjustable rate mortgage, you can save even more money in the short run. Typically, you can get a 5, 7 or 10-year ARM that will carry a rate at least .5% lower than a fixed rate loan.
This can be a good move if you are sure that you will be able to pay the mortgage payment if the rate on the loan goes up when the introductory period expires. Also, some home owners decide on an ARM to do their cash out refinance and pay off bad debt because they think they will move out of the home before the rate possibly increases.
5. Increased Credit Score
If you are carrying a lot of credit card debt, this will negatively affect your credit score because you are using a high amount of your available credit line.
When you pay down or pay off your credit cards, you will see that your credit score will go up, and often by a lot. It is not uncommon for a credit score to jump 30 or 50 points when a person pays off enough credit card debt to drop their credit utilization below 33%.
It is true that you will be taking on more mortgage debt to pay off the credit cards or other bad debt. But the credit bureaus view mortgage debt differently than credit card debt. Home owners are highly likely to pay off their mortgage debt because they can lose the house if they don't.
6. Mortgage Refinance Rates Could Climb
The Federal Reserve just increased rates in mid-June 2017. It is not clear yet how much this will affect mortgage interest rates. But we clearly are on a path to higher interest rates in the future because the Fed has raised rates three times in the past year, and is promising more increases in the future.
2017 could be the last time that you will be able to do a refinance mortgage with cash back on your home at a very low rate in the 4's. Check cash out refinance rates today.
It is a very good time to refinance bad loans and credit card debt with a cash out refinance. Interest rates are still near record lows. Homes are appreciating in value. And paying off credit card debt will help you to raise your score and to put you in a stronger financial situation.
As you consider doing your cash out refinance, just be sure that you will not just run out to the store or online and run up your credit cards again. As long as you don't do that, refinancing with cash out can be a fantastic financial move.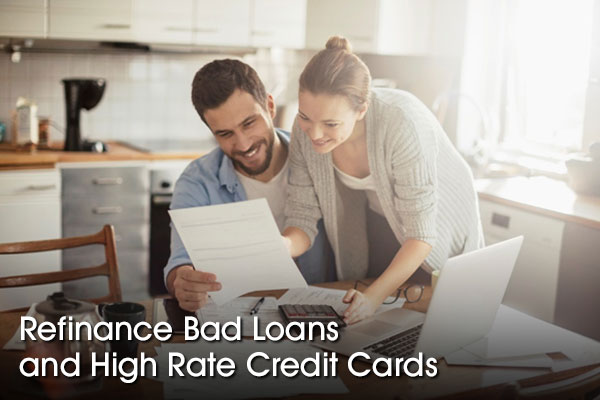 3 Solutions for 100% Refinance Mortgages
The housing market has mostly recovered from the most real estate downturn. Home prices continue to rise as demand outstrips supply in some parts of the country. Interest rates still are hovering near 4% in mid-2017, so now is a good time for people to buy a home or to refinance.
But there are some people who are still feeling the effects of the mortgage meltdown of 2009. Some home owners still have a mortgage where they are underwater, or owe more than the home is worth. This means that they have either no equity in their home or negative equity. This used to mean that refinancing into a lower rate was next to impossible.
There is hope for these home owners, however! The Home Affordable Refinance program or HARP was created in 2009 to help home owners to get out from underneath an unaffordable mortgage with zero or negative equity. The program has allowed millions of home owners to refinance their loan into a new, low rate so that they could avoid foreclosure.
Since HARP was created in 2009, it has had many changes. These days in 2017, the program is referred to HARP 2.0, but HARP 3.0 has already been in the works for a while. It is expected that HARP 3.0 will be rolled out in either 2017 or 2018.
But what is HARP all about for home owners who are in trouble with a zero or negative equity, high interest mortgage? Basically, if you have a Fannie or Freddie backed mortgage (this could change; keep reading) that you have little to no equity on or negative equity, you may be able to refinance the home using your old appraisal.
That's right. You do not have to have a new appraisal; after all, it is likely that the new appraisal will be for less than what you owe on the home. The HARP program is designed to use the old appraisal to get you out from underneath a mortgage that could end up putting you into foreclosure.
Not everyone will quality for the HARP program, but the qualifications are fairly easy:
Your loan must be backed by Fannie Mae or Freddie Mac
You have to have paid your mortgage payments on time for the last six months. This is not a program for someone who is in trouble on their mortgage and is about to lose their home.
You have to have under 20% equity in the home. This program is only for people who have little to no equity and cannot refinance elsewhere.
Your loan has to have been issued on or before May 31, 2009.
If you meet these requirements, there is a very good chance that you can refi with HARP.
However, you should know that with HARP 3.0 coming soon, some of the above criteria could change. A big one is that the US government may allow no equity refinance mortgages for people whose loans are not backed by Fannie or Freddie.
Right now, Fannie, Freddie and FHA backed loans are about 90% of the total home loans in the US. But from 2001-07, there were many other lenders in the market as many new companies were attracted to mortgage in the boom years.
There are still millions of those home loans on the books. But right now, these borrowers have not been able to get a HARP refinance. Also, people with subprime mortgages have not been allowed to refinance either.
And, there are also loans that were classified as 'jumbo' loans that were too big for Fannie and Freddie to back. Those also have not been able to refinance with HARP.
If HARP 3.0 is approved in 2017 or 2018, here are some of the changes that could happen:
People with 'jumbo' mortgages from the past may be able to qualify for HARP
Wage earners with stated income mortgage may quality for HARP
Subprime loan holders may quality
Alt-A borrowers who have improved their credit score may qualify
Hopefully, the US government will approve HARP 3.0 soon so that more people can qualify for a refinance mortgage with little or no equity.
The Home Affordable Refinance Program in the past has saved home owners billions of dollars on payments, and people with no equity also could use HARP to refi and they did not have to pay for mortgage insurance.
HARP also allows home owners who are seriously underwater on their mortgage to refinance. The program has been very popular with borrowers in NV, FL and CA that were hit hard by the downturn.
Also, you do not have to have great credit to refinance, and there are many HARP approved lenders available. If you meet the criteria that we mentioned above, it is worth talking to several lenders to see if they can help you.
HARP also can be used by people who have an underwater mortgage on their second home. It can even be a vacation home or an investment property.
Even though the HARP program is very generous and easy to qualify for, many people have not been aware of it and have left their home. This leaves them with a foreclosure on their record. This sad outcome often was not necessary, so we advise you to see if you can qualify in 2017 or 2018 for a HARP refinance.