FHA 1st Time Home Buyer Loan
3.5% Down-Payments
The Federal Housing Administration insures loan programs for first time home buyers with low money down and good mortgage rates and favorable terms. FHA home mortgages are managed by HUD and backed by Congress in hopes of stimulating homeownership with cost effective house financing. Finding a loan for first time home buyers with bad credit and no money down can be a challenging task. FHA requires applicants to come up with at least a 3.5% down-payment. They do allow gift money from relatives and down-payment assistance, but only in some states.
96.5% FHA Mortgage Loan
New First Time Homebuyer Incentives Announced
Bad Credit Allowed with Compensating Factors
FHA House Buyer Rates are Low!
Gift Funds Ok on FHA Mortgages
Down-Payment Assistance in Some States
FHA Encourages First Time Buyers to Finance a New Home with only a Small Down Payment!
You will be happy when comparing FHA mortgage rates, with conforming and subprime loan terms and closing costs. First time homebuyers should consider FHA for financing because the mortgage rates are low and there is only a small down payment required of 3.5%.
Nationwide Mortgages provides Americans with FHA home mortgage programs that have been successful bridging the gap from renting to owning a home. Rates on first time home buyer loans have never been better. Take a minute a complete the application below and get a free quote from a lender that specializes in loans for new home buyers.
The Federal Housing Administration has been helping Americans become homeowners since the Great Depression. For over 8 decades, this government agency has been insuring FHA 1st time home buyer loan products that are affordable, fair and accessible. Take a little bit time and consider multiple offers on FHA first time home loans with great interest rates and reduced closing costs.
With the help of our federal government, no-money-down mortgage loans still exist. Many 1st time home buyers are looking to FHA to finance the home they are looking to purchase.
FHA Allows Gift Funds for First Time House Buyers
FHA also allows gift funds so you don't have to come up with the down-payment all on your own in many cases. Discuss the gift fund requirements and allowances with FHA lenders that can help you minimize your home buying expenses.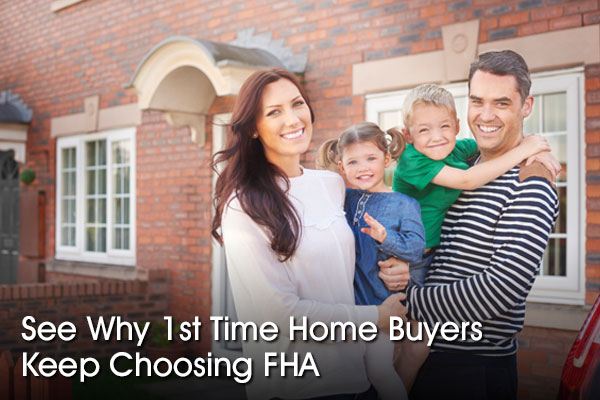 Great FHA Home Loan Rates for 1st Time Buyers
FHA loan programs enable consumers to lock in a very low rate with only depositing 3.5% down for a new home purchase. FHA borrowers are allowed to finance the mortgage insurance premium, so they do not have to come out of pocket.
FHA Encourages Green Home Financing and Energy Efficiency
The FHA 203K loan works with PACE financing in many cases and aids homeowners in uncovering lower energy costs while making their home safer and more environmentally friendly.
FHA Streamline Protect Against Inflation
If you aren't happy with the interest rate you got when you bought your home, don't worry because with FHA home loans you can streamline refinance your mortgage if the interest rates drop after you close on your home. There is no penalty to refinance at any time with FHA! This is an important vote of confidence because many new home buyers try and time the market to get the lowest interest rate. While that is important, FHA overcomes that obstacle because the streamline program encourages FHA customers to maintain the current market conditions because they do not penalize first time home buyers from refinancing if it helps them save money with better terms and improved pricing.
In most cases, FHA mortgage loans, offer as competitive an interest rate as conforming mortgages. If you are sick of being turned down because you have bad credit scores, give Nationwide a try, because we help you find companies that offer FHA loans to people with good and bad credit scores.
FHA Mortgage Helps Millions of First Time Home Buyers Get into an Affordable House
The easier qualification criteria are why the FHA home buyer loan is so popular for millions of renters to get into an affordable home.
With an FHA house loan, you may be able to buy your home with a down payment of only 3.5%. This means on a loan of $200,000, you may have to only put down a down payment of $7,500. This is well within the means of many Americans. The FHA program with its low-down payment feature makes it more possible than ever for millions of first time home buyers to get into their first home.
Plus, if you can get a 3.5% down payment, you may be able to get that entire amount from friends or family. That's right: FHA allows you to get your down payment in the form of a gift!
To qualify for a 3.5% down payment, you just need to have a credit score of 580 or higher. This is a quite poor score but it does not preclude you from getting a low-down payment FHA loan. Just remember that different mortgage lenders may have stricter requirements to qualify for that low of a down payment. Some lenders may mandate that you have a credit score of, say, 640, to be able to put only 3.5% down. You will need to check with various lenders sometimes to see if you can get a 3.5% down payment option with a lower credit score.
Helpful mortgage info for credit & loan terms
Down-Payment Assistance Home Loans
Low FHA Loan Rates and Fees
How to Qualify for First Time Home Buyer Loans
Home Buying with Bad Credit