100% Mortgage Refinancing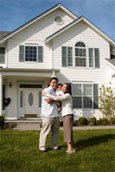 Compare 100% refinancing options for loans and rates. Learn more about "100 mortgage" programs with great options for refinance, home financing and consolidation. Shop prime and sub-prime loan programs for all levels of credit. Let us direct you to lenders offering more than 100 mortgage programs to choose from, in most cases our customers are able to find the right refinancing solution. Ask about our no cost mortgage refinancing with no equity required.
Nationwide Offers Mortgage Refinancing Beyond 100% Loans on HARP, FHA and VA
We pride ourselves in providing info about competitive refinance products at a discounted rate of interest. If you are looking to get cash using your equity and want the best possible loan, then let Nationwide Mortgages help you get qualified today. Shop and compare 100% mortgage rates for 1st and 2nd refinance loans. Whether you are cashing out, home refinancing for a better rate and term or simply need want to make some home improvements, we are the lending source to best meet your financial needs.
HARP Refinancing - Now there is no loan to value limits with the Home Affordable Program. The Federal Government has mandated refinancing beyond the 100% mortgage with the HARP 2.0 program
Compare the Leading 100 Mortgage Financing Offers Now
Military homeowners and retired Vets can borrow against their residence without be required to pay mortgage insurance for exceeding 80% LTV. Qualified applicants can get VA mortgage refinancing with a streamline that is a 100% LTV refinance with an interest rate reduction or they can use pay-off conventional liens that will be guaranteed by the Department of Veterans Affairs.
Borrowers Can Get a 100% Refinance with No Appraisal & Limited Income Documentation from VA Benefits.
VA mortgage refinancing requires no equity on rate and term transactions. Now even with no equity, you can lower your mortgage payment and refinance to 100%. Shop 100% mortgage refinance rates and compare conventional and non-conforming loans with options from 15 to 30-years. Select loans from fixed rate, adjustable or interest only. No equity refinancing and getting qualified for no down-payment loans can be complicated, so make sure you are comparing quotes with reputable mortgage refinance lenders.
The Nationwide blog will help keep you updated with "mortgage refinancing" news that seems to break all the time these days. Read more about trends in 2013 and 2014. You can find refinancing advice and information about proposed mortgage refinancing offers from the lenders you are shopping with online.
Affordable 100% Financing Solutions
Get simple quotes from mortgage refinancing companies that understand your needs and today's loan guidelines There is never any application fee or any lending charges for researching rates or comparing our mortgage refinancing programs. Sit back and relax and let our lenders earn your business.