Home Buying Versus Renting
Learning about purchase loans for buying a house can be a wise financial step that could help you curb housing expenses and build wealth. All it takes is a few minutes to get in touch with lenders that can assist you understanding requirements, guidelines and affordability for multiple home buying loans. Becoming a homeowner is easy than you think.
The great debate that many individuals find themselves eventually facing is whether to rent a home or buy one. The simple truth is that coming to an answer will require each person to take a look at their individual circumstances and what it is that they want both now and in the future in order to decide which course of action is best for them.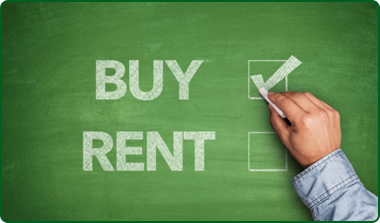 How Long Do You Intend to Stay?
Get this question needs to be answered before person goes any further. Although it is impossible to purchase a home and turn around and sell it in a relatively short period of time, this is not generally a good investment strategy. In most cases, if a person is looking to relocate within a year or two, renting is probably their best option. Of course, it is possible for person to purchase a house and then turn it into a rental property if they decide they no longer want to live there, but managing a rental property comes with its own list of pros and cons.
What Is The Market Doing?
In a down market, renting offers an individual a lot more flexibility. Unless an individual is absolutely sick of the idea of renting, they may find that their best course of action is to wait until the market is more favorable before they get serious about purchasing a house. Of course, owning a home does provide a person with a hedge against inflation, since a 30-year fixed-rate mortgage is not going to change while a landlord may raise rent each time an individual signs a new lease.
What Are Your Finances Like?
If you have not been at your current employer for at least six months or if your credit history has some serious dents and dings in it, you may want to consider renting for a while longer while you get your financial situation in a little bit better shape. Although it is possible to get a loan even with bad credit history or a low credit score, you will likely find yourself paying a much higher interest rate than if you were to take a little bit of time to clean up any past problems that may haunt you into the future.
Another important thing to keep in mind is that it is necessary, in most cases, to have a substantial amount of money set aside to cover the down payment. Rather than getting an additional loan for down payment, renting offers you the opportunity to set money aside before you actually go house hunting. 7 Things to Consider to Get Approved for a First Time Home Buyer Loan.
Four Questions to Ask Yourself About Buying Versus Renting
1) Are You Looking for An Investment?
If it is important to you that your home be an investment, it might be wise to take a cautious approach and be selective in the markets where you plan to buy. Homes generally increase in value, but the increase is not a guarantee.
2) Are You Ready for The Added Expenses of Home Ownership?
While there is a lot of personal satisfaction involved in paying off a mortgage toward a home, it is also a huge added responsibility. In addition to some added tax obligations, you will also have to be diligent about keeping the home in good repair.
3) Are You Prepared for The Stress of The Buying Process?
Although you can work with qualified experts who will be able to help you every step of the way, buying a home can still be time-consuming and stressful. There can be a great deal of uncertainty and psychological stress even when the buying process goes smoothly.
4) Does Your Career Hinge on Flexibility?
If you are a younger person in your twenties or early thirties, there are advantages to renting. Being able to move around with relatively few restrictions can make a huge difference in what you are able to achieve in the early stages of your career.