Rent to Own Home Loans
Many consumers in the U.S. need help becoming a homeowner and the new "rent to own home loan" programs have created a new opportunity with a lot of positive buzz in many housing market circles. This rent to own home mortgage was created for consumers who may have recently had a short-sale, loan default, or a bankruptcy.
Find Mortgage Lenders Offering Rent-to-Own Loan Programs for 1st Time Home Buyers with Limited or Poor Credit History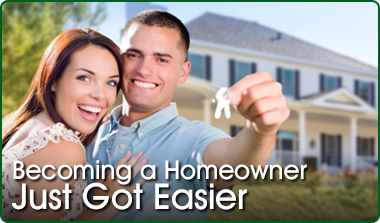 This is also an opportunity for people who are self-employed and have difficulty documenting their income, but do have at least a 5%* deposit and an interest in purchasing a SFR home to personally occupy.
Rent to Own Lenders notify customers "to shop for a home" with their Real Estate Agent
Lender purchases the home and pays lender a referral fee based on the sales price of the house
Borrowers are associated with a Lender in Rent to Own loan system and Finance company has ability to re-market traditional home financing when ready
Rent to Own Lenders are committed to becoming a homeowner and introduced this unique rent to own loan program to assist families in their quest to seize the American dream of owning a home
Discuss Your Eligibility with Lenders Now! Get More Details on New Rent to Own Home Loan Programs with No Cost or Obligation!
In 2018 we saw a dramatic increase in rent-to-own programs that will undoubtedly make becoming a homeowner easier for renters in the United States. If you can meet the following guidelines, you may be a candidate for a rent to own home financing program.
Do you have 5%* for a down-payment?
Rent to Own Lenders typically charge a 3% fee for consumers to participate
House prices should fit in the range of $150,000-$1,000,000.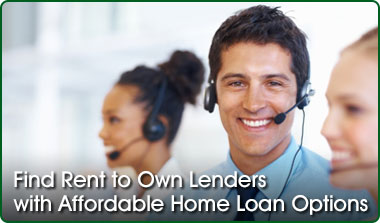 Standards for Rent to Own Loans
Single Family Residences/Townhomes
Suburban, easy comp, no REO or "fixer"
New construction OK
No Condo/Mobile home (presently)
Borrowers are charged a 3% transaction fee when the property is bought.
How to Buy a House with No Money Down – See if you are eligible for a mortgage without putting cash down.
Cost Analysis Becoming a Homeowner
(Renting Versus Buying)
For a long time, conventional wisdom said it's always best to buy instead of rent. Until 2007, most Americans probably agreed enthusiastically, and home ownership was a major goal for millions of people. Since the upheaval in the real estate market, things have changed. Buying is no longer a "sure thing," but there are situations where it can be much better than renting. Likewise, there are signs that can tell you that you are ready to buy – even if the market is tough. Once you have asked yourself these questions, you might feel more confident in your decision. Armed with self-knowledge, you should closely examine the real estate market and see if your choice of location affects your opinion.
How Can Your Location Change the Calculus of Renting Versus Buying?
In many areas of the country, the cost of monthly mortgage payments tends to be lower than the cost of renting. However, there are some pricey locations where this is not the case: For example, San Francisco, New York, and Arlington, Virginia. If you are not planning to live in a large metropolis, though, buying is usually the clear winner. Ask a mortgage consultant about the availability of rent to own home loan programs in your neighborhood.
7 Keys Things When Getting a 1st Time Home Buyer Loan
How to Find Out More About Renting Versus Buying
There are a number of great calculators out on the internet that can help you define and compare the costs of renting versus buying. These can be very helpful!
Remember, the single biggest factor in your decision might be the interest on your home mortgage loan and the amount you are required to pay monthly. We suggest choosing a rent to own loan with favorable terms for first-time home buyers. People with poor credit, may want to consider buying a home with FHA loan, significantly reduced the cost of buying.
Related Articles:
House Loans for Bad Credit | Mortgage with a Low-Down Payment | Buying a Home With a Subprime Loan | Down Payment Assistance Home Loans