How to Qualify for First Time Home Buyer Loans
New Qualification Standards for 1st Time Buyers Are Easing the Transition from Renter to Homeowner
More and more American consumers are searching for mortgage lenders that provide financing for first time home buying. Nationwide provides an online environment that help people find and compare first time home loans for people with all types of credit grades, employment histories and economic realities. Buying a house is a "big" financial decision and getting an affordable first time home owner loan is imperative to minimize present and future housing expenses.

Please complete this form and you will be able to start shopping lenders at no cost and no obligation. Find out what it takes for first time home buyer qualification. There are several new programs with easy credit guidelines and requirements that make becoming a homeowner a reality.
Understanding the Requirements for First Time Home Buyer Loans
Buying a home is a big step for anyone, and something that will have an impact on your entire future in several ways. With that in mind, it's not something that should be done without fully understanding all of your options and what each one has to offer. There are a few different things to consider when looking into a home loan for first time buyers, and understanding how to qualify for a first time home loan is the key to unlocking a loan that will help you get the house of your dreams.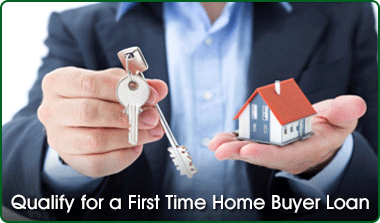 There are a few main things that lenders will use to determine whether or not you can qualify for a first tie home buyer loan. The main things to pay attention to are
Credit Score – Your credit rating will be one of the primary things that can influence your ability to get a loan. There are some first time home loans for people with bad credit, but the fact remains that the better your credit score, the easier the entire process will be.
Down Payment – In nearly all instances, some kind of down payment will be required. The amount will depend on a wide range of different factors including the lender you borrow from, the type of loan, your credit score, and more. FHA loans, for example, require 3.5% down. VA offers a zero down loan program that would require no down payment at all, while other loans could have much higher down payment requirements.
Income – You'll have to provide income documentation when you apply for any first time home buyer loan, and lenders will usually look at your debt to income ratio to determine whether or not you'll be able to qualify for a loan. The length of time you've been employed in a particular company will also have an impact on approval.
Residence – You also need to agree to live in the home for a set period of time when you take out a loan for first time home buyers. These programs aren't designed for people looking for second homes or for those looking for an investment property. As a result, you'll have to live in the property after you purchase it.
The process of getting a loan isn't that difficult, even though it can seem like a complex, confusing challenge. The first step is to find a qualified lender. Most first time home buyers should begin by looking for FHA approved mortgage lenders since these government insured loans offer much better terms than most other loans on the market. They can only be issued by an FHA lender, however, and finding an approved one is important. Don't be afraid to shop around for different loans from different lenders if you feel like you're not getting the best rates or terms.
Once you've found the lender, the approval process takes very little time. Simply fill out the required information and within a period of 3 to 6 weeks you will find out if you've been approved or denied. From there, your dream home is only a few short steps away.
Education for First Time Home Buyers
First-time home buyers are usually excited about their purchase, but have many questions about the whole process of getting a home. Working with your mortgage company and lender, you can get all the facts you need – however, it's still a good idea to become independently informed. There is financing for borrowers of all credit levels available. Learn more on bad credit first time home buyer loans available from several government and private money sources.
Let's review some of the most common questions that new buyers have.
1) How Can I Get Down Payment Assistance When Buying a Home?
Many people do not have the savings to pay 10% or 20% of the cost of the home they want to buy. It is a good idea to pursue an FHA home loan that will provide you with the ability to pay only 3.5% down and use "gift funds" from a third party if needed.
2) How Can I Make Sure I Have A Good Interest Rate On My Mortgage Loan?
Using an FHA loan will help you significantly improve your interest rate. As long as you have qualified for an FHA loan, you will get the lowest possible interest rate dictated by the market that day. With other loans, there is no guarantee you will qualify for a low rate.
3) Can I Pay Off My Loan Ahead Of Schedule?
If you have an FHA home loan, then there are no fees associated with paying off your loan ahead of schedule. Under the terms of many private loans, you might face stiff penalties for paying off your loan in advance, which would reduce the savings you might get from doing so.
4) What Does My Monthly Mortgage Payment Pay For?
The mortgage payment you make each month pays both the interest and principal on your loan. When you use an FHA loan, it also contributes toward the insurance associated with your loan. In a 30-year loan, it usually takes about 23 years for the amount you pay on your principal each month to exceed the amount you pay on interest.
5) Is Every FHA Loan The Same?
FHA loans share many of the same features, such as a low down payment amount and the ability to qualify with a credit score of at least 500. However, they are not all the same. Companies offer FHA loans with different terms, so it is important to compare offers and find the best for you