CALHFA for First Time
Home Buying in California
CALHFA Encourages First Time Home Buying In California with unique opportunities for down-paying grants and more
If you are in California and looking for your first home loan, you have a powerful ally for 1st time home buying in the Golden state. CALHFA is the California Housing Finance Agency, and it provides a number of services for people seeking first-time home buyer loans in California. Did you know that there are local, state and federal government programs that are looking to help renters become homeowners? You may be eligible for down payment assistance that contributes or cover the money required for a down payment.
Let's review some of the most important ways CALHFA can help with home purchases.
CALHFA Has Many Favorable Loan Programs
CALHFA administers two loan programs for first time home buyers in California
House Buying Grants for people seeking down payment assistance
1) CALPLUS
CalPLUS is a loan insured by the Federal Housing Administration, just like FHA loans you can get in other states. However, the CALPLUS program's terms can be more favorable: The loans feature a fixed rate with full amortization over 30 years, plus zero interest down payment help. This is a popular government-backed first-time home loan in California.
2) CALHFA
CALHFA provides a 30 year, fully amortized HFA-backed loan, like CALPLUS. CALHFA differs because you can combine the loan with the California Homebuyers Down Payment Assistance Program (CHDAP) or the state's Extra Credit Teachers Program (ECTP).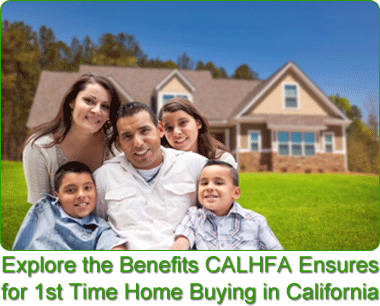 For all of its programs, CALHFA requires buyers to complete first-time home buyer education programs online or in person. Specific requirements vary by program. Learn more about the CALHFA loan programs.
What Is CHDAP And How Does It Help California's First-Time Home Buyers?
Those using CALHFA can qualify for either of two down payment assistance programs:
CHDAP – California Homebuyers Down Payment Assistance Program: CHDAP provides a "subordinate" loan that amounts to 3% of your home's purchase price or appraised value, whichever is lesser. This allows CALHFA program borrowers to pay a down payment or closing costs without using gift funds.
Loans issued under the CHDAP program are deferred payment loans, meaning you do not have to make any payments on them as long as you continue to live in the home. The interest rate for these loans is 0%.
ECTP – Extra Credit Teacher Home Purchase Program
California residents who work in "high priority" California schools as teachers, administrators, or other qualified staff can receive a deferred payment loan up to $7,500 or 3% of their home's sale price. This assistance is typically used for down payment.
ECTP borrowers may be eligible for a higher loan amount if they live in high cost regions of the state. If a borrower is in a high cost region, he or she may receive a loan up to $15,000 or 3% of the home's selling price.
CHDAP Income Limits When Using An FHA-Insured Loan As The First Mortgage
To qualify for CHDAP, borrowers must have an income below certain limits. The specific income limit is defined by county and may be revised every year. The income limit is also affected by the number of borrowers, with the limit going up with each borrower.
For a single borrower, income limits range from $48,650 in Colusa, Fresno, Glenn, Humboldt, Imperial, Tehama, Trinity, and Tulare Counties up to $88,600 in Santa Clara County. The limits are defined based upon the cost of living in each area.
Borrowers who make more than the defined amount will not be eligible for CHDAP, but they can typically still take advantage of the other benefits of CALPLUS or CALHFA loans