Interest Only Mortgage
With all the activity with the Federal Reserve, it's an excellent time to check out the low rates available on interest only mortgage loan programs and home equity credit lines for quick money or refinancing for lower payments. For people that have incomes that fluctuate, the home loans with interest only payments make a lot of sense financially. Who doesn't want lower monthly payments? Saving money and reducing your monthly expenses with an interest only mortgage can improve your financial state quickly. Interest only mortgage payments allow you to pay a smaller amount monthly, because no principal is due. Interest only loans are very popular with first time homebuyers, and borrowers taking out home equity credit lines for financing home improvements. New home buyers and existing homeowners alike continue to migrate towards the "interest only" programs because it typically yields low rate home loan payments for a period up to 10 years.
Compare Mortgage Rates on an Interest Only Home Loan Offers
The time has arrived for you to consider all your finance options. Compare loans with principal and interest versus a mortgage with interest only payment options to maximize your cash flow.
Did you know that refinancing debt can have a positive impact on your credit scores? Taking out a credit line or 2nd mortgage is another healthy way to reestablish credit as well.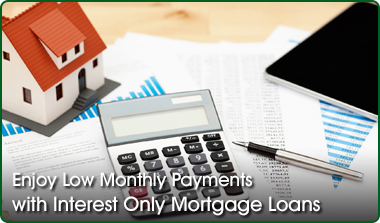 Deduct 2nd mortgage interest
Permanently eliminate revolving debts
Consolidate all your bills into one lower mortgage payment
Refinance your home mortgage for a better rate
Lower your housing costs with an Interest Only Mortgage
Convert HELOCs to a Fixed Installment Loan
Get Access to a Line of Credit for Anytime Cash Out
Finance Home Improvements with a Credit Line
Interest Only Mortgage Refinancing
Interest Only Loan Features

| | |
| --- | --- |
| | Low Payments on Interest Only Mortgages |
| | Increased Purchase Power with Lender-Paid PMI |
| | Fixed Interest Rates with Hybrid ARMS |
| | Low Intro Rates ie. 3/1, 5/1, 7/1 & 10/1 ARMs |
| | Jumbo Loans with Interest Only Payment Options |
| | Refinance or Purchase Loans |