4 Reasons Why First Time Home Buyers Need a Pre-Approval from a Credible Mortgage Company
Prior to making an offer, we strongly suggest that first time buyers get a home mortgage pre-approved from banks or lending companies that have a good name and reputation.
Everyone loves to look at homes when they start thinking about buying a home for the first time. Looking at pretty homes, kitchens, bathrooms, furniture and so on is fun!
But before you start looking at homes at open houses, you should stop by the mortgage lender first. The reality is that you are not going to be taken seriously as a home buyer unless you have a mortgage pre-approval letter from your lender.
Most sellers will expect that anyone looking at their home has been pre-approved for a mortgage. In fact, many sellers will specifically ask if you have been pre-approved for a loan before they will even start talking to you.
If you are getting ready to buy a home, below are several important reasons why you should have your pre-approval in hand before you start shopping for homes.
#1 Pre-Approval Shows You Can Get a Mortgage
Pre-approval indicates that your mortgage lender has verified your credit, financial and employment information with written documentation. This confirms that you can qualify for a mortgage. It also shows that you have been approved up to a certain amount.
Sellers want to see that you have been pre-approved for a loan for at least the asking price.
Note that pre-approval is very different from mortgage pre-qualification. Pre-qualification is simply the first step in the mortgage approval process. To pre-qualify, you provide information about your credit, income, assets and liabilities. Based upon that information, the lender tells you roughly what you can borrow. But the lender has not actually verified the information you have provided yet.
When you talk to a seller or a real estate agent about a property for sale, they will likely want to see your pre-approval letter.
#2 Pre-Approval Shows You Have a Steady Job
An essential part of the mortgage pre-approval process is that the lender verifies that you are employed and earning a certain wage. Usually the lender wants to see your pay stubs, tax returns, and may call to verify employment.
If you are self-employed, pre-approval shows that you make a certain level of income on your own with your business. This is proven usually by tax returns, bank statements and a profit and loss statement for the year to date.
If you can show the underwriter a strong and consistent work history, ask about the possibility of a no money down mortgage.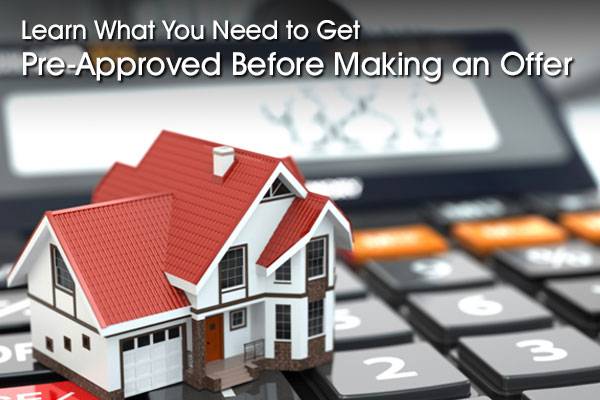 #3 Pre-Approval Shows a Certain Credit Score
When you are going through pre-approval, one of the first things the lender does is to verify your credit score. They will pull your credit profile from at least one of the three credit bureaus.
If your credit score meets the minimum requirements for the lender, they will likely pre-approve you for a mortgage. The seller then knows that your credit score is high enough for you to get approved for a loan of at least the selling price.
Remember that you need to keep your credit score in roughly the same range before the mortgage closes and funds. Some people think that once they have been pre-approved, it is ok to run up more debt. This is not the case.
#4 Pre-Approval Shows Your Debt to Income Ratio Is Acceptable
You need to not just have a certain credit score and income to qualify for a mortgage. You also need to have a debt to income ratio that does not exceed certain parameters.
The DTI ratio that is acceptable varies by the lender and type of loan. For an FHA loan, you may be able to have a DTI of up to 50%. Whatever the ratio is, the mortgage pre-approval letter shows that your DTI is appropriate for that lender.
What to Do If You Do Not Have Pre-Approved Mortgage?
It is not unheard of to not get a pre-approval the first time you try. For that reason, it is very important to make your mortgage pre-approval your FIRST step in the home purchase process.
What you do not want to do is get your heart set in a specific home, and then have to go through the mortgage pre-approval process. If you are not able to get pre-approved for a mortgage in time, you could easily lose out on the home of your dreams.
If you are having difficulty getting the pre-approval on a first time homebuyer loan you need due to credit or other issues, strongly consider trying to get an FHA mortgage. Mortgages that are guaranteed by the Federal Housing Administration are quite easy to qualify for.
Many aspiring home owners may be able to get approved for an FHA loan with credit that is only in the low to mid 600s. Some can get approved if their credit is even in the 500s. Plus, you can often put down only 3.5% at closing. This puts the dream of home ownership in reach for millions more Americans.
The Bottom Line
If you want to buy your first home, it is imperative that you get pre-approved before you even begin looking at any homes. Your pre-approval letter will give you credibility in the eyes of home sellers and real estate agents. So make your mortgage lender office (in person or online) your first stop in your home shopping process.