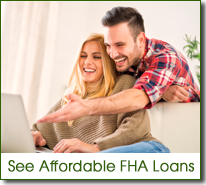 Getting approved for a home loan can be a stressful time for many people, so make sure you compare home loan quotes with experienced lenders like Nationwide. The FHA, which insures about 10% of the nation's mortgages, makes hundreds of thousands of reduced or zero money down loans to borrowers nationally, sometimes allowing sellers to put money up for the buyer through a third party. For example, In Tennessee, Home sellers even paid down payments for 23% of the 14,243 FHA mortgages last year.
FHA Mortgage Rates Won't Stay this Low Forever! Lock in Now!
In most cases, FHA mortgage loans, offer as competitive an interest rate as conforming mortgages. If you are sick of being turned down because you have bad credit scores, give Nationwide a try, because we offer FHA loans to people with good and bad credit scores. For many years people have trusted the government to insure bad credit FHA mortgages. If you have low fico scores, this may be the solution that best meets your current financing needs. Ask about New FHA Loan Programs to Help Buy a House.