What You Need to Qualify for the Best No Doc Mortgage Loans
It was only 10 years ago, that millions of Americans were taking advantage of the no doc mortgage loan. Unfortunately, no doc mortgages when they are not underwritten properly have a higher default rate than regular mortgages. Problems with no doc loans in the early 2000's nearly tanked the US economy.
Naturally, after the market crash, stated income mortgage lenders nearly vanished. Banks and government agencies overreacted and required tough underwriting requirements for virtually all mortgage loans. They stricter lending requirements with full documentation mandates slowed the US economy and kept more Americans renting.
While it was good that some of the most reckless no doc loans were banned, going too far in the other direction is also not good.
However, today things have changed and there are alternative stated income loans available for people who have a need for a limited or no doc mortgage.
No Doc Mortgage Loan History
Originally, the idea behind a no doc loan was to make buying a home easier for the self-employed, small business owner. Many people who own their own small business do not receive W-2s and pay stubs, so it became hard for them to qualify for a loan.
Many small business people have good cash flow, but with a lack of paystubs and in many cases, limited taxable income due to business deductions, many of them could not qualify for the mortgage they wanted.
Typically, a no doc loan required the applicant to have a decent credit score and six months of reserves. The problem came in where people could easily borrow cash temporarily to show they had 'reserves,' and could pay bills by using credit cards. If their payments were on time, their credit scores were still good enough to get approved for a stated income loan.
Things got out of control and many of these old no doc loans defaulted, resulting in market chaos.
The Ability to Repay Comes into Effect with No Doc Loans
To make the market safer, the CFPB introduced new rules for stated income lenders. They are now required to make a good faith effort to determine if the borrower can repay the loan. One-way lenders do this is to make a qualified mortgage or QM. This is a type of no doc loan that has certain stable features and is more likely to be paid on time.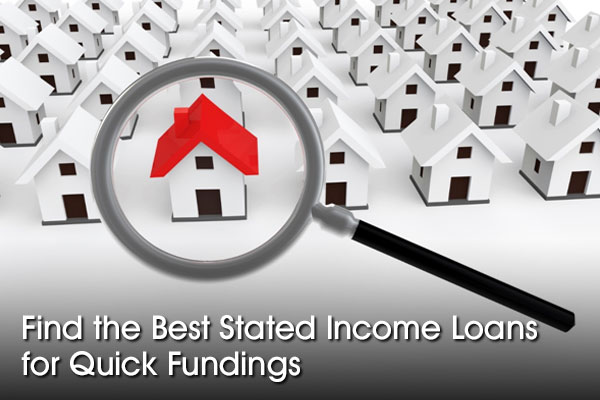 Today there are some no doc or limited doc loans that you can qualify for.
Here are some of the most common options:
Bank Statement Loans
For the self-employed person, the bank statement loan is one of the best deals available. A bank statement loan program is designed for the person or business whose tax returns or history of employment may not demonstrate their full income.
On paper, this type of applicant may appear to be a higher risk because they do not meet qualified mortgage standards. But a bank statement loan is designed to provide the lender with a way to verify that the person has enough income to pay the loan.
Rather than requiring the person to submit tax documents, W-2s and pay stubs, lenders base the approvals for these limited doc loans on your bank statements and P&L statement from your company.
Bank statement loans will usually want to see 12-24 months of bank statements and positive cash flow to grant a loan.
Keep in mind that these types of no doc or limited doc loans will still have more stringent lending requirements than in the past. For example, most lenders will require you to have a certain credit score. Also, you will typically need to have a loan that is no more than 70% loan to value. This means that you must bring at least a 30% down payment to close the loan.
Lite Doc Loan Programs
Another option that more lenders are offering today is referred to as a Lite Doc loan. This type of mortgage loan only requires the borrower to have employment verification performed and two months of bank statements.
For people who are self-employed, you can expect to bring only one year of profit and loss statements.
These loans are available with competitive interest rates and are typically five-year ARMs.
Reduced Documentation for Investment Property Loans
Another option for some business people and real estate investors are investment property loans that do not require regular underwriting and full documentation.
To qualify for these types of loans, the lender looks at the value of the property after repairs are made and what its potential rent income will be. It will use these factors to decide if you should get the loan.
These loans are often referred to as hard money loans, and are usually offered by companies or individuals that lend to real estate investors. Most investors use these limited documentation loans for fix and flip properties. These loans carry high interest and are offered to investors based upon the value of the property.
Guide to Alternative Loan Programs
Shop with Reputable Companies: It is no secret that getting approved for a stated income loan for refinancing can be very challenging, so we suggest discussing your situation with experienced lenders. Many brokers and banks offer mortgages with unbelievable features, but they rarely end up closing the loan. Finding a company that offers a stated income mortgage refinance, or no income equity loan is not as easy as it was a decade ago. Gone are the days where anyone can qualify for a no credit check home loan, but we have seen several new programs featuring no income verified opportunities for qualified applicants. People are raving about home equity loans with no documentation required.

Get Quotes and Disclosures in Writing: Make sure you get all offers in writing that include the uniform residential mortgage disclosures such as the "Good Faith Estimate" and "Federal Truth in Lending" statements. The last thing you want to do is to get involved with a predatory lender, so make sure you are shopping loans from companies that have a solid record in delivering the type of home loan products you are searching for. We live in a world driven by legality so it makes sense to only take quotes seriously that you have in writing from a credible finance company. When you are buying a house, it is imperative to get a pre-qualification or pre-approval letter from banks and lenders that have a strong reputation and who you feel comfortable with. When considering a no income loan, it makes sense to take some time and review the lenders and brokers that you are considering.

Be Prudent when Shopping Online for No Income Verification Loan Programs: If you are buying a house, you need to ask the lender what the minimum credit score is, what the minimum down-payment requirement is and whether you will need to supply statements for the lender to verify assets. If you are refinancing, you need to find out what the fico score and loan to value requirements are before making a commitment. State income mortgages and no income loan programs are available but before you start counting your money, make sure that you qualify for.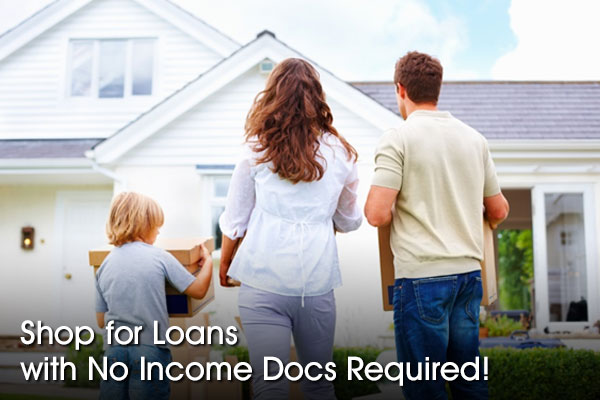 3 Popular No Income Loan Programs:
No Income No Assets:
In this type of "no income loan" income and assets info was not requested by the lender nor offered by the applicant. An appointee from the lender actually verifies employment of the applicant with the company listed as the employer.
Stated Income Stated Assets:
In this type of "stated income loan", the applicant provided info about their income and assets. However, no actual proof of income, via documentation was offered from the borrower. In this case, the lender did not verify any of the income. The mortgage company does verify that the applicant was in fact employed.
No Income Verified Assets:
No income information was requested however, assets were verified by a designated employee at the mortgage company. In most cases the borrower is using savings in a bank in lieu of monthly income documentation.