Guide to Alternative Loan Programs
Shop with Reputable Companies: It is no secret that getting approved for a stated income loan for refinancing can be very challenging, so we suggest discussing your situation with experienced lenders. Many brokers and banks offer mortgages with unbelievable features, but they rarely end up closing the loan. Finding a company that offers a stated income mortgage refinance or no income equity loan is not as easy as it was a decade ago.

Get Quotes and Disclosures in Writing: Make sure you get all offers in writing that include the uniform residential mortgage disclosures such as the "Good Faith Estimate" and "Federal Truth in Lending" statements. The last thing you want to do is to get involved with a predatory lender, so make sure you are shopping loans from companies that have a solid record in delivering the type of home loan products you are searching for. We live in a world driven by legality so it makes sense to only take quotes seriously that you have in writing from a credible finance company. When you are buying a house, it is imperative to get a pre-qualification or pre-approval letter from banks and lenders that have a strong reputation and who you feel comfortable with. When considering a no income loan, it makes sense to take some time and review the lenders and brokers that you are considering.

Be Prudent when Shopping Online for No Income Verification Loan Programs: If you are buying a house, you need to ask the lender what the minimum credit score is, what the minimum down-payment requirement is and whether or not you will need to supply statements for the lender to verify assets. If you are refinancing, you need to find out what the fico score and loan to value requirements are before making a commitment. State income mortgages and no income loan programs are available but before you start counting your money, make sure that you actually qualify.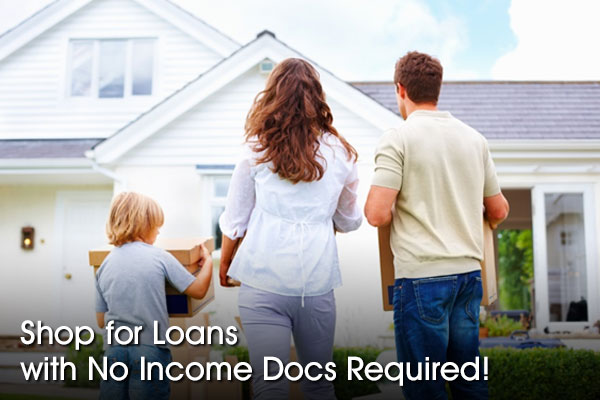 3 Popular No Income Loan Programs:
No Income No Assets:
In this type of "no income loan" income and assets info was not requested by the lender nor offered by the applicant. An appointee from the lender actually verifies employment of the applicant with the company listed as the employer.
Stated Income Stated Assets:
In this type of "stated income loan", the applicant provided info about their income and assets. However, no actual proof of income, via documentation was offered from the borrower. In this case, the lender did not verify any of the income. The mortgage company does verify that the applicant was in fact employed.
No Income Verified Assets:
No income information was requested however, assets were verified by a designated employee at the mortgage company. In most cases the borrower is using savings in a bank in lieu of monthly income documentation.