How to Pre-Qualify for a Mortgage Before Buying a Home
With rates at the lowest point in decades, buying a house may be wise move for you financially. In most cases it makes sense to get "pre-approved" or pre-qualified for a home loan prior to making an offer on a property. Most realtors will concur that home buyers that have already been pre-approved for a mortgage get their offer accepted more frequently. Nationwide offers a free service online where consumers can compare lenders and get a home loan qualification letter without any hassles. Check rates here and secure a pre-approved mortgage from trustworthy lenders offering pre-qualification letters for your offers.
It is no secret that sellers take offers more seriously when the prospective buyer is pre-qualified by a reliable lender or bank. It is very critical to have a written "pre-approval mortgage letter" when your Realtor make an offer on your behalf. Nationwide can match you with competitive lenders that offers a pre-qual or mortgage pre-approved letter.
Get Loan Quotes and Pre-Approval Letters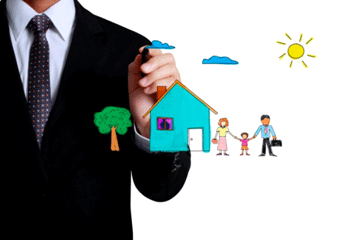 When a person is looking to purchase a home, whether it is a first home or not, it is always important that they get pre-qualified for a mortgage for several different reasons. Pre-qualification will allow a person to know just how much they can afford in terms of mortgage and living costs, it allows potential sellers to know that the person is serious in looking for a home to purchase and shows that they can afford the mortgage on their home, and any homes that are owned by a bank will often require a pre-qualification letter before accepting any offer.
When looking to buy a home, it is important that shoppers stay within their price range, but it can be difficult to determine just what exactly their price range is. A pre-qualification will allow a person to learn just what they can afford and which price ranges they should stay in when looking for a new home to purchase. This number is determined during the pre-qualification process by a desired lender who will determine the maximum mortgage amount through careful analysis of financial records, including tax forms and pay stubs, allowing the borrower to know just what type of mortgage they qualify for.
7 Easy Steps to Raise Your Credit Score from 600 to 700
Also, the home buying market is a highly competitive one, and prospective home buyers will often need to prove that they are not only serious about buying a specific home, but that they can afford the mortgage payments required. A pre-qualification letter will often cause sellers to take potential buyers more seriously, thus giving them an edge on other buyers who may not have taken the time to get pre-qualified.
If a person is looking to purchase a bank owned home, a pre-qualification letter is often required. Bank owned homes are typically properties that have been previously foreclosed on, and banks are usually careful to sell these properties to buyers who will be able to afford their mortgage payments in order to avoid another foreclosure. A pre-qualification letter will prove to the bank selling the home that the buyer will be able to afford the mortgage payments on the home being sold.
Pre-qualification can happen in person or online, and whichever option suits the convenience of the prospective buyer is readily available. Many lenders will offer pre-qualification to potential buyers for free, allowing them to incur no costs for this very beneficial process.
Related Articles:
- 7 Things to Consider When Shopping for a First Time Home Buyer Loan

- Top 9 Ways to Cuts Mortgage Closing Costs

- How to Qualify for First Time Home Buyer Loans

- House Loans for People with Bad Credit

- How to Get a Mortgage with No PMI