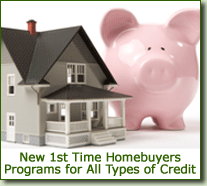 Learn more about the benefits and finance incentives that come with being a "first time home buyers." Whether you have good, fair or poor credit, we have access to home financing that helps renters become homeowners without breaking the bank.
Affordable Housing for New Home Buyers
In most cases, buying real estate is an over-whelming experience for 1st time home-buying consumers. The fact is that first time home buyer loans with bad credit and zero down-payment are still available now.
* Mortgage Interest Deductions
* First Time Home Buyers Tax Credit
* Down-Payment Assistance Loans
* Cost-Effective First Time Home Loan