Mortgage Loan Programs
Jump on the red carpet for lenders where you can uncover, review and read the details of the current loan programs for refinancing, buying and more. Select from Fannie Mae, Freddie Mac, conventional, jumbo, VA and FHA loan programs where consumers can choose the companies that have the ability to deliver on their financial goals. Search for lower rates and loan programs offering features such as, bill consolidation, construction, rehabilitation and more cash out purposes. Compare private, conforming and non-prime loan programs from competitive lending organizations now. There is no hidden fees or obligation to shop mortgage programs.
The market has evolved for home buyers this year. Consumers have more choices when considering loan program from, government, conventional, non-conforming and jumbo.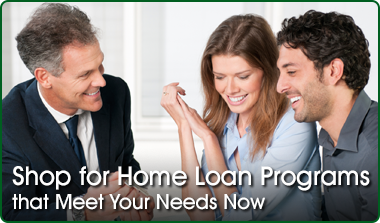 Fixed Rate Programs
Adjustable Rate Programs
FHA Loan Programs
FHA home loans are insured by the Federal Housing Administration (a division of the Department of Housing and Urban Development also known as HUD).

Although mortgage lenders provide the mortgage funds, the FHA sets underwriting standards for approving applicants. In many cases, FHA underwriting guidelines are more lenient than conventional (not government insured or guaranteed) underwriting guidelines. This leniency makes it easier for borrowers to qualify for a mortgage loan (low down payment requirements and a higher monthly debt allowance). FHA home purchase guidelines allow for "gift money" and co-signing situations with qualifying family members. Learn more about FHA loan programs.

FHA limits the types of loan programs it insures, but it will insure the more popular 30 year fixed, 15 year fixed and one year adjustable loan programs. However, borrowers are limited to the amount that they can borrow using an FHA-insured mortgage. Applicable loan limits differ by county, so contact your local HUD office for specifics. Apply for a FHA loan today.

Mortgage Programs for People with Below Average Credit:

Many people like FHA because the credit standards are lower. There are a few options for bad credit home loans online.
VA Loan Programs (Dept. of Veterans Affairs)
A VA mortgage loan is a finance program that is guaranteed by the Department of Veterans Affairs (DVA). One of the biggest advantages of using a VA loan is that the borrower can finance the purchase of a property with no-money down. However, VA loans are restricted to individuals qualified by military service. The DVA guarantees popular mortgages, like the 30 year fixed and 15 year fixed loan programs. Read more about requirements and guidelines on VA mortgages.
ARM Loan Programs An Adjustable Rate Mortgage (ARM) is a mortgage loan that is most widely known for its low starting interest rate (when compared to the 15, 30 and 40 year mortgage loans).
USDA Financing
The Federal Department of Agriculture oversees a special program for people buying or refinancing a home in rural areas. The USDA home loans help people outside of metropolitan and suburban neighborhoods find affordable financing. The government even picks up the down-payment on this loan program.
Jumbo Loan Programs
A jumbo mortgage is a home loan which is larger than the limits set by Fannie Mae and Freddie Mac at $417,000. Any loan amount above this bench mark is considered a non-conforming or jumbo mortgage. Since these two agencies will not purchase these types of loans, they usually carry a higher interest rate (to enhance their value and marketability to investors).
3/27, 5/25, 7/23 Hybrid ARMs and Balloon Programs
Hybrid ARM loans have fixed rates for teaser periods, like 3, 5 or 7 years before converting to an adjustable rate mortgage. A balloon mortgage loan is a type of mortgage loan that has a short term (typically 3, 5 or 7 years), but the monthly payment is computed using a 30-year term. When a borrower uses a balloon loan, he/she will make the monthly payment for the scheduled loan term (3, 5 or 7 years). When this loan term is over, the borrower is required to pay off the remaining balance in one lump-sum payment. If the borrower decides not to sell the property after the loan term is over, the borrower has the option to refinance the mortgage with a new one. A 7/23 balloon mortgage gives the borrower the option to convert to a fixed rate program (for a nominal fee) after the initial term (7 years) is over. If the conversion feature is used, the interest rate for the remaining term of the loan (23 years) will be adjusted once to reflect market conditions and then remain fixed for the remainder of the loan term.
Loan Programs for New Home Buyers from Freddie Mac and Fannie Mae – The Conventional 97 is a great opportunity for first time home buyers as they only require a 3% down-payment. This is a programs backed by Fannie and Freddie so you know the pricing is competitive.