7 Most Popular Zero Down Mortgage Programs Today!
Home mortgages that with little or no money down are becoming more common. Many applicants are not even aware that they are eligible for no down-payment mortgages. Some lenders refer to this type of loan as 100% financing. See the top 7 listed below:
- VA guarantees a loan with no down payment. This $0 down home loan option is a solid financial benefit for those who serve or served in the Military. Learn about eligibility and credit rules for VA-home loans. (Army, Air Force, Marines, Navy Coast Guard, etc.).
- Navy Federal Credit Union for a $0 down mortgage. The NFCU guarantees low rates and no PMI on loans up to 1-million dollars. Ask about their special programs for home buying with past credit problems.
- USDA Offers 100% loans on rural homes. This is a popular government zero down home loan program that was designed to help Americans with financing in rustic regions across the country. Find out what a USDA loan is.
- FHA Loan with Down Payment Assistance Unfortunately not all states endorse the 100% mortgage insured by the FHA because it's a combination of State and Federal programs. Find out if your region allows zero down FHA loans. Find out why people have come to trust the government with home mortgages for bad credit.
- Private Money Loan: These sources typically charge a higher interest rate to off-set the risk factor that comes along with "zero down loans".
- Fannie Mae: The mortgages for first time home buyers with bad credit come and go, but Fannie always seems to roll out a zero down mortgage that offers a helping hand to the less likely renter looking to leap to homeownership. You may need a grant to cover the down-payment requirement but there may be some hope after all. When shopping, verify the available FNMA plans because they change frequently.
- Government Loan Programs for $0 Down: It's no secret that the Federal government supports down-payment grants for responsible home buyers. Learn about new opportunities for low income home financing.
Zero Down home loan programs are becoming available across the nation. This site is a great place to learn how to buy a house with no money down. There are exceptional opportunities first time home buyer loans with bad credit and zero down. This opens the door so people can now purchase a home with "no money down." You don't need a down payment for many new home purchase programs. Even if you were stuck with a bad credit home loan, we offer several financing options to help you save money and rebuild your credit.
We suggest that you cherish the opportunity to buy a home with zero down at a fixed interest rate in the 4% range because this may never happen again. Buying a house with no money down could help Millennials who have been on the fence to make the jump into homeownership. Congress continues to discuss legislation that would raise down-payment requirements on government insured loans. Therefore, the ability to qualify for zero down home loan may in fact be for a limited time.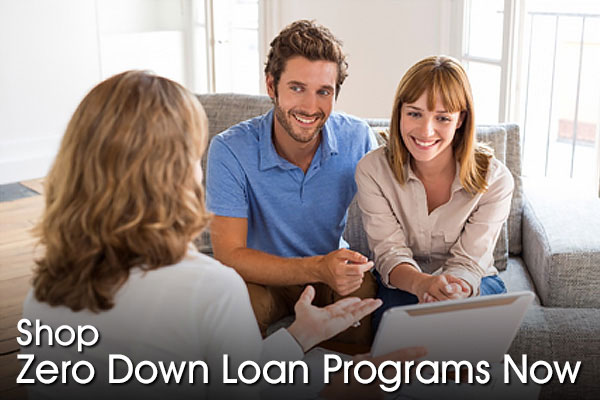 Find Great Rates on No Money Down Loan Programs from Top Companies
Guide to Lending Sources: Get help finding lenders that offer affordable home loans with nothing down. Imagine becoming a homeowner with no capital, limited credit and no down payment. It's no secret that buying a house with bad credit can be tricky so it's important to shop with companies that actually specialize in this type of alternative financing. Nationwide can help you shop no deposit home loans with no application fees or obligations.
Learn How to Become a Homeowner with a Zero Down Mortgage Loan
Yes, it is Possible to Purchase a Home with No Reserves and No Deposit
Check Today's Rates with Fixed and Variable Interest
Find Real Help with No Money Down Bad Credit Home Loan Plans
See a 100% Mortgage for Home Buying with Zero Closing Costs
Eliminate Risky Negative Amortization Loans
Lenders Cut Off Pay Option ARM's with 4 payment Choices Each Month
Low Payment Interest Only Home Mortgages (See lenders for credit and LTV criteria)
Jumbo Mortgages Programs up to $3,800,000
Learn How to Rebuild your Credit for Higher Scores
Search for $0 Down Loans with No PMI
Fixed or Variable Rate Terms on $0 Down Home Loans
Compare 15, 30, 40 or 50-Year Amortization Options
Find Aggressive Ways to Finance Vacation Homes and Investment Properties
Find Zero Down Loans with a Limited Credit History
Government Insured FHA Mortgages for 1st Time Home Buyers
Get Financing Help for Buying a House with Bad Credit and No Money Down
For People with a Military Background, VA Home Financing with No Down-Payment
Conventional Home Loans with Zero Down (Lenders put this program on hold)
Non-Conforming Home Loans with No Deposit Required
Learn How to Buy a Home with Bad Credit and Zero Down Payment While Qualifying for a Market Low Interest Rate
Are Closing Costs & Lending Fees Higher on Zero Down Home Loans?
In a short answer: Sometimes yes but many times a zero-down mortgage doesn't have to cost you more if you work with the right lender. When you set out to buy your dream home, there are a lot of different things that you'll need to consider. One of the biggest is what type of loan to receive, and there are numerous finance options out there for those who are buying a home. But $0 down mortgage loans vary greatly, and it's important to pay attention to the terms of each one in order to find the one that you qualify for and the one that is the best for you.
One thing to pay attention to is the down payment required to receive the loan. Traditional loans have required as much as 20% to be provided as a down payment, while other finance programs such as FHA loans or recent Fannie Mae Home Ready loans could require as little as 3.5% down. But there are also some loans out there that have a zero-down payment requirement. These loans allow you to get a home loan without having any of the money needed for a down payment.
But many lenders will look at these types of $0 down home loans as an increased risk to them. After all, since you have no money to put down on a home, they are taking a much larger risk. Because of this, you can often notice things like increased closing costs on home loans with a zero-down loan. But it's not always the case. It does not hurt to look for a home loan with a limited or no down payment while also seeking a mortgage at a competitive interest rate.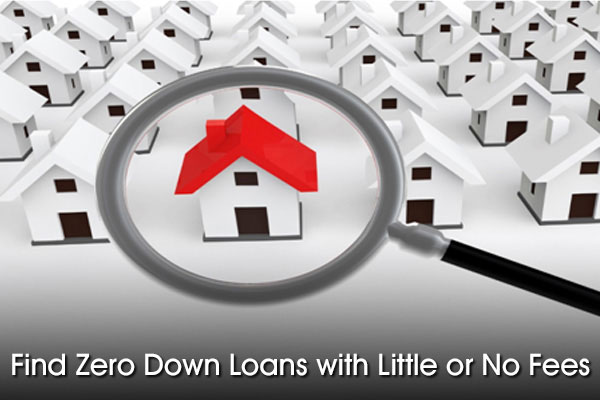 Most Overlooked $0 Down Mortgage Programs for Home Buying in 2018
Many people who want to buy a home are held up by having to put down a big chunk of money at the closing table. Some conventional loans require buyers to put down as much as 20% down to buy a home.
Twenty percent of a house that may cost hundreds of thousands of dollars is a huge amount of many to many people. Far too many people end up renting for years because of the problem with saving money for a down payment.
But all is not lost in 2018! There are options for home buyers who have little money to pay for a down payment. There are a few zero down mortgage options, and also some limited low-down payment options that can get you into a home faster than you think.
Below are some of the no down payment and minimal down payment options available in 2018:
Navy Federal Credit Union Loan
Another great no down payment deal for those in the military, as well as some civilian employees of the US military and the Department of Defense.
This zero-down mortgage program offers a no down payment option if you qualify. For the most part, it works just like the VA. The only major difference is that the funding fee is only 1.75%, which is lower than the VA. The NFCU has been increasing their market-share on zero down mortgage programs because their product is so aggressive.
Zero Down Mortgage from the USDA
The USDA has its Rural Development mortgage guarantee program that is often so popular that it runs out of money some years.
This program has been established to help lower income borrowers in rural areas to buy a home with no down payment. Those who qualify can get a 100% loan or a $0 down mortgage that is guaranteed or issued by the USDA.
USDA loans are intended for people who live in rural areas, but some homes may qualify that are in suburbs near major cities.
If you are interested in the USDA home loan, you should visit the USDA website to see if the home you want is in an area that USDA will service.
This $0 down mortgage program is designed for first time home buyers, but there are exceptions, so check with your lender.
This program also does not have mortgage insurance. There is a 2% up front guarantee fee. This may be rolled into the loan.
About Closing Costs for $0 Down Home Loan Programs
If you manage to get approved for a 100% finance lien, congratulations because most first-time home buyers overlook the amazing opportunities for zero down mortgage plans! But you still need to fund closing costs. Any new loan will have several thousand dollars of closing costs. Most of the time, the buyer needs to pay the closing costs. But there are ways to avoid the expense.
If you are buying a home from a fairly desperate seller, you may be able to get the seller to pay part of the closing costs. This costs the seller, but if they need to get the house sold, they may be willing to concede some closing costs to get the deal done.
As far as buying a house with bad credit and no money down in 2018 is still very challenging but it is still possible, but you must find the right mortgage companies to achieve this goal.
If you have limited funds, ask your real estate agent about getting closing cost help. First time home buyer loans with zero down is very realistic if you meet the requirements and speak with lenders that have experience with this type of house financing.
There are still loan programs available where you can put down little money, and even get a 100% financing loan. Talk to your lender about the above $0 down mortgage options today.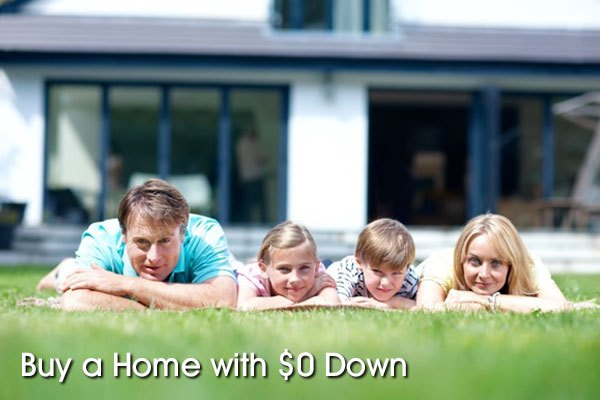 Here are some things to consider when looking for the right kind of zero down mortgage loan.
In some cases, closing costs can be limited and still remain small despite having no money to put down on them. This can often be accomplished by having a very good credit score, solid debt to income ratio, and other positive variables. In other words, the better you look to a lender, the better your closing costs may be and the better the loan overall will be as well.
Some zero down lenders will require mortgage insurance and associate additional fees with your loan since you're borrowing without having a down payment amount. But these costs could be waived in favor of a higher interest rate. For example, you may have an interest rate of 3% and have to pay closing costs but have the option of paying no closing costs but having a 3.25% interest rate on your loan instead.
The key thing to remember is that no two lenders are the same. You need to shop around to find the best zero down mortgage with things like interest rates, down payments, and closing costs in mind and ensure the lender you're considering doesn't increase points or fees just because of a no down payment loan.
The better your credit score, the easier it will be to get loans with favorable terms and conditions like no closing costs and no down payment. In a perfect world, you will find exactly the loan that you're looking for. At the very least, you should be able to get lower closing costs and fees while still avoiding the need for a down payment. CNBC says $0 down are coming back.