No Credit Home Buyer Loans
People who want to buy a home in 2017 with limited or no credit have better options than they might think. Buying a home with no credit just got a little easier since Trump was elected, as mortgage companies and banks seem to be taking more risks from a lending stand point. The rates are great and the guidelines have been eased for home loans with no credit. The good news is that credit criteria is not as tight as it was a few years back, and there are some important but underreported secrets to getting approval from your mortgage lender even if your credit is not so hot.
There are many new home buyers who have had the prayers answered this year with new opportunities to stop paying rent with no credit home loans with limited down-payments. Affordable housing has never been more realistic with no credit home buyer loan programs being guaranteed by FHA, USDA, Fannie Mae and Freddie Mac.
3 Secrets to Buying a House with No Credit
Here are some of the best secrets to buying a home with limited or no credit:
#1 Establish a Payment History Fast
People who have limited or no credit history have a problem. There is no easy way that the mortgage lender can look at your past payment history to determine if you are a good risk or a bad risk. Therefore, it is important to establish a reliable, good payment history as soon as you can once you are old enough to be working a regular job.
Typical ways that you establish your payment history is through getting credit cards and/or a car loan. A car loan is a very good way to get a good payment history going. Unless you have terrible credit, you probably can qualify for at least a high interest rate car loan. While this is expensive money, you can always refinance the car loan when your credit profile is better established. A car loan is a regular installment loan that shows credit agencies that you can handle a longer term debt. This is exactly what you want to show to mortgage lenders when searching for house loans with no credit.
Once you have those credit lines, it is very important to pay them on time. Miss a payment by more than 30 days and that black mark can follow you on your credit report for several years.
But what else can you do to establish a good payment history? Here is a little important secret you may not know: Experian, which is one of the three credit bureaus, will accept on time rent payments from a third party processor as proof of good credit history.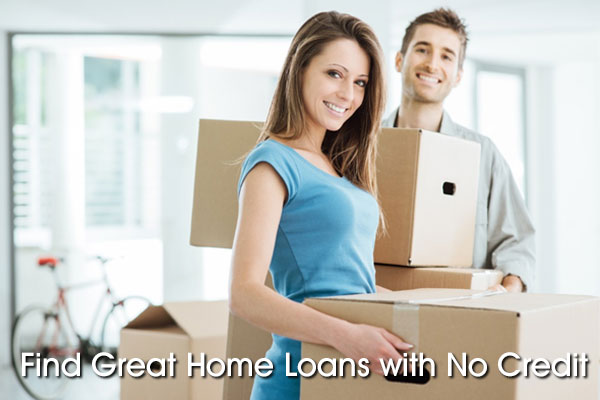 So, if your landlord will report your timely rental payments to Experian, this can be used to establish a solid payment history. Just what you need to qualify for a home loan!
But there is a catch: Your landlord must participate in the system, according to the director of public education at Experian. And many landlords still do not do so. While some of the larger property management companies and large apartment complexes in many cities report this important information to the credit bureau, many smaller landlords do not. Many landlords may not want to trouble themselves with the added expense or paperwork to do this for their tenants. Some of the third party rent processers that offer this credit reporting service include ClearNow, RentTrack and PayYourRent.
If you are shopping for a place to rent a year or two before you may buy a home, it is smart to try to find a landlord that reports rent payments to Experian. This can be a real lifesaver when you are trying to qualify for a home loan with limited credit.
Another way to establish a good payment history is to pay your student loans on time. If you have made timely payments for at least six months, this can be useful for building your credit score up fairly fast. Some utility companies and cell phone companies may report payments to the credit bureaus but many do not. Some companies in some states will not do so because of privacy laws.
So, a reliable payment history can be developed fairly fast today. Check out the above options to get going.
#2 Get a Government-Backed Mortgage Loan
One of the best and most reliable ways to get a house buyer loan even if you do not have much credit history is to obtain a government backed mortgage loan. Certain US government agencies provide a guarantee to lenders that they will be paid back if you do not pay the loan. This backing of the loan allows mortgage companies to ease their lending requirements, even for people who may not have much credit history.
The most popular government-guaranteed home loan today is the FHA or Federal Housing Administration financing. Getting a no credit check mortgage isn't very realistic in today's environment, but the government does insure home loans for people with limited and no credit. FHA loans feature very low rates that may be under market rates. And you may be able to even put down as little as 3.5% if you have a FICO score of at least 580.
If you have limited or no credit, some FHA-approved lenders still may green light your application. Again, the guarantee by the government means that some lenders will take a larger risk than others.
Another great option is the Veteran Administration or VA loan. This type of loan works like an FHA-insured mortgage. The only difference is that you need to be either active or retired military to qualify.
The VA loan has rates even lower than FHA mortgages, and a qualifying person may be able to get 100% financing as well. Plus, credit criteria is very forgiving and even people with a very limited credit history may be able to qualify.
#3 Consider a Small Mortgage Lender
The largest banks in the US may be harder to work with if you have limited credit history, such as Bank of America and Wells Fargo. But there are still many small lenders may be more willing to work with you even with a limited credit history.
Credit unions also can be a great resource for a home loan. More people today are choosing credit unions when they do not have much payment history.
If you have limited credit and payment history, hope is not lost. What is important is to show decent income that can handle the mortgage payment, and limited debt. If you can do that and follow the tips above, you may be able to get qualified for a home loan. It is especially possible to qualify for an FHA loan, which is one of the most forgiving and popular ways to get into a home in 2017.