7 Best Kept Secrets of FHA Loan Programs for Buyers and Homeowners
If you are considering an FHA mortgage, we would like to fill you in on some secrets that many borrowers do not know about:
#1 Pretty Bad Credit Is Ok
Conventional lenders usually want to see a 680-credit score to get a home loan. But there are millions of people with decent jobs and incomes that have credit below that, so what about them?
FHA loans can often be the solution. FHA home loans are available with credit scores under 600. If you know anything about credit scores, you know a score that low is very bad. But some lenders approved by FHA to underwrite loans may approve you, if your application shows strength in other areas.
If you have credit of at least 620, you will have more choice of lenders, but it is possible to get a loan with a score under 600. The Department of Housing and Urban Development continues to allow the insuring of bad credit FHA loans with scores as low as 500.
#2 You Can Put 3.5% Down If You Have a 580 FICO Score
FHA loans are so good that even if you have very bad credit under 600, you STILL may be able to put down only 3.5%! Unless you can qualify for a VA loan as a military vet or active military, this is the best mortgage loan deal in town.
There are very few 100% financing home loans left other than VA loans. This 3.5% down payment loan by FHA is pretty great, even if you have 580ish credit.
But FHA is only so generous: If you have a score lower than that, you probably have to put 10% down. The minimal down-payment is the number one reason that consumers continue to apply for FHA financing at a high-volume year in and year out.
#3 FHA Loan Rates Are Lower Than Market
Many people do not realize that FHA loan rates, because of the FHA guarantee to the lender, can actually be lower than market rates. As of June 2017, it is possible for many buyers to get a 30-year, fixed rate FHA loan for well under 4%. This may be even lower than the rates available for conventional loans.
Imagine – even if you have credit well under 680, you may be able to still get a 4% or less mortgage!
The backing of FHA loans by the US government means that lenders are willing to give most borrowers a favorable interest rate. How favorable? In many cases, you can get a loan that is below the current rate for a conventional loan. For example, if the conventional rates are at 4%, you may be able to get a loan for 3.75%. FHA loan rates can fluctuate, so it makes sense to consider offers from FHA finance companies that you can trust.
Experts recommend that you look at several lenders to secure the lowest possible interest rate. Different lenders may have different interest rates for very similar programs.
#4 Different Lenders Have Different Criteria
Not every FHA approved lender and loan are equal. Different lenders have different policies for underwriting loans. Some lenders may have a higher minimum credit score than others. If your score is way under 680, you should be prepared to shop around for a lender who will work with you.
FHA allows approved lenders to set their own underwriting standards within reason. Some lenders might have a 640-minimum score, and others might cut off at 600. If you have a credit score of at least 680, virtually every FHA approved lender will work with you. Learn more about FHA credit-score requirements for 2018.
#5 FHA Loans Are Assumable
A rarely known benefit of the FHA mortgage loan is that it can be assumed by another buyer. So, if you want to buy someone's home and they have a 4% FHA loan on the home and you can qualify for that loan, you may be able to take over their FHA loan.
This feature can be very helpful to get a home sold in a rising interest rate market, too. Let's say you are selling your home with that 4% interest rate, but current rates are nearly 6%. If your buyer can qualify, they can take over your loan at 4%. That's a heck of incentive to buy your house!
#6 You Can Easily Refinance an FHA Mortgage
If you have an FHA loan and the rates drop by at least .5%, you may be able to do an FHA- streamline refinance. This is a very easy simple refinance (no cash out) that can be done without a credit check, no new appraisal, and no income verification. It normally can be done in only two weeks.
You just need to have made on time mortgage payments for the last year, and you should be able to do a streamline refinance and save substantially on your mortgage payment.
Note that if you want to pull out cash, you will have to do an FHA cash out refinance, which WILL require income verification, credit verification and a new appraisal. The streamline option is just to reduce your interest rate.
#7 You Can Have a Recent Bankruptcy or Foreclosure
Many people are under the impression that you cannot get approved for a home loan for seven or 10 years after a bankruptcy. This is absolutely NOT the case!
The point of confusion seems to be the fact that the Chapter 7 or 13 bankruptcy will be on your credit report for 7-10 years. But this by no means will prevent you from getting a home loan, especially through FHA.
FHA will consider giving you a loan even if you had a bankruptcy as recently as a year ago, although two years is more common. You will just need to show that you are recovering financially and are making on time credit line and bill payments.
FHA loans are a great option for people with lower income or damaged credit, or both. You would be surprised how many people can qualify for an FHA loan with low income, under 680 credit, and a foreclosure or bankruptcy in the last two years.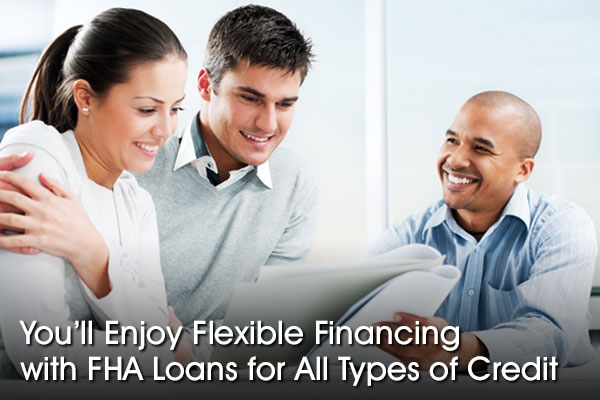 FHA Minimum Credit Score Requirements on Home Loans for People with Limited and Poor Credit Histories
There is no doubt about it: Without the guaranteed FHA loans, millions of Americans would be renting for years more than they otherwise would. Still, there is even more potential with the aforementioned 2018 changes in the program to help even more people who want to buy.
Before we explain that, you need to understand something about FHA credit score minimums.
FHA Loan Lenders Need Not Follow Credit Score Minimums
Lender approved for FHA loans do not have to exactly follow FHA guidelines. This provides more opportunity for some potential home buyers, but you may have to shop many lenders to find one that can help you.
The reason is that most lenders approved by FHA are private, for profit firms that may if they choose to have tougher guidelines than FHA has. This may not make sense at first, but it does when you understand that FHA can penalize lenders that approve too many FHA loans that default eventually.
Here is a good example. A borrower who gets an FHA loan loses his job and cannot pay. FHA then will record that loan as a bad one on that lender's record. If it has too many bad loans, the FHA can decide to revoke the company's ability to provide these loans.
Statistics state that borrowers who have lower FICO scores default on more loans. Thus, in the past, many lenders did require a higher FICO score than the FHA minimum of 500.
FHA credit score minimums are as follows:
Credit score 580+ is eligible for a 3.5% down payment
Credit score of 500-579, the buyer will likely need to put down 10%
Credit score under 500, the person is not eligible for FHA loans
This makes it sound as if it is harder to get an FHA loan because of higher lender standards than FHA has. But FHA has recently added another evaluation factor to its formula for identifying which lenders are high risk.
Under the past policy, FHA's only method was to compare one FHA lender to others in that same area. If one lender had 150% more late paying mortgages than other lenders, it could lose its ability to underwrite FHA loans.
Many lenders complained about this system. If other lenders had tougher standards because they only wanted to appeal to borrowers above a certain FICO score, other lenders who catered to lower credit borrowers could be made to look worse. This could in theory lead to a lender being shut down because a few lenders in the same area raised the minimum FICO from 620 to 680. FHA recently announced new guidelines in conjunction with PACE financing, so verify what the new credit standards.
Required Credit Score on FHA Loans
FHA does not have a minimum credit score to get a loan per se, but its approved lenders have their own standards. Generally, you need to have a credit score of at least 500 to get an FHA loan. To qualify for 3.5% down-payment with FHA, you will need to have a credit score of at least 580.
Some lenders will require you to have a higher credit score for them to consider working with you. The higher your score, the more FHA-mortgage lenders you will have to choose from. If you have a 620-credit score, more lenders will work with you than if you have a 580-credit score. But if you have a 680 or higher credit score, most if not all lenders will work with you.
The more lenders you must choose from, the more likely you will get a favorable interest rate.
Conventional home loans that are offered by Fannie Mae and Freddie Mac are good options.
However, the new policy 2018 should continue to see FHA consider late paying loans based upon borrowers with a FICO score of under 640; between 640-680; and higher than 680.
This will help buyers with bad credit to get approved for affordable mortgages. The lender will not risk losing FHA lending status if its lower FICO score loans are doing about as well as loans in the same FICO score ballpark. Also, this comparison now will be made nationwide and not just in one area.
Therefore, under the new FHA policy, some lenders may have more incentive to cater to buyers with lower credit scores; there is less risk that the lender will lose its FHA-lending status by working on a class of loans with a higher default rate.
FHA loans are one of the best options for people with bad to average credit. Due to 2017 changes in the FHA program, this type of guaranteed loan will probably become only more popular in the coming years. People with bad credit will have more incentive to look strongly at FHA loans.