USDA Loans Offer 100% Financing to Home Buyers in Rural Areas of the US
Many Americans think that they have too low of a credit score to get a home loan. Or, they think that even if they have a high enough score, they do not have the money for a down payment. After all, 100% financing home loans are a thing of the past. Right?
Wrong! While there are fewer 100% financing home loan options that a decade ago, there is still the USDA loan that is backed by the United States Department of Agriculture with low mortgage rates and no down-payment required to eligible borrowers. This is a unique 100% finance opportunity that is made for lower income families who live in rural areas and have credit problems.
USDA wants to encourage home ownership in rural areas with lower incomes and does so with the USDA home loan program. The USDA loan program provides an affordable way for many lower income Americans in rural areas to buy a home. Ask about the current rates on USDA rural loan programs.
If you want to buy a home outside of most major metropolitan areas in the US, odds are good that you may be able to buy your home with a USDA loan. In fact, USDA may classify some 'suburban' areas around major cities as 'rural.' So, you might be surprised that you can buy a home with a USDA loan sometimes within 20 or 30 miles of a major US city.
Take a few minutes and apply for a USDA loan at no cost and with no obligation.
There are two types of USDA, 100% financing home loans:
USDA Guaranteed Rural Housing Loans: These are the most common underwritten loans. They allow for higher incomes and 100% financing. The USDA Guaranteed Loan allows an income that can be up to 115% of the median income for that given area. For a family of 1-4, the annual income may not go above $74,050. For a family from 5-8, the income has to be under $97,750. All USDA loans of this type are for 30 years and have a fixed interest rate. This type of USDA loan is offered by an approved USDA-mortgage lender, rather than the USDA itself. 2018 could be a great year to apply for a USDA rural home loan.
USDA Direct Rural Housing Loans: These rural loans are offered by the USDA itself and are less common. They are made for very low-income families, which mean the family income is below 50% of the area's median income.
Big Advantages of USDA Home Loans
First, you can get a USDA mortgage with a 100% financing loan. You do not have to worry about scraping together thousands of dollars of cash to put down when you close on the home. This zero-down mortgage allows you to save money for renovating the property if you like, or at the very least, not depleting your savings to buy your home.
Second, the underwriting process for USDA home loans is very flexible. It is not necessary to have a high credit score to qualify for this loan. You only need to have a 600 FICO score, which is quite low. If you can show that you have the income to pay for the mortgage and your other debts, credit does not usually derail the underwriting process for USDA loans.
Third, USDA rural loans have a low monthly mortgage insurance rate. Mortgage insurance will reimburse the lender or the USDA if you default on the loan. But the rate you pay on that insurance each month is lower than what you would pay on an FHA loan.
Fourth, interest rates on USDA rural loans are low, often lower than a conventional, 30-year fixed rate loan.
Fifth, you can buy an older home that needs renovation with your USDA loan.
Sixth, you can wrap closing costs into the mortgage. Thus, it is possible to get a USDA rural home loan with very little money down. Don't forget, the FHA down-payment requirement is 3.5% and with USDA it's zero down.
Seventh, there is no maximum purchase price with a USDA loan. The lender will determine the maximum amount of the loan based upon your income and other criteria.
Eighth, you have the option of paying your upfront mortgage insurance premium by wrapping it into the home loan. The rate on this is 2%, so a $100,000 home has a $2000 up front mortgage insurance premium.
Considering all of these advantages, you can really see why many people buying homes in the country like to use the 100% finance USDA program.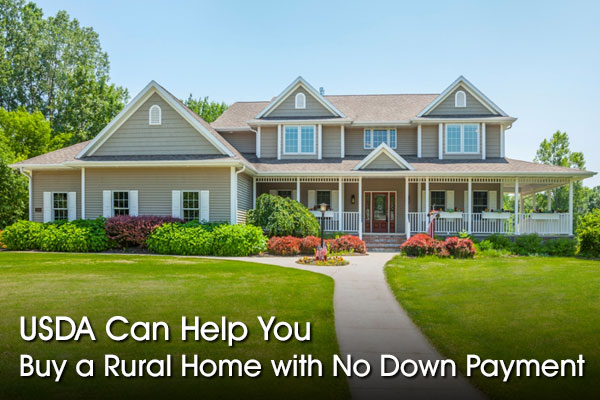 USDA Mortgage Eligibility
To qualify for a USDA loan, your total monthly mortgage costs, which include principal, interest, property taxes and insurance cannot generally exceed 29% of your gross income each month.
You also need to have sufficient income to pay your other debts; the total debt to income ratio allowed for all monthly credit obligations is 41%. You may be able to exceed this generous ratio if you put money down or have a higher credit score.
If you have a bankruptcy on your record, you will generally need to be at least three years from the discharge of the Chapter 7 or Chapter 13. But a bankruptcy in the recent past will not disqualify you from getting a USDA loan. Ask About PACE Financing for solar energy loans encouraged by the USDA.
The USDA Guarantees 100% Financing to Home Buyers in Rural Areas of the Country
Lower income Americans in rural areas who have lower income and credit can enjoy a 100% financing home loan with a very low interest rate. It is advised that you check with various mortgage lenders to determine if they offer USDA home loans. If so, you could be on your way to getting into your dream house with a low, fixed rate, and 100% finance programs!