Pace Financing Loans for Energy Efficient Homes
Guide to the Pace Program for Solar Loans & Energy Efficient Home Remodeling
Homeowners across the country are reaping the benefits that Pace financing provides with solar energy loans that helps the environment while encouraging reduce monthly housing expenses and healthy living. For those home owners who are interested in making their home more energy efficient, it could be a good choice to consider installing solar panels and other types of energy-efficient items on the house.
One of the most affordable ways to install energy efficient products in the home is through the property-assessed clean energy or PACE program model. This is an innovative way to finance energy efficient and renewable energy products on homes.
PACE financing allows state and local governments, if allowed by state law, to fund the cost up front of various energy improvements on both commercial and residential properties. The property owner then pays it back over time.
PACE financing for solar and energy efficient systems on homes is based upon what is called a land-secured financial district system. This is commonly referred to as 'assessment district' or a local improvement district, or a similar type of wording. In the typical assessment district, the local government will issue bonds to pay for projects for a public purpose, such as sewer systems, streetlights, and utility lines underground. Even FHA solar loans have been migrating towards PACE program compliance. The 203k loans remain attractive to homeowners looking to upgrade appliances or house remodeling without equity.
The recent extension of this type of model to finance energy efficient improvements and renewable energy improvements that let property owners implement various home upgrades without a large upfront cash payment, makes it more likely that home owners will pull the trigger on these improvements.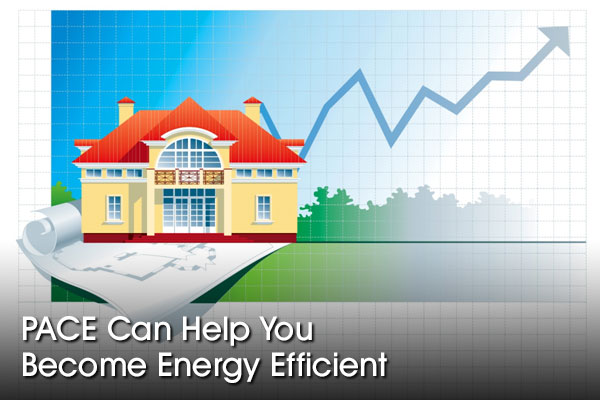 Property owners may choose voluntarily to have PACE improvements made over a certain period of years, typically 10 to 20. This is done via property assessments and are secured by the home. It is typically paid as an add-on to one's property tax bills each year. Not paying the bill will result in the same types of consequences as not paying property taxes, up to and including property foreclosure.
If you are considering solar panels, air conditioner, windows or other energy efficient improvements, understand that a PACE assessment is a debt on the property. It means that the debt is tied to your home, and not to the owner. So, the obligation for repaying the debt usually transfers if the property is sold.
In such a case, the new home owner would agree to pay the PACE bill and the new first mortgage company would allow the PACE obligation to stay on the home. This addresses one of the big problems of investing in major energy improvements in the home. Many home owners have been afraid to invest in expensive home improvements for solar panels and other energy efficiencies for fear that they may not live in the home long enough to enjoy the cost savings.
Those who are considering PACE Programs and FHA solar loans should be aware of the advantages and disadvantages. On the up side:
The home owner may secure financing for a larger, more expensive home improvement over time. This makes many home improvements for energy efficient purposes much easier to afford.
Energy improvements, such as energy efficient air conditioner, windows and solar panels can improve the value of the home substantially. As more concern about climate change and rising energy costs hits the US, a highly energy efficient home is a big selling point. Homes with major energy improvements typically are on the market for a shorter period time, and sell for a higher price.
Spreads the repayment terms over years, and removes any requirement that the debt must be paid in full at sale/refinance.
Can be added with very low interest rates, due to the high security that mortgage loans have; home owners are highly likely to pay their mortgage and property taxes because it is their personal residence.
Assists some home owners in deducting their payments from their income taxes.
Allows some cities, towns and counties to encourage a higher level of energy efficiency without putting general revenue funds at risk.
Allows localities to tap into larger amounts of private capital, including municipal bond markets.
On the down side, keep in mind these items about PACE financing:
They are only accessible to current property owners.
They cannot be used to finance anything that is portable, such as appliances.
PACE funding is not available in every locality.
It is not an appropriate vehicle for anything that is worth less than $2500.
Some lenders may resist PACE because claims to the property could be subordinated to any assessment amount owed if the property goes into foreclosure.
Research shows that several pilot PACE programs across the US have shown that these properties with PACE-funded improvements have a lower rate of foreclosure, major energy savings, and a lower carbon footprint. Today, 28 states and Washington DC have allowed for the creation of PACE programs. There is usually very strong bipartisan support in city councils and state legislatures for the program. The programs also have led to the creation of thousands of jobs.
The US government wants to bring one gigawatt of solar energy creation to middle class homes by 2020, and the PACE program is one tool that may allow this to happen. If you want to do PACE in your area to add solar panels or another energy improvement, check with your local government to see if the PACE programs are available. If not, you should ask your local government to authorize it.

How to Refinance Pace Loans into a Low Rate Mortgage
Until recently, many home owners who had a PACE loan were having trouble refinancing to a low rate mortgage in some cases. The PACE program stands for Property Assessed Clean Energy, and is an affordable way for home owners to finance large, costly energy efficient home improvements, such as air conditioners, solar cells, windows, insulation and more.
In the past, some home owners who wanted to assume a PACE energy loan on a home they were buying were not able to get FHA, VA or conventional financing. However, things are starting to change. Most of the roadblocks that would prevent you from refinancing into a new low rate or assuming a PACE loan are now removed in many states. Before signing paperwork with a HELOC loan or credit line, we suggest learning more about the PACE program possibilities.
In the past, major government lending bodies such as FHA, VA, USDA, Fannie Mae and Freddie Mac did not allow someone to do a refinance on a loan that had a PACE loan on the title. They also would not allow any buyer to assume that loan.
The problem in these cases was that the PACE program assessment was collected via paying of property taxes. This would put the PACE financing in the first position. FHA, VA and conventional lenders would not tolerate being in a second lien position. This would mean if you did not pay the loan and foreclosure occurred, the government agency would not be able to assure the mortgage lender that they would be reimbursed in full and in a timely manner.
The good news for those who want to refinance into a lower rate mortgage, or to assume a PACE loan, is that the White House in 2016 released the Clean Energy Savings for All effort that mandates that FHA and the VA revised guidelines so that homeowners with PACE financing or a lien on title to be able to refinance or to buy a home with a PACE program.
Problems Still Remain
However, not everything has been cleared up regarding PACE financing loans as of 2017. Some pace lenders still are not choosing to participate or are still not aware of FHA, VA and conventional loans that allow for PACE solar loans to be on title. If you have been trying to buy a home that has a PACE loan, or want to refinance your mortgage loan to take advantage of low current rates, you might have run into a mortgage lender who wants you to do a cash out refi to pay off your PACE loan. Or they may want you to use your 401k funds to pay off the PACE financing.
With the new rules, more PACE programs are being allowed by major mortgage guarantors. For example, FHA stated at the end of 2016 that it would start to insure mortgages with PACE loans if the energy lien is in second position to the primary mortgage.
PACE financing works well for making costly energy improvements more affordable by allowing the home owner to pay for them over years and to not usually pay anything up front. The loan is paid through the payment of semi-annual property tax payments. However, some states have still been giving these loans super priority status above the mortgage on the home.
If you want to refinance with a PACE loan or buy a home with PACE financing, you should check with your lender to see if they will allow you to do so. Even though you may need to do some shopping and research to find a lender, the recent change in rules should make it more possible for you to take advantage of the very low refinance interest rates.
Advantages of Refinancing PACE Loans
If your lender will allow you to refinance into a lower rate mortgage with your PACE loan, you will be able to enjoy many financial advantages. For example, interest rates today are often below 4% for those with good credit. Even though interest rates started to rise at the end of 2016, there are still many opportunities in mid-2017 to get a refinance at a very low rate.
Another advantage of doing a refinance today is that home prices have substantially recovered from the housing meltdown of nearly a decade ago. Today most major US markets are appreciating, so there is plenty of equity available out there for people to tap into if they want to do a cash out refinance.
But for people who just want a lower interest rate, the opportunity exists today for them to save substantially every year on their mortgage payments. If they can refinance with their PACE loan, they can easily save many thousands of dollars in interest over the life of the loan.
Many home owners today with PACE financing who thought that they could not refinance into a low rate mortgage may find that this is no longer the case. We recommend that people who are enjoying energy improvements such as solar panels and efficient air conditioning on their home should check with their lender to see if it is possible to refinance.
PACE Financing in the News:
The Federal Housing Administration Severs Ties with PACE Loans – In an effort to minimize risks and rebuild the FHA reserves fund, the Federal Housing Administration eliminated PAC from their program outlines. According to the Lois Angeles Times, "FHA said PACE loans lack sufficient consumer protection and put taxpayers at risk. When a borrower with an FHA-insured loan is foreclosed upon, the portion of the PACE loan in arrears must be paid off first. Read the LA Times article on PACE and FHA.
References
Best Practice Guidelines for Residential Property Assessed Clean Energy Financing. (n.d.). Retrieved from https://energy.gov/eere/slsc/property-assessed-clean-energy-programs.
Property-Assessed Clean Energy. (n.d.). Retrieved from http://www.seia.org/policy/distributed-solar/property-assessed-clean-energy