What Is a USDA Home Loan?
Did you know that the USDA has a 100% financing, zero down mortgage program for some prospective borrowers? This program also features low interest rates and it is quite easy to qualify. If you are considering living in a rural area, have moderate income and want 100% financing, the USDA loan program could be for you. Most people do not realize that USDA mortgage rates are competitive with Fannie Mae, Freddie Mac and even FHA. Learn more below about how to secure a rural development loan or USDA mortgage with no down-payment.
Government Guaranteed USDA Loans with Zero Down Payment!
USDA has several lending programs that help lower and moderate income borrowers get mortgage financing. All of the programs focus on getting the down payment as close to zero as possible. One of these USDA programs funds loans directly to the borrower, particularly for credit challenged borrowers who are out of options. However, most borrowers get a USDA loan by going through a bank or lender that specializes in this program. The bank will go through all the paperwork requirements and will make certain you can qualify. How to Qualify for a Zero Down Mortgage.
The loan is guaranteed by FDA, which provides the lender a 90% loan note guarantee to encourage the lender to make these types of loans. That means that the loan is backed up in case you default. With such assurances, third party lenders are more likely to approve USDA rural development loans to borrowers with lower income, no down payment, and average credit. USDA has hundreds of approved lenders across the country that offer USDA-backed loans. After you get approved, you will get a loan for 100% financing of the price of the home. You will have a low interest rate, no prepayment penalty and usually a 30-year term.
The USDA down-payment requirement is $0% and the FHA down-payment is 3.5%. Why not save the money and put the difference that the USDA rural loans offer?
How to Qualify for a USDA Guaranteed Loan in 2018
Qualifying is easy, but remember, USDA loans are mostly for rural properties. This means that while most borrowers can qualify, some properties in urban areas do not qualify. This program is intended to encourage more borrowers to live in rural areas, so most city homes do not make the grade. USDA has a tool on its website that can help you see if a certain property will qualify. The USDA guaranteed loan is considered a smart mortgage for people residing in rural zones out in the country.
If your property does qualify, you then want to see if you qualify as a borrower. You must meet certain income requirements. Keep in mind that this program is not intended for high income families. This is one of the only opportunities for rural properties with the USDA ensuring guaranteed mortgage loans. If you make $100,000 per year, you are not going to qualify. In addition to income standards, the USDA requirements are the following:
You must live in the home yourself (not rent it out).
Be a US citizen or green card holder.
Have the ability to legally qualify for the USDA home loan.
Not been suspended/debarred from qualifying for federal programs.
Show willingness to make timely monthly payments.
You will need to have enough income to make your payments each month, and a credit score that meets your lender's standards – usually in the 620-640 FICO range. Credit score standards will vary depending upon lenders.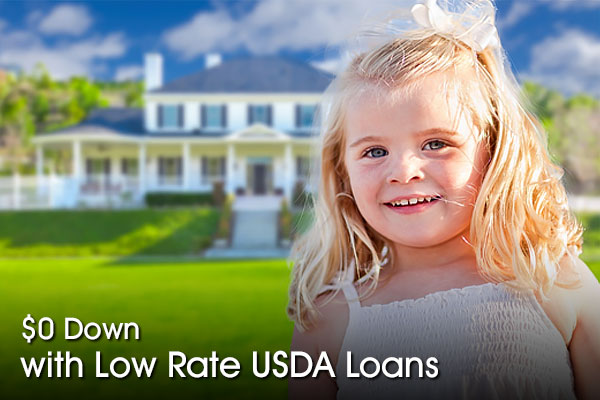 What's the Catch with USDA Guaranteed Loans?
There always is, isn't there? USDA loans are not free. The program will charge you 2% of the loan amount up front, but it is added to the loan balance. So, no worries about gigantic closing costs. The fee is paid over the life of the loan. USDA also charges a .5% annual fee for the amount of the loan. That can be paid off over time, but no more than 12 months. That will add a good bit to your monthly payment. So, if you borrow $250k from USDA, you must pay $5000 up front (or added to the loan balance). Also, you must pay $1275 every year, and that must be paid in no more than 12 months. So, your monthly payment will increase by $106 per month. You want to make sure that you can afford that additional payment each month.
The hefty fees that USDA charges are something to consider carefully. If you have enough money to make a 3.5% down payment, for example, you can qualify for an FHA loan program, and you will not have to pay as much in fees. However, if you live in a rural area and have a decent FICO score and a moderate income, this can be a great chance for you to get a 100% financing loan.
Other Information on USDA Mortgage Loans
These loans do not have private mortgage insurance; you are paying for the insurance in your upfront fee.
USDA housing loans are not just for first time buyers.
Closing costs can vary by area.
USDA house loans can be used to buy a manufactured or modular home.
The Skinny on USDA Loans
For any rural area borrower that does not have the money to make a down payment, the USDA loan program is one of the best deals on the market. You could spend several years trying to save money for a down payment and still renting. This program allows you to get into a rural home faster.
Popular Article Posts: