FHA 203K Loans
Guide to FHA 203K Loan Program for Home Rehabilitation Energy Efficiency
One of the most popular ways to buy a home in America in 2018 is with FHA financing. This type of FHA loan option is guaranteed by the Federal Housing Administration. This guarantee ensures the mortgage lender that if the buyer with a lower credit score or income would default on the loan, the loaning entity would be paid back most of the borrowed money.
The FHA 203k loan therefore is one of the most attractive loan products available to people who have a lower credit score and/or income.
But what about a potential home buyer who wants to buy a property in need of repairs? Don't worry. FHA also offers a great program that is suitable for many of these situations: The FHA 203k loan.
What is the FHA 203K Loan?
The 203k loan is a fantastic, all in one home loan that is offered by FHA under the Department of Housing and Urban Development. For buyers who want to buy an older home that needs repairs, you can finance both the purchase of the property and the remodeling costs with 203k loans. This loan was begun by FHA to increase sales for older homes, and to help people with lower incomes to stop renting and buy a home.
The 203k loan includes the costs of purchase, refinance, repair, and home improvements. For most buyers, you can make only a 3.5% down payment of the principal, and then finance the repairs. The total cost that is covered by the FHA and 203k loan can add up to almost 110% of the cost of the home and the improvements together.
203k loans is a good choice for people who are buying their first home and want to purchase properties that have been foreclosed or are owned by the state or federal government. 203k loans are available at very low interest rates and have flexible payment terms. These FHA insured home remodeling loans also have very flexible eligibility standards, so it is a very appealing option for people with lower credit scores.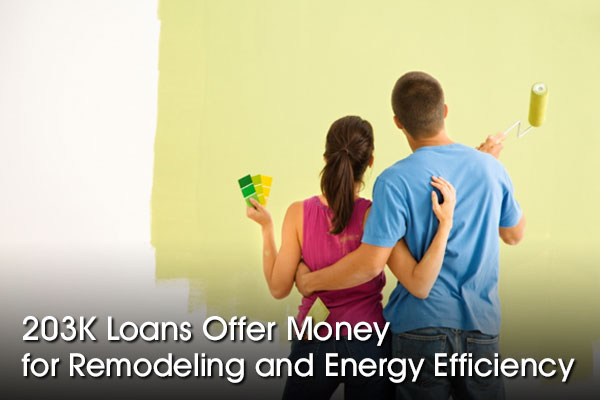 Types of 203k Loans
203k loans come in two basic varieties. The first is the regular 203k loan. It is provided for homes that need structural rehabilitation. It is an all in one home loan that is made to include construction, landscaping work, and repairs to the interior. If your total renovation cost will be more than $35,000, this is the loan for you.
You do have to live in the property if you get the regular 203k loan. The minimum repair amount on this loan is $5,000.
Another option is the streamlined 203k loan. This is another all in one mortgage loan but is designed for projects where non-structural work is needed and minor remodeling. There is no minimum limit on the streamlined loan. You may borrow as much as $35,000 for the remodeling and repairing of the home. You also must live in the home after the remodel is complete.
A streamlined 203k loan can be approved faster than the regular variety, but there are only certain types of improvements that the streamlined product can be used for.
Eligible improvements for streamline 203k loans include:
Plumbing
Roof
Floor
Septic
Air condition, heating and ventilation
Patio
Porch
Windows
Doors
Appliances
Painting
Bathroom and kitchen remodel
However, major structural changes may not be done with the streamlined loan. These include adding rooms, taking out walls, and anything that is going to take more than six months to finish. Also, you may not use the streamlined 203k loan to add a swimming pool, sauna, or tennis court.
For both types of 203k loans, you must use a licensed contractor. He should have documented proof of his skills and his services. Only two payments can be made to the contractor, which can include an advance and can cover all of the material costs for the work. The second part pays for labor, and any additional material costs, taxes, and so on.
Check to see how HELOC loan rates compare to the interest rates for the FHA 203k program
Eligibility Criteria for 203K Program
While FHA 203k loans can be used for many types of properties, you may not use it for every property. FHA 203k loans are designed for one to four-unit homes that are a year old or more. When you use the 203k loan, you can convert a single unit home to a two to four-unit property. You also may reduce the total number of units in the home.
When shopping, it is important to find out from the lender if the 203k loan can work with the PACE program in your state.
Other criteria for the subject property include:
The loan can only be used on a residential property.
The property should not have more than 25% of the floor area used for a commercial purpose.
Commercial use of any part of the property cannot pose any type of hazard to any residents of the home.
How to Apply for an 203k Loan
It is very easy to obtain a 203k loan if you know in advance all of aspects of the approval process. The good news for most borrowers is that there are no rigid eligibility requirements, other than the fact that you should have sufficient income to be able to make the monthly FHA and 203k loan payments and will not default on the loan. This is what you need to know prior to applying for a loan insured by FHA.
Just as with any home loan, you will need to provide proof of the following:
Income – paystubs, W-2s, income tax returns
Credit score –most lenders have flexibility on this; generally, you should have a credit score above 620, but some FHA loans can be approved with a 580-credit score minimum for a 3.5% down payment. Check on today's credit requirements for FHA loans.
Profit and loss statement for the year to date for a self-employed borrower
Additional requirements to get a 203k loan include:
Hunting for the property. Find a suitable property and negotiate the sales price with the owner. Have your agent draw up the purchase contract.
Estimate what repairs will cost. Hire a licensed contractor and have him estimate what the remodel will cost. All damages and repairs must be fully documented.
Find a 203K lender. Look for mortgage lenders who are approved to do FHA and 203k loans. If you are finding this hard, you should speak to your real estate agent. He or she should be able to point you to FHA-approved lenders and brokers in your area.
Get pre-approved for 203K financing. Provide all of the needed documents to your lender to get approved for the FHA and 203k loan.
Rehab. It may take as long as 180 days to have complete the renovations. You also can have six months of loan payments added to the loan. This will allow you to focus on the rehab. After the six months, you must begin to pay on the loan.
The Bottom Line
Getting an FHA and 203k loan to buy and rehab an older property is easier than ever. The federal government wants to encourage lower income and credit borrowers to buy a home and to stop paying rent. Building wealth is one of the most important things that American families can do, and a fundamental building block of wealth creation is owning your home.
Talk to your lender today about getting an FHA and 203k loan so that you can make your home ownership dreams come true.
References
A Guide to an FHA 203k Loan. (n.d.). Retrieved from http://usmortgage.com/wp-content/uploads/2015/03/Guide-to-an-FHA-203k-Loan.pdf