Aggressive Loan Programs for New Home Buyers
Freddie Mac and Fannie Mae Promote 3% Down Loans
More than half of all mortgages offered in the US today are conventional home loans. That is, they are backed by Fannie Mae or Freddie Mac. These are the two entities that are part of the Federal Housing Finance Agency, or FHFA. Since the mortgage crash last decade, Fannie Mae and Freddie Mac have been making strong efforts to offer aggressive new lending programs to home buyers. This is done because home ownership is a huge driver of economic activity in the United States.
The more people who own homes (who can really afford them), the better off the US economy is. For four decades Fannie Mae loans have been rivaling Freddie Mac mortgages for the 1st time home market. New home buyers have emerged from the financial rubble, as Fannie Freddie and FHA have finally rolled out more aggressive home loan programs to embolden the housing markets. By approving 3% down mortgages we have noticed a significant increase in activity as loan application volumes are surging once again.
With homeownership rates plummeting in recent years, the U/S. government has once again turned to government sponsored enterprises like these because they have such a proven track record in driving the housing market while ensuring affordable financing for all Americans.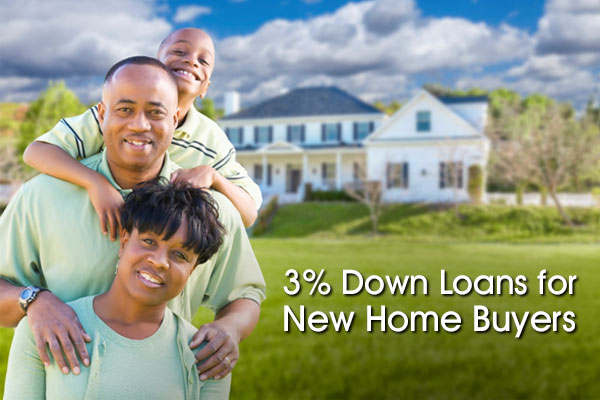 Conventional 97
One of the most significant ways that Fannie Mae is striving to get more people into homes is with the Conventional 97 program. This is a conventional loan, 3% down program that is backed by Fannie and features low mortgage insurance rates. Also, if you need to borrow funds for the down payment, this program allows for that. The Fannie Mae Home Path program remains the most popular loan product that Fannie endorses today.
So, if you are buying a $200,000 home, you would only need $6,000 for the down payment in this mortgage program. For some borrowers, the Conventional 97 program may be cheaper than getting a mortgage through the Federal Housing Administration (FHA). The reason is that the 97 program does not require you to pay up front mortgage insurance. Also, its annual mortgage insurance rates are less expensive too. Interest rates are usually comparable to FHA financing.
The Conventional 97 program can be used for a mortgage refinance as well. However, if you are underwater on your mortgage, refinancing with the Home Affordable Refinance Program could be a better option. Ask your loan officer if the Fannie Mae Home Path or the Conventional 97 program are good options for your financial situation.
No Loan Limit
Unlike FHA loans, there is no maximum loan amount for Conventional 97. However, you will need to live in the property; this program does not allow for rental properties.
Required Credit Scores
This Fannie Mae program requires a minimum credit score in the range of 640-680, depending upon the lender. However, if you are accepting gift funds to make the down payment, you will need to show a 740 credit score.
If you have a credit score under 680, you may still be approved for a loan, but your loan costs will be higher. Both Fannie and Freddie use Loan Level Price Adjustments that add fees if you have a lower credit score. For example, if you put 20% down and have a 740 FICO, you would have only .25% added to the fee on your loan. If you have a 660 FICO and put down 20%, you will have a 2.5% fee added on.
Freddie Mac and Fannie Mae guidelines remain flexible so make sure you are working with mortgage lenders that are pushing the boundaries with these government agencies.
DTI Ratios Generous
Usually for the 3% down program, the maximum debt to income (DTI) ratio is 43%. However, you may be able to qualify for a DTI as high as 50% if you have a lot of cash put away or have a high credit score. If you have average credit or lack cash reserves, your maximum DTI may be lower than 43%.
How to Qualify for a Home Loan
You will need to provide full documentation for the 3% down loan program that includes:
60 days of bank statements
30 days of work pay stubs
Two years of tax returns
Two years of W-2s
1099s if you have them
Rental agreements on any investment properties
Bankruptcies Usually Ok
You can be approved for this 3% down program after you filed a Chapter 7 or Chapter 13 bankruptcy. However, you will need to wait for a certain period of time. The agencies want to be sure that you have reestablished your credit and are a decent risk again.
If you filed Chapter 7, you must wait four years in most cases, but two years is possible. For Chapter 13, two years is the waiting period. In both cases, the clock starts from the day that mortgage is finalized.
New 3% Down Home Loans With No PMI
Fannie and Freddie also are busy offering other new, aggressive loan products, in partnership with large lenders. For example, in 2016, Bank of America announced that it is launching a Fannie and Freddie backed program that offers 3% down payments and does not require mortgage insurance. It is known as the 'Affordable Loan Solution' mortgage, and is designed for low and moderate income homebuyers. The minimum credit score for this program is 660, and first time buyers need to take a homebuyer education class.
The US government understands that a healthy housing market is essential for the overall strength of the US economy. That is why it is aggressively offering low down payment lending programs, such as the Conventional 97 program. One of these programs could be a great fit for you if you have stable income, decent credit, and want to put down as little as possible
Recent Article Posts: