5 Reasons Why VA Loans Are the Best Home Loan and Military Mortgage Program on the Planet
Demand in recent years for Veterans Affairs (VA) mortgages has soared, and this is no surprise: Most VA loans do not require a down payment, there is no minimum credit score, and are offered to veterans and active members of the military. VA home loans are offered by private lenders and are guaranteed by the federal government, so no mortgage insurance is required. A VA home loan remains one of the major options for borrowers who lack down payment funds, so they make home ownership available to millions of vets and military members.
Veteran loan programs remain bold and provide homeownership opportunities that benefit military families. Rates have dipped to near record levels, so your timing could not be much better. Many VA mortgage lenders have expanded their guidelines and more a more members of the Armed Services are eligible for affordable house financing.
If you are a member of the military or are a veteran, there are five great reasons to consider qualifying for VA home loan financing.
1. Easy Eligibility
Almost all current and former members of the military, including reservists and National Guard members, are eligible to get a VA loan. Also, spouses of members of the military who died on active duty can apply too. Active duty military can qualify for a VA loan after only six months of service, however, reservists and National Guard members need to wait six years. But if they are brought up for active duty, they become eligible for a VA loan after 181 days of active service.
Also, reservists, National Guard members and active duty military can become eligible after 90 days of active duty in a war period. Generally, if you have served on foreign soil in the US military, you are most likely eligible for a VA loan. To certify that you are eligible, you must obtain a VA certificate of eligibility. This can be obtained online. However, lenders say that you do not need the certificate to begin applying for VA loans; lenders can get this document for the borrower during the preapproval period.
2. No Down Payment
Obviously, if you can put zero down to get a mortgage, this is a huge advantage. What's more, a VA home loan does not require you to pay mortgage insurance premiums, as are required for FHA loans and regular home mortgages with less than 20% down payment. The Veterans Administration guarantees the option for qualified applicants to achieve 100% mortgage financing. The only other no down-payment finance option is the USDA rural loan, but you have to meet the standards of rural housing.
This benefit means you will save big on your monthly payment. For example, if you get a FHA loan with a 3.5% down payment on $200,000, you would pay around $142 for mortgage insurance each month. You can save that money and put it towards a fund to upgrade your home. Even military home buyers will have new expenses when buying a house. Typically, first time buyers will need money to pay for new furniture and home repairs are pretty standard as well. That famous saying, "a penny saved is a penny earned" is never truer than when a family is in the process of buying their first house. The feature of not needing a deposit on your mortgage is a huge financial advantage for military home buyers. Learn how to buy a house with no money down and bad credit.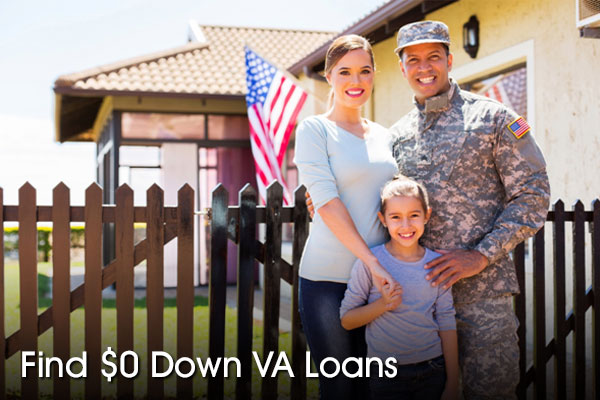 3. Low Fees on VA Loans
The cost of obtaining a VA home loan is usually lower than getting other mortgages. You do still need to pay a onetime funding fee that may be wrapped into the mortgage. The amount of the fee varies depending upon how much you put down and what type of veteran you are.
For example, if you get a Veteran loan for the first down and put zero down, the funding fee is 2.15% of the amount borrowed. The fee is dropped to 1.25% if you put 10% down. National Guard members and reservists pay about ¼ percent more in fees than active duty military. Disabled Veterans may be eligible to get a mortgage with no VA funding fee as well, so discuss the terms of eligibility with Approved VA mortgage lenders now.
Compare Lenders for the Best VA Loans Online
Get Matched with Companies for Easy Lending Requirements
Find the Lowest Interest Rates on VA Home Loan Programs
4. Flexible Underwriting & Easy Credit Standards
VA loans do not require a certain credit score to get a loan. Lenders do have their own standards, but it varies by lender. Usually, you will want to have a 620 or higher credit score, but the VA guidelines allow military vets to be approved for a VA house loan with no minimum credit score requirement. There are lenders that will take a lower FICO score, but you will be charged a higher interest rate. In terms of underwriting, you will need to show you have the income to repay the loan and your debt should not be excessive. However, VA requirements for credit are usually more flexible than for those who get a regular loan. VA guidelines also allow veterans to get a loan only one or two years after a bankruptcy or foreclosure. Note that the current limit for VA loan in most areas of the US is $417,000.
5. Financial Options
If you are struggling to make your house payment, the VA offers options to help. The VA can enter negotiations with the lender on your behalf. While you will need to pay back the loan, the VA can negotiate a more flexible repayment plan, a loan modification or options other than foreclosure.
Conclusion on VA Home Loans and Military Mortgages
Getting a VA loan is a fantastic benefit if you are a military member or a veteran. This great, flexible program offers the opportunity for home ownership to millions of Americans who have faithfully served the country.
To get the best deal, you should try to put down some amount of down payment and try to keep your debt load under control. Pay down your credit cards, get your credit score up, and you will be able to get a great loan deal that will save you thousands in interest over the life of the Veteran loan.
More Updates on VA Loan Program
The VA provides a guarantee of home loans done by approved lenders for those who have served in the military or are active duty. No down payment is required if you qualify.
The VA does not originate the loans itself; rather, the VA guarantees the mortgages that private lenders issue. This guarantee makes it much more likely that private lenders will issue loans to people who may have lower credit scores and incomes.
VA loan financing has benefits other than no down payment. There also is no mortgage insurance to pay. This can save the buyer at least $100 per month.
The only down side of a VA mortgage loan is that you do need to pay a funding fee, which is typically 2.15%. But this amount can be rolled into the loan.
Still, the VA mortgage is a great no down payment option if you are a veteran or active military. Some members of the Reserves and National Guard may also qualify. Read more about VA benefits for home buying on Realtor.com.