FHA Loan Down Payment Requirements & Everything You Need to Know About This Popular Government Mortgage
The minimum FHA down-payment is only 3.5, so, a person can get approved for a low interest mortgage insured by FHA at 96.5% Loan to Value (LTV). It's no wonder how FHA mortgages have revolutionized the first-time home buying process over the last few decades.
Let's be honest. Most consumers who are looking to buy a house don't have enough established "good credit." The Federal Housing Administration makes it easy for renters to become homeowners because they have minimized the down-payment requirement.
One of the most important considerations when considering a home loan is the down payment. Large down payments make it more difficult for millions of Americans to become homeowners. Fortunately, there are a number of good financing options today with smaller down payment requirements. The FHA down-payment requirements have helped millions of Americans become homeowners with less down required.
Both FHA and conventional loans have low down payment programs available. Which one is best for you depends upon your credit score and overall finances. Most people with lower credit scores and incomes get FHA loans, but the conventional loan also can be a good option for some people.
Why Home Buyers Love the Low-FHA Down-Payment Loans
The U.S. Congress and the Department of Housing and Urban Development oversee this government finance program that was created initially to stimulate homeownership. Over the years, this product has become a hit with people searching for first-time home buyer loans because the minimum down-payment for FHA remains very obtainable at only 3.5% of the sales price.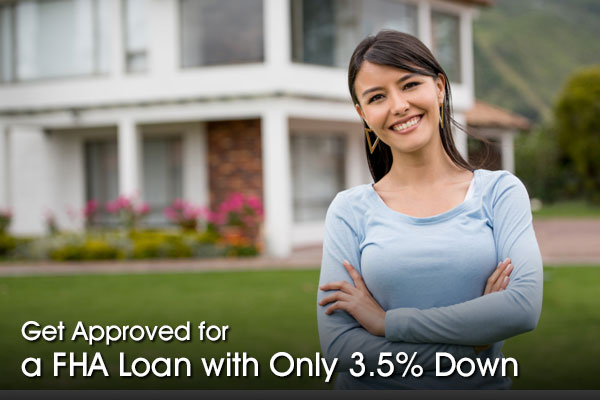 Credit Scores to Qualify for FHA Down-Payment Loans
The FHA down-payment percentage requirement varies depending on your credit. For a most home buyers 3.5% is all you need. People with lower credit scores in the 500s and lower 600s may be best suited in the end for an FHA loan. FHA interest rates are lower for people with lower credit scores. FHA backs these loans against default, so the lender is able to offer rates that are lower than market and conventional rates.
With a 580-credit score you are eligible for FHA loan with a 3.5% down payment loan. This is probably the lowest down payment option out there for people with that low of a credit score, unless you are a military vet and can get a 100% financing loans from the VA.
The conventional loan programs available have down payment options as low as 3% down. The problem is that you need to have at least a 620-credit score to be considered for this program. There are many conventional lenders that will require a higher score, too.
Generally, if your credit score is 580 to 620, you are best off with the FHA option. With the Federal Housing Administration, you also can get a FHA loan with a 500-credit score, but you need to have 10% to put down in that case.
Keep in mind, though, as your credit score moves through the 600s, the Conventional 97 Loan does gain attraction. The rate will drop as your credit score goes up, and the mortgage insurance costs also drop. This is different from FHA loans. Your mortgage rate and your mortgage insurance premiums are the same no matter what your credit score is.
We are advocates for the FHA loan for people with lower credit scores, especially in the short term. But over the long term, if your credit score goes up, you may find that a conventional loan is a more economic option.
Gifts for Down Payment is OK with FHA Home Loans
Another advantage of the FHA program for lower credit borrowers is that you can get help with your 3.5% down payment. If you have a friend or relative who is willing to help you with the down payment, you can have your entire down payment paid for with a gift. The only thing that you need to satisfy the FHA is to get a letter from the person granting the gift that states that it is a gift and does not need to be paid back.
New home buyers appreciate the government allowing money from friends and relatives, so find out if you have some gift-money available before you submit your FHA loan application.
Other Things to Consider when Buying a House with an FHA Loan
An FHA loan is a good option for many people with a lower credit score and income. But there are some other things to keep in mind about these loans. FHA mortgage insurance is more expensive than mortgage insurance for conventional loans.
In most cases, mortgage insurance is required on home loans that have less than 20% equity. This is to ensure that the lender is paid off in case you default. It is more likely for borrowers with less money in the game to default. (Ask about lender paid PMI options for alternatives to paying mortgage insurance monthly on a FHA loan.)
FHA loans are more expensive over the life of the loan because it charges both an up front and monthly mortgage insurance premium. The upfront amount is normally added to the base amount of the loan. Also, know that if you are putting down only 3.5%, you have to pay for mortgage insurance for the ENTIRE life of the loan. This seems excessive, and in some ways, it is, but FHA needs to have funds available to pay off lenders for defaulted loans.
If you are able to put down at least 10%, you can cancel mortgage insurance after 11 years.
On the other hand, conventional loans charge less for mortgage insurance, and you can get it cancelled once you have reached 20% equity or so.
If you want to get funds to repair the property, you can get a 203k loan with your FHA loan. You typically can get up to $35,000 and you still only need to put down 3.5%. With a conventional loan, you can also get repair funds but will typically need to have 5% down.
If you are planning on buying a house and selling it quickly for a profit, ask about FHA-flipping rules before getting to far in the process.
Takeaways on the FHA Down-Payment Requirements
The FHA loan really is one of the best, easiest to qualify for loans on the market. It is a program that allows millions of renters to buy a home years earlier than they otherwise would. Remember, if you have a credit score from the 500s to low 600s, you are best off with an FHA loan and a 3.5% down payment. If you have credit in the mid-600s, you should at least have your loan officer look at a conventional loan with a 3% down payment.
Regarding mortgage insurance, it is true you pay more with an FHA loan, but you may be in a position in a few years with a higher credit score to refinance into a conventional loan. Most people's credit scores rise after they have been making home payments after a year or two.