What is Lender Paid Mortgage Insurance (LPMI)?
There is a popular new home loan product sweeping the country, called lender paid PMI. It's a brilliant loan program in which the mortgage lender pays the mortgage insurance for the borrower in turn a slightly higher interest rate. In many cases, lender paid mortgage insurance can save the homeowner thousands of dollars a year. The LPMI program is considered a no PMI loan.
Lender Paid Mortgage Insurance vs Private Mortgage Insurance (PMI)
In the past, when you buy a home with less than a 20% down payment, you had to pay for mortgage insurance every month. Mortgage insurance shields the lender in case you do not pay the home loan.
Most people do not like paying for mortgage insurance (PMI), but the reality is that mortgage insurance payments allow millions of Americans to buy a home without 20% or more down. It is possible to buy a home with as little as 3.5% to 5% down these days, as long as you pay for mortgage insurance. There is a no PMI mortgage available and in some cases, you may be eligible for lender paid mortgage insurance.
But we are getting ahead of ourselves. Let's define your mortgage insurance options:
Lender Paid PMI (LPMI): The lender pays for your mortgage insurance, but it does not come free of charge! Instead, they raise the rate in most cases. With the higher rate, the lender can cover the cost of paying your mortgage insurance up front. This is why lender paid PMI is such a popular no PMI loan in 2018.
PMI: This is mortgage insurance that you the borrower pay yourself each month. This is the default form of mortgage insurance that most people pay. Your payment for insurance is added onto your monthly payment. PMI may be cancelled once your LTV is 78% of the value of the home. This may be the best choice for the borrower who plans to stay in the home and pay the mortgage for years. A related option is single premium PMI that you pay up front. This eliminates the monthly payment, but you take a risk if you sell the home in a few years, because the payment is not refundable.
Stop Paying Mortgage Insurance & Let the Lenders Cover Your PMI with a Lender Paid Mortgage Loan
In most cases the borrower pays a premium each month on top of your mortgage payment, home owner's insurance and taxes that insures the mortgage against default for the lender. It does cost a little bit extra each month and it will take more budgeting on your part. But if you want to forgo this expense, you may consider lender paid mortgage insurance, or LPMI.
Of course, if you go for LPMI, do not think that you are having the lender make your mortgage payment for you: You still are, it is just that with lender paid PMI, only the structure of the PMI is changing. Instead of paying a set amount each month, you will either fund a lump sum payment up front or you will need to make payments on top of your mortgage every month. Few Americans pay the lump sum for mortgage insurance up front with LPMI; the more common option is to pay a slightly higher interest rate.
If you do decide to make a lump sum payment, the lender will figure out how much is required to cover their costs. But if you decide to pay over the life of the loan with LPMI, you will pay a higher rate.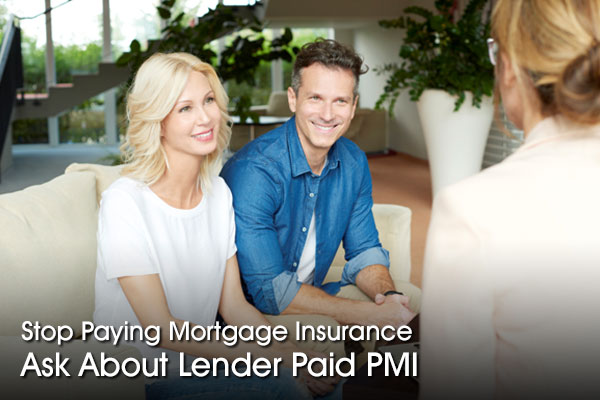 Things to Think About with Lender Paid PMI and Paying Mortgage Insurance Monthly
Lender paid PMI is not an option for every borrower. It many instances it does take better credit to even be considered for LPMI, and it only is good for certain borrowers:
People with high incomes. For people who choose lender paid PMI, it is usually the best choice for people with higher incomes. It is possible to have a higher tax deduction because they have a higher interest rate, if they are indeed deducting their yearly mortgage interest on their taxes. However, people who have lower incomes may be able to deduct their regular PMI payment, so having LPMI will not always give them more benefits at tax time.
Shorter term loans. Lender paid mortgage insurance is often the most attractive for a shorter home loan. It is not a good choice for the borrower who is making 30-year loan payments. This is because most lender paid PMI options involve paying a higher rate, rather than paying a lump sum up front. The mortgage rate will always be higher year after year, so you have to pay off your mortgage to get rid of the higher rate from the LPMI. This can be done by paying off the loan or by doing a refinance.
High loan to value. If you have an LTV of 80% or so, LPMI may not be the best option unless you are planning to pay off the loan shortly or refinancing. When you are close to 80% LTV, you are nearly done with making mortgage insurance payments. If you choose PMI and make a payment every month, you will be able to get rid of mortgage insurance soon and you will not have that higher interest rate. Keep in mind that you could have 80% LTV through a combination of making payments and home appreciation. It is possible that getting your mortgage insurance cancelled may be simply a matter of getting an appraisal, which costs a few hundred dollars.
What Does Mortgage Insurance Cost?
Whether you choose PMI or LPMI, you will need to pay mortgage insurance if you have less than 20% down. The cost of the insurance varies from lender to lender, but it is always based upon the actual cost of the insurance from the mortgage insurance provider. The amount of the insurance premium per year is based upon the following:
The amount of the loan
The term of the loan
Loan to value
Adjustable or fixed rate
FICO score
The premium for PMI can range from .2% to more than 1% of the amount of the loan per year, usually paid in installments each month. For instance, a $200,000 home loan with a premium rate of .5% would cost you around $80 per month.
Note that PMI rates are heavily based upon your FICO score. If you have a 640 FICO, you will pay $300 per month for mortgage insurance in the above example. For a 740 FICO, the cost would be only $100 per month.
If you have poor credit, an FHA loan is your best option because mortgage insurance for these government loans does not rise based upon poor credit.
Which Is The Best No PMI Loan?
This depends upon many factors mentioned here, but the lowest risk option is the regular PMI option with monthly payments. If you sell the home in two years, you will not be out the up-front mortgage insurance payment. And if you stay in the house for years, you also will not be paying a higher rate for decades with LPMI.