Best Loan Programs for Financing an FHA Approved Condo
Thousands of borrowers in all 50 states rely on affordable loans using the FHA condo approval. Congress does not agree on a great deal this year, but recently they did agree on a major housing finance issue that is good news for condominium buyers and sellers across the US. They both believe that the FHA or Federal Housing Administration has screwed up the condo loan program.
The US Senate recently passed legislation unanimously that will mandate that FHA relax condo financing regulations and make low down payment FHA guaranteed loans available to more people the FHA says it serves: People with moderate incomes, many of whom are minorities and first time buyers. Many of these lower income Americans often turn to condominiums as their most affordable housing option. The Senate voted unanimously on the bill, which followed a 427-0 vote in the US House of Representatives. Passage of this FHA financing legislation came after many years of complaints about the strict FHA requirements for condos. Critics said that FHA used to be the best source for condo financing for first time buyers, but since 2010, its role had shrunk in a big way. Search for Condo project approved by the FHA here.
During the previous 10 years, FHA helped to finance almost 100,000 condo mortgages per year, but in recent years, it had dwindled to around 25,000 per year. FHA lending for condo mortgages dropped in the first three months of 2016 by nearly 9%.
The restrictions on condo eligibility for financing became so difficult that thousands of condo associations gave up on FHA. The Community Associations Institute estimates that only 14,000 of 153,000 condo associations in the US currently qualify for FHA condo loans. Individual condos are not eligible for financing unless the whole association's reserves, insurance, budget and finances have been approved by FHA.
The bill aims to correct several key problems:
Ordering the agency to streamline the re-certification process for all condominium associations and make compliance easier.
Lower the minimum owner occupancy ratio from 50% to 35%
Allow transfer fees. FHA currently rejects condo communities that collect small transfer fees when a unit is sold.
Relaxing strict limits on commercial space in residential condo developments. Revenues from commercial leases are very important for urban condo developments to survive. In the past, FHA had made many buildings ineligible due to commercial tenants.
Consultants who work with associations and community managers to get through FHA certification have reported that since the bill was passed into law, there has been an increase in activity in condo approvals for financing. Condo boards that had been highly resistant to onerous FHA rules are not fighting as much now. People with lower incomes need to buy a home, and for many of them, an affordable condo unit is the best option.
So if you have been looking to get into a condo with an FHA mortgage, you could be in business.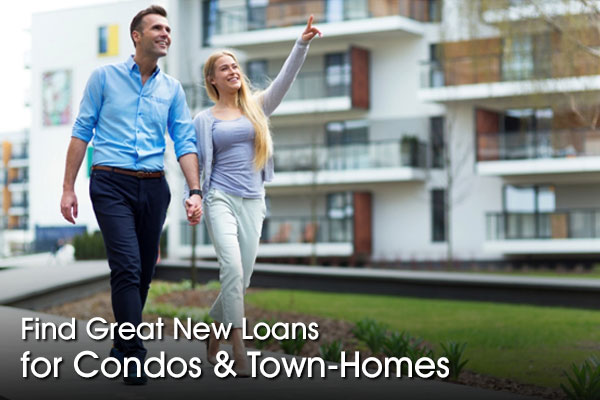 More about FHA Condo Loans
Many Americans opt for FHA loans for their housing finance needs because the agency has more relaxed lending standards and lower down payments. The FHA loan is guaranteed by the FHA, which means that the government will pay back the lender if the borrower defaults.
However, you as the borrower must pay for monthly mortgage insurance in case you default. This can amount to payments of $100 to $200 per month. People with lower incomes and lower credit scores love FHA home loans because the interest rates are very attractive and it is easier to qualify than for conventional loans.
Minimum credit scores for these loans depend on what type of loan you need. Many borrowers can get a mortgage with just a 3.5% down payment, and you need a credit score of 580 or more. If your credit score is under 579, you will need to make a 10% down payment.
FHA allows the home seller or lender to even pay some of your closing costs, which can include appraisal, credit report and title costs. Your lender may charge you a higher interest rate if it pays for some of these costs. But it allows you to get into a home loan with less out of pocket, which is worth it for many borrowers.
Keep in mind that FHA does NOT issue loans itself. Rather, it is a government insurer of private mortgage loans. You will need to get your mortgage loan through a lender approved by FHA. Not every lender will provide the same rate and costs, so you will need to compare.
Two mortgage insurance premiums must be paid on all loans from FHA. The premium upfront is 1.75% of the amount financed. It may be wrapped into the loan. The second is the annual premium and you pay that each month as part of your loan payment. It varies based upon how long your loan is for and how much you borrow.
If you are buying a home that needs repairs, you may be in business as well. FHA has a loan product for borrowers who need money to fix up their new home. This is a 203(k) loan and it is based upon the projected value after repairs are done. Even if you have trouble making your mortgage payments, FHA may be able to help. People with an FHA-insured loan who have suffered a financial difficulty may be able to delay payments or have their loan modified.
The Last Word
Getting an FHA loan on a condominium can be an excellent first step on the path of home ownership for many lower income Americans.
More FHA Articles: