VA Refinance Streamline Loans
The VA Streamline Refinance program, also called the Interest Rate Reduction Refinance Loan (IRRRL) program, is a great vehicle for current or past military that have a VA loan currently. This program is designed to greatly simplify your refinancing without much of the normal paperwork hassle associated with conventional mortgages. First of all, as we mentioned, you have to have a VA loan currently to qualify for this program.
How the VA Streamline Helps Veterans Refinance Quickly and Effortlessly
Let's break it down and show you just why you may want to consider streamlining your mortgage. Here are the Top 9 Reasons for Vets to Use the VA Streamline Refinance Program:
1. Refi at a Very Low Rate
This program allows veterans and active military to refinance at extremely low rates, sometimes lower than FHA loans. This can save you hundreds of dollars per month, and can be a lifesaver if you have had a reduction in income lately.
The VA loan is backed by the VA, so qualified lenders are willing to extend very generous loan terms to you with very low rates. What a great deal.
2. Very Little Paperwork Needed
The biggest advantage of this program is that it is so easy to use. Because you already were approved for a VA loan originally, it is simple to get a lower rate with a refi VA loan.
For most customers, your VA mortgage lender should be able to complete the loan in a few weeks. If you are in a hurry to get a lower payment, you usually do not have to wait very long.
3. Closing Cost Options
The closing costs for the VA refinance can be rolled into the new loan. So, you may be able to do a refinance without out of pocket costs at all. There are other options on closing costs, though. It may be possible for your lender to pay most of the closing costs in exchange for charging you a slightly higher rate. You will need to decide which is more important to you – paying up front money or paying a slightly higher rate each month. Ask about no cost mortgage loans that may be available in 2018.
4. No New Certificate of Eligibility Needed
You already had your Certificate of Eligibility verified when you got your original VA loan, so there is not any need to get another one. We said this was a minimal paperwork loan and we were serious!
5. You Can Use Another Lender
You do not have to refinance with the same lender that you used for your original VA loan. In fact, experts recommend that you shop around and try to find the best interest rate. Although all VA lenders are approved by VA, they are allowed by the federal government to offer different rates and loan criteria within certain standards. Get help finding competitive VA home loans.
6. No Appraisal Needed in Some Cases
This is another major cost and paperwork hassle that you can avoid with a VA streamline refinance – the VA does not require an appraisal. However, some lenders may want to do an appraisal again to make sure that the home is worth what they are lending. If you were to default on the mortgage, they want to know they can resell the home for what they loaned you.
Save Money with No Appraisal Requires
7. No Credit Check is Required
As in #6, the VA does not require that your credit be checked again for you to refinance. However, the individual lender may run a credit check to ensure that you are going to be likely to continue to pay on time. You should not worry too much about credit checks with VA loans generally; these VA programs are extremely flexible on credit scores. See no credit check mortgage opportunities.
No Minimum Credit Scores for VA Refinancing
Past Bankruptcies OK when seasoning requirements are met.
Refinance with Bad Credit with VA Eligibility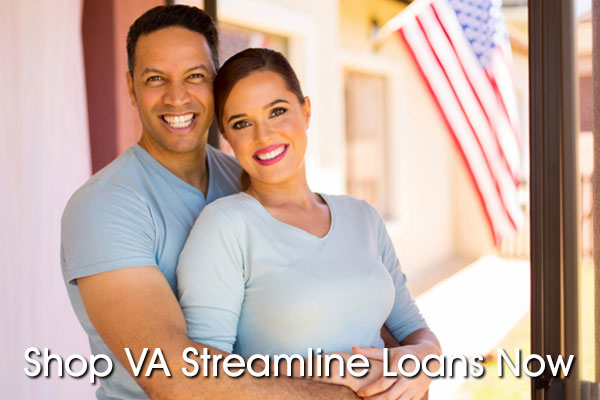 See If You Qualify Today
8. Cash May Be Received a Closing
You can get as much as $6000 cash at closing from the refinance, but the cash has to be used for energy efficiency upgrades on the home. It also has to be a reimbursement for upgrades that were made within 3 months before closing.
9. No Maximum Loan Size
There is no maximum size for any first VA loan. However, your streamline refinance is limited to the current balance on the loan, plus any late fees and charges.
The VA streamline refinance program is a fantastic deal for many VA homeowners. Current mortgage rates are lower than they were a few years ago, and refinancing with almost no cash out of pocket can be such a great deal. Further, people who need to refinance often want to reduce their costs because they had a job loss or other financial loss. Getting qualified for a refinance could be difficult for some of these homeowners. With many VA refinance loans, you do not have to go through all of that paperwork hassle and qualification. That is why getting a VA streamline refinance loan is one of the best deals for retired and current military. Definitely talk to a few lenders and see what they can do for you.