No Minimum Credit Score with VA Mortgage Programs
VA mortgage lenders are not overly concerned with a credit score. Finding a low rate is not a problem today, but getting good service and great interest rates on VA mortgages is hard to find. Our company aims to please and we are honored to serve the U.S. Military with mortgages that require nothing down.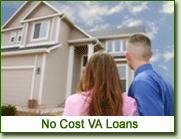 100% VA Home Financing
The VA mortgage is a great way for people with a military background to qualify for a zero down home loan.