Top 8 FHA Loan Programs
Many people are unaware that the government insures much more than just loans for home buying and many of the most popular FHA programs are actually for refinancing and rehabilitation. It's no secret that the FHA offers a chance for Americans to secure the loan that they need and purchase the home of their dreams. But what is often misunderstood is that there are multiple loan programs offered by the FHA. Different loans offer different solutions for buying and refinancing and depending on your ultimate goals and your current situation there are many different types of loan options available through the FHA.

It's worth taking a few moments and taking a look at some of the main ones available. So, with that in mind, here are the top 8 FHA loan programs available today. Let's take a look at the highest ranked government loan programs now. Review them and you'll likely find the ones that you feel fit your situation the best. FHA insured loans have become a staple in first time house financing in the United States.
Fixed Rate FHA – This is the standard FHA loan, and the one that most will be pursuing. It's a 1st time home loan that provides you with the funds you need to purchase the home of your choice. However, it's much easier to qualify for and offers things like lower credit score requirements, reduced debt to income ratio requirements, and a lower down payment requirement. In short, it's one of the easiest ways to secure the home loan you need to become a homeowner. This a considered a safe move with this purchase option under the FHA home loan umbrella.
FHA Streamline – This is a program that is designed for those who already have an FHA mortgage. The streamline refinance program is intended to waive the various documentation requirements of a bank like income verification or credit score verification. It can often reduce insurance premiums and will greatly speed up the process of securing a refinance while also reducing its complexity and the hassles of receiving it.
Cash Out FHA – The cash out refinance is very similar to traditional ones. You'll apply for a cash out loan insured by FHA and be given a refinance based on your current financial situation and on the equity in your home. That additional cash is yours to do as you wish with, from paying off existing debt to completing home repairs. Loan rates are very low, and the FHA cash out refinance is generally easier to qualify for than a traditional Fannie Mae or Freddie Mac loan. FHA remains one of the few programs to approve cash out refinance mortgages for bad credit.
203K Loan – This loan is offered by the FHA and is actually designed to appeal to those looking into buying a 'fixer upper' home. In the 203K Renovation Loan, you'll be borrowing the funds needed to pay for the home as well as funds that can be used for pre-determined repairs and renovations. These funds are held in escrow and paid to contractors who handle the repairs and remodels you need taken care of.
Energy Efficient Mortgage – This loan is available in any state and provides you with funds needed to purchase a home and also complete various pre-approved renovations or upgrades to make it easier to lower your monthly energy bills. As with a 203K loan, you'll be given funds to complete the updates and they are placed into escrow, then paid out as needed. Many FHA mortgage products reward home buyers for utilizing green energy.
FHA Reverse Mortgage (HECM) – The FHA reverse mortgage is similar to traditional reverse mortgages. You'll be able to use the equity in your home to gain a major sum of cash which is placed into your bank account for you to use as you desire. However, you aren't responsible for repaying the loan amount until you no longer use the home as your primary residence. It's a valid option for seniors who are looking for a way to supplement their current fixed income, and offers numerous benefits that make it worth looking into.
Graduate Payment Mortgage – A graduated payment mortgage is a type of FHA loan that is offered to those with low incomes but who expect their income levels to increase dramatically over the next five to ten years. It's similar to other FHA loans, but will usually involve payments that begin low and gradually increase over time as the income level of a borrower is expected to grow.
ARM – The FHA ARM is an adjustable rate mortgage that is very similar to any other adjustable mortgage. In these loans, the initial interest rate is usually quite low, but after a period of time – usually 5 years – it can adjust as current interest rates fluctuate. These loans are a good option for those who feel that they may end up selling their home at some point in the future, but for those who are planning on spending decades in their home they may not be the right call.
No matter the type of loan that you ultimately decide on using, it's worth remembering that most FHA loan programs offer lower qualification requirements and are generally a solid option for anyone who has been struggling with the more traditional loan options out there. FHA has always offered home financing solutions with low FHA-down payment requirements of only 3.5%. If you're trying to buy a home, it's a good idea to at least review the different loan programs offered by the FHA. There's a good chance you'll find one that is right for you.

This article was written by James Swift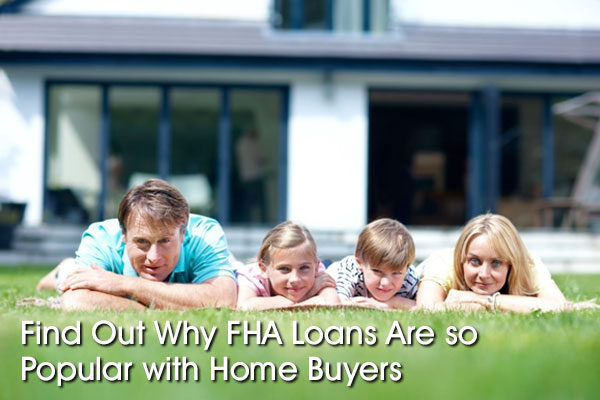 Why HUD Increases FHA Loan Limits by Different Amounts
Houses in some parts of the country cost much more than in other parts. A four-bedroom, 2000 square foot house near Houston might cost $225,000. The same home near San Francisco may cost $600,000 or more. If FHA does not increase the maximum loan limit as real estate prices go up, many people would not be able to qualify for an FHA loan. Learn more about the maximum FHA loan limits.
Another problem is that some specific real estate markets go up in value faster than others. So, FHA sets different maximum loan limits based upon specific cities and counties.
If FHA did not do this, many lower credit and income people in more expensive areas would not be able to qualify for a home at all. For those with lower credit scores and lower down payments, FHA loans are the best and only option to buy a home. Conventional loans require a larger down payment and credit score.
Still, even when FHA increases the maximum loan limit for an expensive county, sometimes the prices of homes will increase past the limit in short order. This still can prevent some people from buying a home in expensive areas. Read more on Buying a House with a FHA Mortgage in 2018.
How to Beat FHA Loan Limits
If you are interested in a home that is higher than the FHA loan limit for that area, here are some strategies to still get the home:
Put more money down: FHA loan limits are based upon the amount of the loan and not the actual property value. If you can, it is recommended to save up more money over time to bring more money to closing for the down payment. Putting more money down will also reduce the insurance premiums you pay for the mortgage. This will possibly reduce the interest rate you pay as well.
Improve your credit: If it is impossible to get an FHA loan for the size of loan you want, you can improve your credit score so you can qualify for a conventional loan. Just make your credit payments on time and pay down your loan amounts over 1-2 years, and you may be able to qualify for a conventional loan.
Look at cheaper areas: There may be counties in surrounding areas that are less expensive. Take a close look at counties that are lower cost but still a commutable distance to your work.
The FHA loan is one of the best options to buy a home affordably today. However, you need to be aware of the maximum loan limit for the area you want to buy in California. The Golden State has some of the highest real estate prices in the country. So, keep in mind the maximum loan amount for FHA loans for the county in which you want to buy, and consider other options if you cannot find a home for that amount.