Current 15 Year Mortgage Rates
If you have been paying attention to the news, you likely know that the fixed 15-year mortgage loan has made a comeback because of the historic low interest rates driven by the Federal Reserve and flat U.S. economy. The bond market continues to react favorably as banks have extended some of the lowest rates available to qualified applicants seeking a fifteen-year mortgage. This is really good news for homeowners looking to own their property outright in 15-years. This also helps stimulate homeownership with first time home buyers gaining access more affordable housing.
According to Freddie Mac, the average on 15-year mortgage rates fell to 2.84% with 0.5 points this month. Freddie issues a daily and monthly report that indicates the average commitment on interest rates and points from a large pool of trusted lenders in the United States. Homeowners now have the ability to cut the number of years they will have to pay a mortgage in half by refinancing into a 15-year mortgage clearing away from their past 30-year loan. Affordability is personal for each individual because not everyone has the means to move into a 15-year mortgage. Yes, the 15-year mortgage rates are lower than 30-year loans when comparing top lending sources for the purposes of refinancing. Take a few seconds and complete the form below to get today's 15-year rates and discuss your goals with a lending expert for free.
Why Homeowners Should Refinance from a 30 to a 15 Year Mortgage Today with a Fixed Rate
Mortgage interest rates still hover near record lows. That is why many homeowners are considering not just refinancing but mortgage refinancing from a 30-year loan to a 15-year loan. Refinancing into a 15-year mortgage loan is attractive for many consumers because you will pay the loan down faster and save tens and even hundreds of thousands of dollars in interest over the loan's life.
Mortgage experts tell us that people who have steady, reliable cash flow from their job and have extra income are well suited to refinance from a 30-year mortgage into a 15-year mortgage.
Some people who have a higher interest rate and then refinance into a 15-year mortgage at a lower rate could end up with little increase in payment. For most people, however, a shorter loan period will increase the monthly payment. Still, the long-term benefits of a 15-year mortgage cannot be ignored.
Consider These Benefits of Refinancing into a 15 Year Mortgage:
Interest rates for a 15-year mortgage is almost always lower than the rates for longer term loans. This can save you thousands in interest over the years. This is because shorter term loans are cheaper and less risky for lenders, so the savings are passed onto you. Shop today's mortgage refinance rates.
After 15 years, you no longer have a mortgage to pay and it is paid in full. This is a full 15 years less than a conventional mortgage.
At today's rates, the first payment on a 15-year mortgage is 66% principle and 34% interest, while the first payment on a 30-year fixed mortgage is 35% principal and 65% interest.
On a typical $200,000 mortgage, you would pay more than $230,000 in interest over the life of the loan, while with a 15-year loan, you would pay less than $100,000 in interest.
You will have fewer worries about retiring. If you can retire your mortgage at about the same time you retire yourself, you do not have to worry about covering mortgage payments on a retirement income.
Faster Build-Up of Equity: You will gain more ownership of your home much faster.
If your mortgage is bought by Fannie Mae or Freddie Mac, you could pay less in fees for your 15-year loan. These entities charge loan level price adjustments for 30-year mortgages but generally not for 15-year mortgages.
• FHA charges lower mortgage insurance premiums to those with 15-year loans. This means if you refinance into an FHA loans then you will pay less monthly for mortgage insurance thus cutting your housing expenses even more. In most instances the FHA down-payment will only be 3.5%.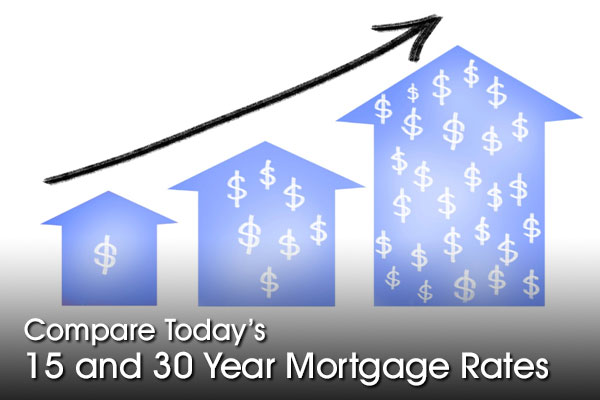 More Considerations for Refinancing into a Shorter Term
There are many benefits to refinancing into a 15-year mortgage, but there are considerations as well. One of the key things to think about is the affordability of the new, 15-year loan. Borrowers need to consider all of the costs that are associated with the refinance and also that the loan will reset to a new term. So, if you are on year 19 of a 30-year mortgage, it may not be worth the closing costs to refinance.
Another factor to consider is that the higher payment on the 15-year mortgage could limit you to purchase a smaller and more modest house than with a longer loan.
How long you intend to stay in your house also should be taken into consideration. If you are going to stay in your house for only another year or two, the costs of refinancing could be too high for it to be worth it.
If you want to enjoy the benefits of refinancing into a 15-year mortgage without the commitment, you also can consider the following:
Refinance your mortgage into the lowest possible, fixed rate for 30 years.
Ask the bank for the lowest rate that you can get.
Check rates for cash out refinance programs with 15-year terms
Send an extra 50% to your lender every month so that you are mimicking the 15 year payment.
With this system, you will benefit from paying your mortgage with 15 year payments and will save a great deal in interest. However, if you have a month that you do not want to send in the extra payment, you do not have to.
Lastly, of course, remember that the payment on your loan will be approximately 50% higher each month, so you will need to adjust your budget accordingly.
Overall, this is a great time to refinance into a 15-year mortgage. You just need to run the numbers on the payment each month to determine if the long-term interest savings are worth the higher payment in the short term. Article written by James Swift
Read the rate surveys that Freddie Mac has been reporting on for the last 25 years on fifteen year terms.