There is no application fee and no obligation. Get home buying loan quotes multiple FHA lenders simply by completing this quick form. The U.S. government continues to back aggressive homeownership initiatives with FHA first time home buyer programs that ensure affordability and the loans never have a pre-payment penalty.
Flexible FHA Credit Requirements
Affordable Interest Rates on FHA House Loans
No Early-Pay-off Fees with Government Insured Mortgages
No Application Fees or Hidden Costs
Below are more features and qualification criteria for FHA home loans:
Mortgage Insurance Required
The FHA house loan is a great deal for first time home buyers, but everything comes with a cost. You do need to pay for mortgage insurance both up front and per year. This is true no matter what your loan to value is. In conventional loans, you only must pay for mortgage insurance if you have less than 20% equity.
You must pay an upfront mortgage insurance premium of 1.75% of the total loan amount. You can wrap this into your loan if you like. The annual premium that you pay as part of your monthly payment will vary depending upon the size of the loan and how much you put down. It will typically add $100 to $150 to your monthly payment.
If you want to get rid of mortgage insurance, consider refinancing out of an FHA home loan once you hit 20% equity.
FHA Income Requirements
FHA housing loans are flexible and are open to people with both higher and lower income. As with any regular mortgage loan, expect to document your income with bank statements, tax returns, W-2s and paystubs. If you are self-employed, bank statements, tax returns and profit and loss statement for the year should do it.
Debt to Income Ratios
Your total debt to income ratio that includes your mortgage payment and all other monthly debt payments, should be no higher than 50%. You may be able to qualify for a higher amount if you have a higher credit score or a bigger down payment.
Other Requirements on Home Loans Insured by FHA
If you have a bankruptcy or foreclosure on your record, you still may be able to get an FHA loan. Generally, you need to wait two years after either of these events to qualify, but check with your lender.
Also, you should not have any late taxes due to the IRS. However, if you have set up a payment agreement and pay it on time, you should be fine on this point. Also, you should not have any defaulted federal student loan on your record.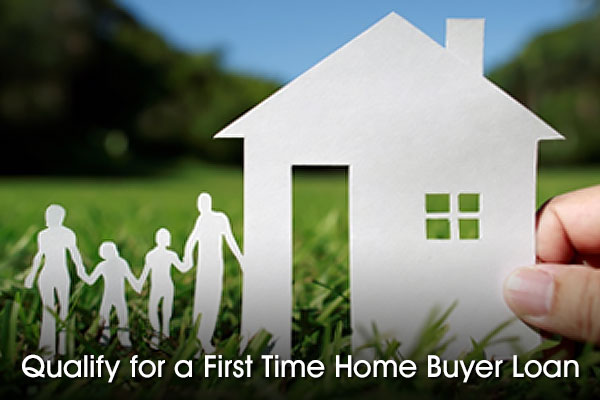 Did you know that the Federal Housing Administration insures mortgages for new home buyers and only requires a 3.5% down-payment? The rates are competitive and the mortgage insurance is minimal. In some cases, renters can become homeowners without increasing their housing expenses monthly either. FHA loan rates continue to be advertised near record lows.
Pros and Cons of Home Buying with FHA House Loan Programs
The FHA, or Federal Housing Administration, has as its goal making the possibility of homeownership available to as many people as possible. This means that they are a great resource, especially for individuals who are buying their very first home. FHA house loans come with a number of benefits that are specifically designed for first-time homebuyers who may not have the credit history to qualify for conventional loans from a bank or credit union. Of course, before an individual settles on a loan from the FHA, and it is important to keep in mind that there are a few cons that should be considered in addition to the host of pros that this administration offers. To many people, the FHA offers a path to buying a home with a bad credit loan.
The Federal Housing Administration also encourages homeowners to make their homes more energy efficient with solar loans and the 203K loans
Pros of House Buying with FHA
Easily the most impressive benefit that comes from getting a home loan to the FHA is the fact that they are much more flexible when it comes to the credit guidelines that they use to determine who can qualify for loan. This means that even an individual with a credit score as low as 500 can still qualify for a home loan through the Federal Housing Administration. They also offer impressive interest rates and an individual can often get a loan with a much lower down payment than a bank would normally require. Whether a person has a slightly checkered credit history or is simply young and has not had the time to build up an extensive credit history, they can still get a loan for the home of their dreams to the FHA.
Cons of Financing a House with FHA
One of the most important things to consider when getting a loan is how much the monthly payment is going to be. Individuals that get the largest loan that they can qualify for often find that they simply cannot afford the huge payment that they are required to make every month. With this in mind, it is worth noting that the FHA requires an individual to carry mortgage insurance. This can easily add an additional $50 to a monthly mortgage payment. Although that may not sound like a lot, when an individual adds it up over the lifetime of their loan, it is a substantial amount of money that they will be paying that they might not have to be responsible for if they had gone with a conventional loan.
In the end, whether or not to get a loan through the FHA will depend on a number of individual circumstances that a person must take into account.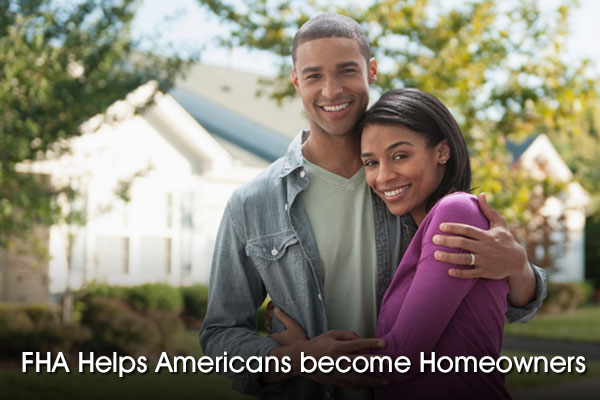 More Perspective on the FHA House Buyer Loans
The FHA house loan is not a 100% financing loan in most cases; it requires the borrower to put down 3.5% at least to buy a home.
But FHA first time home buyer loans have many other advantages that make them tempting. First, the interest rates are often below market, as FHA guarantees the loan. This backing ensures that the lender will be paid back if you default.
FHA house loans also allow the borrower to have relatively low credit scores in the low 600s. This is not an obstacle to buying a home for most people.
Also, FHA allows borrowers to get their down payment in the form of a gift from a friend or relative.
The only requirement is the money needs to be a gift and not a loan. An official letter from the person giving you the money is needed to provide to the underwriter.
For all intents and purposes, an FHA home mortgage where you get the down payment as a gift is a 100% financing loan. Many people do not realize that many FHA first time home buyers get their down payment in the form of a gift.
FHA also offers the Good Neighbor Next Door loan. Many teachers, public employees and police officers may be able to buy a home with only a $100 down payment. That may not be 100% financing, but it is darn close!
7 Tips for Buying a House with a FHA Loan
What are the seven most important things that you can know about FHA home loan programs?
1) FHA Home Loans Are Particularly Geared Toward First-Time Home Buyers
The FHA mortgage loan is extremely attractive for people who may have suffered from poor credit in the past. They are also very useful for first-time home buyers. Lenders involved with FHA loans work hard to ensure first-time buyers will be able to achieve their goals!
2) A Bankruptcy Does Not Mean Getting an FHA Loan Is Impossible
A bankruptcy on your record may make it difficult or impossible to get a mortgage other than an FHA loan. However, it has minimal effects on the FHA process. Depending on the circumstances of your bankruptcy, you may pursue an FHA loan 12 to 24 months after discharge.

3) FHA Only Requires a 3.5% Down Payment
Most bank loans require a down payment of 10%, 20%, or even more. Needless to say, it can take years to save up this amount under normal circumstances! FHA house loans help you move into your new home fast by limiting down payments to 3.5% of the sale price or appraised value of the home, whichever is less.
4) FHA Encourages the Use of Gift Funds To Defray Cash Costs
Some closing costs and incidental fees may have to be paid out of pocket when you are buying a home. Unlike other types of loans, FHA encourages the use of gifts from family members or others to handle these costs. The FHA does not count the use of gifts against you.
5) FHA Interest Rates Are Competitive Compared to Private Loans
FHA home loans are administered by private companies who are certified to manage them by the FHA and its parent department, HUD. FHA loans are less risky for lenders than other kinds of loans due to mortgage insurance and federal backing, so interest rates are competitive.
6) There Is No Prepayment Penalty for FHA House Loans
Many different types of loans hit you with a "double whammy" if you try to pay them off early: Instead of saving money by reducing the interest you have to pay, you get hit by a fee! If you find yourself able to pay off your FHA loan early, you are free to do so. You will not incur any fees, and will save money in the long run compared to the traditional 30-year pay period.
7) FHA Home Loans Are Assumable
Many loans are not assumable, meaning they cannot be passed on to another person under most circumstances. This can make it difficult for family members to inherit a property, for example. It also makes it hard for you to sell a property "free and clear." To help you avoid any difficulty with this, FHA house buying loans are completely assumable.
All these reasons and more make FHA loans a great choice for those looking for their first home, even if their credit history isn't perfect. An FHA mortgage advisor can help borrowers discover how to move into the home of their dreams faster.
FHA Loans for Condos
Congress finally passed the FHA condo reform bill. Now lenders are rolling out newly improved loan program for condominiums and townhouses. Find out how many units allowed with new FHA program and what vacancy factors are allowed with the reform.
FHA Home Buying for People
With All Types of Credit

* FHA House Loans for Bad Credit
* Limited Credit Home Buying Programs
* Pre-Qualify for a FHA House Loan even with Past Bankruptcies, foreclosures or short sales
Purchasing a house is one of the most important decisions that an individual ever make. In fact, for most people their home represents their greatest asset & investment. FHA has been helping people buy houses since 1934.
Low Down-Payments
Great Rates
Gif Funds OK
Bad Credit OK
No Application Fees on FHA House Loans
Affordable FHA Home Buying Loans
More Popular Articles for Homeowners:
Mortgage with a Low Down Payment
Buying a Home with a Subprime Loan