How to Buy a Second Home with Little Money Down
It is common for people as they get older and enjoy a rise in income to purchase a second home. Perhaps they want to have a vacation home in a warmer climate. Or, they desire a home in another part of the country for part of the year. This is commonly done by older Americans who have grandchildren across the country who want to be closer to family part of the year.
Qualifying for a second home loan can be tricky if you are not working with mortgage lenders that specialize in second home financing for vacation homes and income properties.
Are you considering buying a second home? Please review the overview and secrets below to make the second home buying loan process easier. If you are smart, you may be able to put little money down, as well.
Second Home Buying Loan Overview
by James Swift
The loan approval process to buy a second home will be similar to what you experienced on your first home. However, you can generally expect to see a higher level of scrutiny in many cases. Lenders naturally want to be confident that you can make two mortgage payments. Plus, you now need to handle the utility and upkeep expenses of both homes, not to mention taxes and insurance.
Your mortgage loan options will differ based upon whether you intend the home to be only for your own use, or if you want to rent it out for part of the year.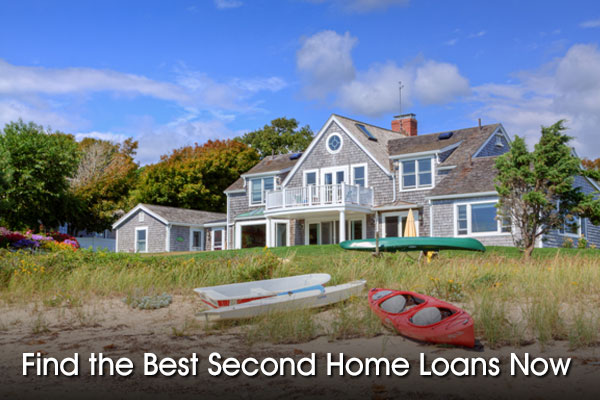 Second Home Loan Documentation
Your mortgage lender will need to see your income, assets and debts, just as with your primary home. This will require you to have your W-2 forms, tax returns for the last two years, and a recent mortgage statement that shows your current equity and balance.
Also, it is helpful to produce documents of any stocks and bonds you own, your balance in your 401k or IRA, and a property tax bill for your primary residence. Further, you will need to print out bank statements that show your savings. The lender will also run your credit to see how your current FICO score looks compared to what it was when you bought your first home. Learn more about vacation home loans.
Second Home for Personal Use
If you want to buy a second home for your personal use, usually it is required to have a hefty down payment. Most people will need to put down at least 20% on their second home's mortgage. Also be prepared to pay a higher interest rate of ¼ to ½ a point above your primary residence, as well as higher points. This is because a second home's mortgage is a higher risk for the lender.
Second Home for Investment Property
If you want to rent out the home for more than 14 days per year, then this will be considered an investment property by the lender. Mortgages for investment properties will have an interest rate of at least 1-2 points above the rate for a first home. Some lenders may decline to finance investment properties at all due to these being higher risk. Be ready to do some mortgage shopping.
If the home was rented out by the last owner, request the rental history. Lenders want to see what the possible income will be on the property, and also how long it stays vacant between each tenant.
If the property was not a rental before, you will need to have a rental appraisal done to provide an estimate of what the income and occupancy rate will be, based upon similar homes in the area. This will cost you about $300 or $400.
The income coming in from the property can be used to qualify for the loan, but generally, lenders only allow for up to 75% of the income to be used for income qualification purposes.
How to Reduce Your Down Payment
One of the major challenges for many people with a second home is to come up with the down payment. Many who want a second home or an investment property may opt to tap the equity in their first home to pay the down payment for the second.
This can be done with either a home equity loan or a home equity line of credit (HELOC). The interest rate on these second mortgage products will be higher than your first mortgage, but still can be very inexpensive money if you find the right lender.
You also can tap the equity in your first home by doing a cash out refinance. This could be a suitable strategy if your current first home's interest rate is higher than the current market average.
Also consider living in the second home for a time so that you can get a 3.5% down payment FHA loan on the property. If you can show that the second home is your primary residence, you may be able to get this type of low down payment loan on it.
Another way to buy a second home is to engage in a seller financing transaction with the current owner. Some sellers may want to sell the property that they own and are willing to allow you to buy the property by putting down less than 20.
If you can find a bank that will offer to fund 80% of the deal, the seller may allow you to borrow the other 20% from him, which would mean you are putting no money down.
This type of transaction is common with investment properties, but you will have to search around to find a seller finance deal. Most sellers want to get the cash from the home in a traditional sale and move on. If you are interested in this type of deal, you should talk to a real estate agent with access to the local MLS. Some properties may state that seller financing is available.
Finding a zero down home loan on a second house could be next to impossible to find, but You never know what will happen over the next few years as guidelines are eased.
The Bottom Line on Second Home Loans
Interest rates are very low, and home prices are going up in most areas of the country near major cities. So, this is still a good time in 2017 to buy a second home, whether it is for personal use or an investment property. If you are smart, there are ways to reduce your out of pocket expenses, too.
References
Six Options for Buying a Home with Little or No Down Payment. (n.d.). Retrieved from http://clark.com/homes-real-estate/6-options-for-buying-a-home-with-little-or-no/