How to Get a Home Loan After a Bankruptcy
Millions of American consumers have been financial problems and getting a home mortgage loan after a bankruptcy may be easier than you might think.
It has been nearly 10 years since the housing market crashed in the United States. Things are looking a lot better today in terms of home ownership, employment and the job market. Real estate is appreciating again too.
As more years go by, more Americans are cleaning up their finances after the biggest down turn of most of our lives. Many people may have had a foreclosure or bankruptcy due to losing money on real estate during the crash. Most people need to wait a certain period of time before they get a new loan; this is known as a waiting period.
But many people still think for whatever reason that if they have a bankruptcy on their credit report, they are disallowed from buying a home for seven or even 10 years. This is not true.
A bankruptcy is by no means the end of owning a home for years and years. In fact, many Americans can buy a new home not very long after a bankruptcy and/or a foreclosure. Today there are many mortgage programs available from FHA, USDA, VA and conventional lenders that allow for many Americans to buy a home after a bankruptcy.
Foreclosures and Bankruptcy
For many people during the downturn, a foreclosure occurred that was due to a loss of a job. For others, they owned real estate investments and could not find renters for their properties so they could pay the mortgages. The result in some cases for these people was declaring bankruptcy.
If you cannot pay the loan on a home, the lender will sell the home in a foreclosure or sheriff's sale at a discounted price. Whatever is left between what you paid and what it was sold for is what you owe the bank.
The lender may get a judgment for that deficiency. Every state has different laws regarding foreclosures. In some states, the former owner of the home will get a 1099 and the deficiency is viewed as income.
The best course of action for those who owe several hundred thousand dollars to mortgage lenders may be to declare Chapter 7 bankruptcy. This will clear your name of the deficiencies. Of course, doing this will cause you to have serious damage to your credit score; a bankruptcy will knock more than 100 points off your score for most people.
This is unfortunate, but it does not mean you will not be able to buy a home for 10 years. After you have gotten back on your feet, have income and have improved your credit score, you may be able to qualify for another home loan faster than you think. Learn more about bad credit home loans for first time buyers.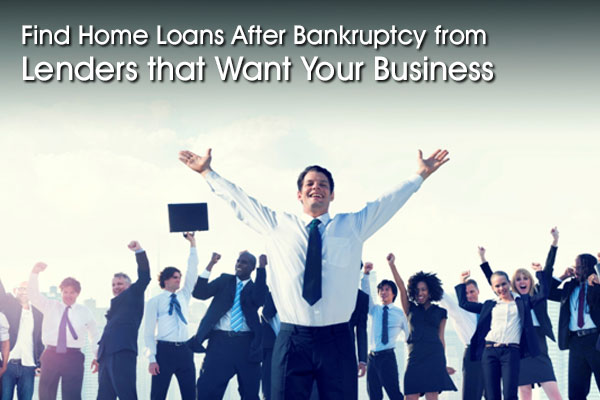 Waiting Periods for Chapter 7
Every type of mortgage loan has a different waiting period for getting a new loan after the bankruptcy. Below are the most common types of loans and waiting periods:
FHA: 2 years
VA: 2 years
Conventional: 4 years
USDA: 3 years
These are the standard waiting periods, but you can ask for permission from the lender to get a loan sooner in certain situations. If you can show that you had a major loss of income due to a situation you could not control, you may be able to get a loan in less time. For example, some homeowners were laid off from their job during the recession. This could qualify as an extenuating circumstance.
Some people who want to apply for a FHA loan may only have to wait one year to get a new loan.
Waiting Periods for Foreclosure
Usually, the waiting period for a foreclosure is seven years for a conventional loan. But you can get a big reduction of this if the foreclosure was related to the bankruptcy. What you have to understand is when the foreclosure was actually recorded, compared to when your bankruptcy was discharged. Different rules may apply depending upon if the foreclosure happened before/after the Chapter 7.
FHA Foreclosed Loans
If you had an FHA home mortgage that went into foreclosure, you could have a problem when you try to get a new loan. The lender will want to see a debt and default check from CAIVRS. This is a federal database that records loan status for federal loans such as those from the FHA. If you have a foreclosed FHA loan, that record will show up during the search.
But you can file an appeal for what is found by CAIVRS. HUD has an email address where you may send documents that show proof of when the home was sold off in foreclosure.
Rebuilding Credit with a Home Loan After a Bankruptcy
If you want to get a loan after a Chapter 7, the most important thing to do is to show you have steady income again. Also, you need to reestablish credit. How to do this? Believe it or not, you can often get a credit card even if your credit has been wrecked by a bankruptcy. You should apply for a credit card for people rebuilding their credit. You may only have a $500 credit limit, but this is sufficient to start building credit again. Make sure you make small purchases on it each month and pay it on time.
Also, you may be able to get a small car loan. Even if it is high interest, paying on a car loan of a few thousand dollars can quickly reestablish your credit.
You can often get a home loan after a bankruptcy just one or two years after it was finalized. In this case, the FHA house loan is often your best bet.