Buying a Home with an FHA Mortgage Loan Is a Smart Move in 2018
The FHA mortgage program has helped the housing market heat up this year as many first-time home buyers and millennial borrowers have been choosing government mortgages insured by the Federal Housing Administration. Check FHA mortgage rates today and you might be getting excited about becoming a home buyer this year. Our site will connect you with brokers and lenders that will show you how to buy a home using FHA financing this year.
Are you ready to buy a home in 2018 but you think that you cannot qualify? Maybe it is time to consider an FHA mortgage. Loans that are guaranteed by the Federal Housing Administration can be some of the best mortgage deals on the market in 2018. The FHA mortgage loan is so good that it currently constitutes approximately 30% of new loans that are originated each year.
Why FHA Mortgage Programs Are So Appealing to Home Buyers in the U.S.
This article will explain to you why the FHA can be such a steal this for 2017. But first, let's understand a few basic things about the FHA loan:
FHA mortgage loans are backed by the full faith and credit of the US government. What this means for you the buyer is this: If you do not pay your loan, the US government through your monthly mortgage insurance premium will pay back the lender most of what you owe.
This matters because mortgage lenders do not loan money to lose money. They do so to make a nice profit for their investors. Therefore, many mortgages with low interest rates are reserved only for those with the best credit (740+) and at least 20 percent down. In most cases the down-payment on an FHA mortgage is only 3.5% and that significantly helps first time home buyers that are hard-strapped to get the 20% down-payment that their local bank is requesting.
It is understandable why conventional lenders without backing by the US government have higher lending standards. But those standards can leave a lot of potential buyers with decent income but bad to average credit out in the cold.
If you do not pay the loan, the lender is mostly paid back the principal of the loan. Thus, lenders are willing to offer low FHA mortgage rates and down payments to many borrowers who might not qualify for a conventional loan.
These are the basic principles behind FHA-insured loans. Now let's dive into why buying a home with an FHA mortgage loan is a smart move this year: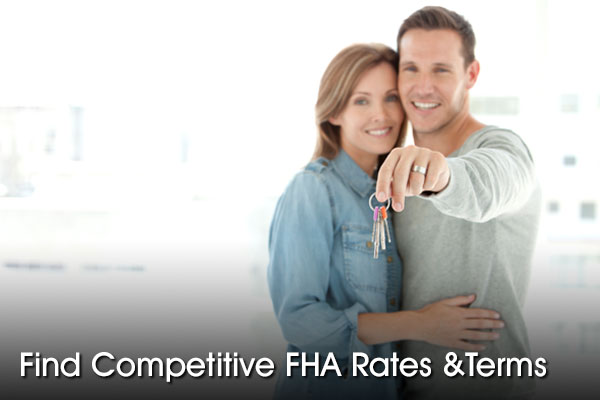 FHA Mortgage Rates Are Attractive and Competitive!
As of July 2018, interest rates on FHA loans are at least .25% to .50% lower than conventional rates, meaning that you may be able to lock in a 30-year, fixed rate FHA mortgages at under 4% - even if you have mediocre credit!
How is that possible? Remember the government guarantee of the FHA home loan. FHA-approved lenders are willing to take a higher risk on your loan because they know the loan will be mostly covered by Uncle Sam if you don't pay.
Imagine – it is possible for a borrower with 640 credit in some cases to get an interest rate on an FHA loan that is lower than some more credit worthy borrowers can get on conventional loans. Not a bad deal! Take a few minutes and apply for an FHA home loan and see if the pricing and monthly payment proposals meet your goals.
580 Credit Can Still Get a 3.5% Down Payment
FHA mortgage loans generally keep getting better for bad to average credit borrowers the more you consider them. FHA mortgages feature a down payment as low as a measly 3.5%. That is only $7500 on a $200,000 loan. And that is possible with a very low credit score of as low as 580. Check FHA-credit score requirements now.
If you have a credit score into the 620s to 640s, it will be admittedly easier to find a lender that will underwrite your loan with a 3.5% down payment. But it IS possible to score a 3.5% down payment loan with a very low credit score. It just means more loan shopping on your part.
FHA-approved lenders are allowed considerable flexibility on the minimum credit score they will consider on loans. Some lenders only take higher credit, and others will work with people with lower scores too. Ask your mortgage broker for lenders approved by FHA who are more likely to work with borrowers under a 600-credit score.
If you have a score under 580, you will likely need a 10% down payment.
3.5% Down Payments Are Almost the Best Deal Around
Other than credit history, down payment requirements are the biggest roadblock to buying a home. And it's not as easy as it was a decade ago: The salad days of 100% financing are just about consigned to the dustbin of history, unless you can qualify for a VA loan. Anyone who is not current or former military probably cannot beat the 3.5% down payment available with FHA loans.
Another option is the USDA loan, which offers a 100% financing option. But this solid product is only for homes in areas that have been deemed 'rural' according to USDA. Not every home is going to qualify, but it is worth checking the USDA website and entering your potential property address into their search to see if you can snag a USDA loan.
Some conventional loan programs backed by Fannie Mae and Freddie Mac may offer 3% down options, but the credit score required is usually above 640.
Rates on FHA Home Mortgage Could Rise Soon
Rates have risen since the beginning of 2018. But the Federal Reserve is poised to raise rates in mid-June 2018. It is not set in stone what that rate hike will be and how it will affect rates for mortgage. But generally, a Federal Reserve rate hike leads to higher mortgage rates for many borrowers.
So, if you have been mulling the purchase of your home but are not sure if you can qualify, now is a very good time to get pre-approved by an FHA-approved lender to see what rate you can qualify for. It certainly makes sense to complete a request form for a free loan quote once you have your credentials and paperwork ready.
Housing Prices Are Increasing
In many major US markets, we are in a seller's market. That means that there is less supply than demand for many cities. This is causing the available stock of homes to tighten and is raising prices. This is often a good deal for the home owner, but can be tough sailing for the home buyer with a limited down payment. The first time home mortgage programs have been very attractive and activity has increased thus.
Many major markets in the US will continue to see steadily rising prices, so 2018 or 2019 may be the time to drop the hammer and make your home purchase! Ask your local lender if they offer FHA-first time home buyer loans.
Wrap Home Improvements into Your FHA Mortgage
Another great plus of the FHA mortgage is the 203k loan that is also part of the FHA program. This feature lets you wrap renovation costs up to a certain amount into the 30-year or 15-year loan that you get with the FHA. This means you can pay for your renovations at a very low interest rate over time, rather than put it on high interest credit cards or take out a higher interest unsecured loan.
The 203k loan are fantastic for rehabbing a property that needs some TLC at a very affordable price.
Any home buyer who has a lower credit score, income and down payment should strongly consider buying a home with an FHA mortgage in 2017. It is true that you will need to pay for mortgage insurance (both an upfront premium that may be wrapped into the loan) and a monthly premium as well. But for many lower credit borrowers who have been paying rent, this is a small price to pay for buying a home.
The typical FHA mortgage allows the average to poor credit borrower to get an under-market interest rate and put down as low as 3.5%. This is tough to beat, and that's why the FHA mortgage loan is our top recommended mortgage product for 2018.
More FHA Articles Worth Reading