What Are No Income Verification Home Equity Loans and Stated HELOCs?
If you do not fit in the prefect box for an underwriter, then consider some of the programs that allow alternatives for income documentation. This website has been directing consumers to companies that specialize no income loans, AKA, "stated income home loans." Self-employed and independent contractors have been searching for a home equity line of credit with no income documentations. These types of borrowers have been embracing bank statement equity loans and no doc HELOCs because of the cash out opportunities and accessibility
Find out why we have so many loyal customers that return back time and time again. This year we continue to see a strong demand for no income verification HELOCS and fixed cash out loans. If you are searching for a cash-out refinance or an equity loan with no income documentation, then we can help match you with these unique lending specialists. The Federal Reserve may be hiking rates, but many lenders are easing credit standards and reducing income requirements for consumers seeking reduce documentation and stated income home equity loan programs.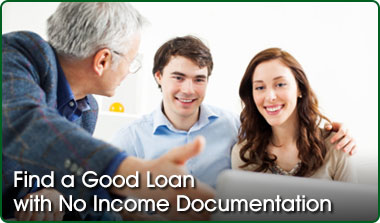 No Income Verification Home Equity Loan, HELOC and Refinance Credit Line Highlights
600+ Credit Scores
Hybrid Refinance ARM's
Fixed Rate Equity Loans 15, 20 and 30-year amortization
30, 60, and 90-day Mortgage Lates OK!
No minimum number of Trade Lines Required
Competitive Bank-Statement Loans
Cash Out up to $300,000 with Home Equity loans
Shop private money lenders today
Find Limited and No Income Verified Loans
Find Stated Income No Doc HELOCs
Loan Products Created for Debt Consolidation
No Income Verified Home Equity Loan Options
Nationwide Home Equity recently introduced some enhanced products that are easier for borrowers to get approved for without requiring as much income documentation. With a more stream-lined process, "less is definitely more." We have aligned our site with companies that offer simplified standards that enable borrowers with below average credit scores to find financing alternatives.

* Home Equity Loans to 100%
Equity Loans now available-average credit scores for
qualified applicants borrowing against their primary residence.
* Full-Document -Home Equity Loan up to $500,000
* Stated Income -Home Equity Loan up to $300,000
* Convert your adjustable rates to a Fixed Rate Loan
See online home equity approvals as fast as 10 minutes.
No doc HELOC and stated income home equity loan guidelines have changed in recent months, so we suggest speaking with professionals directly if you are considering a no income verification home equity line of credit or stated income credit lines.
What Credit Score Do You Need to Buy a Home with No Income Documentation?
There are millions of potential home buyers who lack traditional income documentation, such as pay stubs, W-2s and tax returns. Most often, these are seasonal workers or self-employed individuals who run their own businesses. Without traditional income documentation, it has often been harder since the mortgage crash to qualify for a no doc mortgage.
Below is more information about credit and other requirements you will likely need to meet if you want to buy a home with no income documentation.
Credit
If you do not have pay stubs or tax returns that show your regular income, you will probably need to have a higher credit score. Some lenders may require at least a 680-credit score to be considered for a mortgage; others may require a 700-credit score. For people to have the best chance to get approved for this type of no doc-mortgage, you should try to get your score as high as you can. Pay down as much debt as you can and lower your credit utilization rate. Make sure your bills are paid on time. You also should attempt to have your debt to income ratio below 43%. This means that all debts, including housing costs, should comprise less than 43% of your gross monthly income.
Tax Returns
Generally, you will need to have a year of tax returns that shows your income, which should show at least a year of self-employment income. The problem with this is that many self-employed people take heavy tax write offs with their business expenses, which can greatly reduce their taxable income. In such a case, you may end up with an income that does not support the mortgage that you want to get.
You may need to take fewer tax write offs in the years coming up to applying for a mortgage. Another option is to look for a lender who will qualify you with your bank statements. You generally are required to have 12 to 24 months of bank statements to get a lender to approve you for a mortgage.
Income
Another issue that can trip up a borrower with no income documentation is that they might say that they earn $6000 per month, but the financial documents they have shows they only make $4,000 per month.
Mortgage underwriters will use a complicated formula to determine what your qualifying income is as a self-employed borrower. They will first look at your taxable income, and may add back some deductions, such as depreciation, as that is not really an expense that comes from your bank account.
They also may subtract windfall or extraordinary income. If the income source does not seem to be ongoing and stable, you cannot usually use it qualify for a loan.
Other Documents
When you have limited income documentation, lenders will want to review your assets to ensure the down payment comes from a legitimate source. For instance, if a bank account shows a large deposit was made in the last two months, your underwriter could ask you to show where that money came from. It is possible you could need to provide other documentation as well, such as a business license or a statement from your CPA.
Down Payment
Without as much income documentation, you may need to come up with at least a 20% down payment, and possibly more.
20 Reasons Why a Home Equity Loans Are More Powerful than a Personal Loan or Credit Lines