Why Bank Statement-Loans Are Popular with Self Employed Home Buyers
After the financial downturn of nearly a decade ago, it became more difficult for self-employed borrowers to qualify for a home loan. This is largely because many self-employed workers do not have as good of a paper trail on their income. The most popular self-employed home loan is the bank statement loan that is available to qualified borrowers from a handful of mortgage lenders.
People who work for a company or business have a clear paper trail of paystubs and tax returns each year that makes their income very obvious. But many self-employed people may claim a high number of deductions, which may in some cases cancel out much of their income on paper.
Also, some self-employed workers operate largely in cash, so it is even harder to prove to the bank that you have a steady income. So, what is the self-employed borrower with income but less ability to prove it to do to buy a home?
You may be in luck. We here that subprime and private money lenders are rolling out new aggressive bank-statement mortgage loans in 2018 to meet the growing demand of self-employed borrowers buying and flipping houses. There are many alternative home loan programs that are hitting the market in the new year. One of these is what some call a bank statement loan. This is a home loan that the self-employed or state income borrower may be able to qualify for by using several months of bank statements.
The bank statement loan is made for workers whose employment history and tax returns do not adequately prove their financial stability and viability for the purpose of getting a home loan. Learn more about no-doc loans that were announced this year.
Bank Statement Loan Details
Generally, the self-employed borrower will need to show up to 12 monthly bank statements for the last year to qualify for this special type of loan. The bank statements may serve possibly as proof of down payment. They also may replace the employment history that normally needs to be shown on a loan application, or the W-2 forms required during the mortgage loan application process. The bank statement loan program has become one of the most popular self-employed mortgage option this year.
If you want to get a loan from bank statements, be prepared to have a solid credit score. Most lenders that specialize in these loans will expect at least a 680 FICO score to qualify. If you do not have that high of a score, it is recommended that you get your score up before you submit an application.
Other typical requirements for bank statement mortgage loans may include:
No tax returns required for self-employed borrowers
As high as 50% debt to income ratio may be allowed for some borrowers
Adjustable rate loans available – 5/1, 7/1, 10/1
LTV may be as high as 80% (at least 20% down required)
Cash out options may go as high as $350,000
These bank statement home loans are still rather unusual, but there are signs that more of them may be available in the near future. At a recent Mortgage Bankers Association conference in Las Vegas, there was plenty of talk and interest about expanding these types of programs.
If there are more bank statement loans for self-employed borrowers made available and done wisely, it could open up an entire new type of home loan business in the US. Consider 30 and 15-year mortgage loan programs. There are even 40-year mortgages that feature low monthly payment but longer amortization schedules.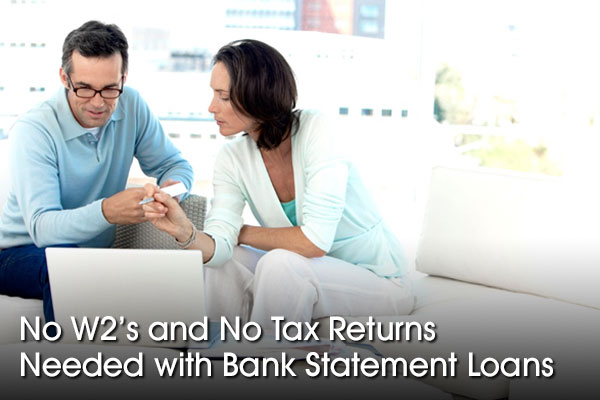 Other Types of Non-Standard Workers May Benefit
Bank statement home loans are a major benefit to the self-employed, as noted above. However, they are not the only workers that may be able to move into a new home with this growing program. Other possible beneficiaries may include:
Seasonal workers: If you are a regular W-2 worker but you have unsteady income due to seasonal work, this could be a good program for you as well. Many seasonal employees may not have enough income for the entire year, but make enough during one or two seasons to be able to afford a home loan. For example, landscapers may do most of their work from April to September, and have a slow winter. Many conventional lenders will take your income for those five or six months and annualize it, resulting in a too low monthly income to get a home. But you may be able to use a bank statement loan, if you have been working seasonally in the same job for two years.
Commissioned workers: There are millions of sales professionals in the US who live off of commissions. For example, car sales professionals may make $8000 one month and make $2000 the next month. This is also a common situation in real estate sales. Also, if you live off of commissions, you probably have more tax write offs due to various business expenses that come with sales and marketing work. If you use a bank statement loan, all of those write offs may not be a problem for loan qualifying purposes.
Borrowers living from assets: There are some people who may have a retirement or real estate portfolio that provides them with their income. If they do not have a regular job, they may not be able to get a conventional loan. But a bank statement loan can work for these borrowers. Expect to need at least three years of bank statement income to qualify.
Bank statement loans are becoming more common, but you will need to check with various lenders on this program. The ability to qualify and the terms available will vary from lender to lender. Also, a lot fewer lenders offer such programs, so you may need to do some homework to find a bank statement home loan lender who can help you. Take a few minutes and shop for the best home mortgage lenders that offer low-doc and bank statement mortgages with minimal lending fees.
Find out about FHA flipping rules if you are looking to flip a house or buy a second home.
That said, there is no question that a bank statement mortgage can be just the ticket for the self-employed borrower to live the American Dream!
Recent Article Posts