How Hard Money Lenders Offer Competitive Private Mortgage Loans
People who invest in real estate may turn to hard money loans to get some of their deals done. But what is a hard money loan and how do you qualify for one? Keep reading for some helpful information on how hard money lenders can help you secure a private money loan to solidify your future in real estate investing. Below we consider some recently announced hard money loan options for cash out, house buying, refinancing from trusted private mortgage lenders and much more.
Overview of Hard Money Loans from Private Money Lenders
A hard money loan is just a short term real estate loan that is secured by real estate. Hard money loans are funded by a private investor or a group of private investors, instead of conventional mortgage lenders such as banks.
Terms of hard money loans are usually short term, in the range of six months to one year. Some hard money lenders may provide a longer term of up to five years. In some cases, hard money loans may require you to make monthly payments that may be interest only, or interest plus some principal, with a balloon payment at the end.
When shopping private money loans, ask the hard money lenders what terms are available for your situation. There are many people that need a home refinance with bad credit and private money lenders are the only source willing take on the risks.
The key thing to understand about hard money loans is that the money is lent to the borrower based upon the value of the property. The credit of the borrower is of less importance, although borrowers with a high credit score over 700 may qualify for the best hard money mortgage rates. Borrowers who have credit problems still may be able to get a hard money loan or sub-prime mortgage if the property is of sufficient value. Low credit borrowers may be able to get the hard money lender to green light the loan as well if they put more money down.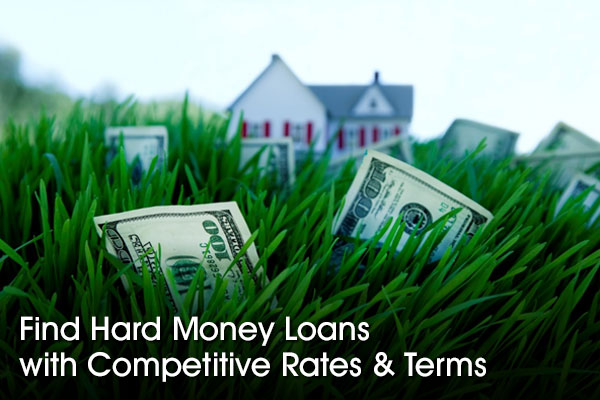 Types of Deals from Hard Money Mortgage Lenders
Not every type of real estate deal is appropriate for a hard money loan. If you are going to be the primary resident of the home and have good credit and a steady job, you will probably want to get a conventional or FHA-loan through a regular lender. Conventional loans with full documentation are the best option for people who are going to be living in the home and have the time available for a conventional loan to close (typically 1-3 months in the current lending environment).
Hard money loans are typically the best for short term, non-owner occupied real estate deals, such as fix and flips, land loans, construction loans, and when a real estate investor has to secure cash fast or lose the deal.
Who Should Use a Hard Money Loan
For most situations, the best person for a hard money loan is the investor who lacks his own cash to get a deal closed. Many real estate investment deals need to be funded quickly, or the seller will sell the deal to another party.
In many scenarios, a hard money mortgage can be closed and funded in seven days. If the hard money lender is familiar with your work and trusts you, it is possible for a hard money loan to be funded in 24 hours.
Like a bad-credit equity loan, a hard money mortgage will require the borrower to have some equity to qualify for most programs in 2017.
Being able to get a loan funded in a day is a big advantage when you are working a hot real estate market. It is not unheard of for there to be 5-6 offers on an investment property. The one that can get closed the fastest may be the one that gets the deal.
How to Qualify for a Hard Money Mortgage
The lending criteria for a hard money loan are quite variable. Some lenders will do deals that others won't do, and vice versa. There is considerably less regulation of hard money loans than with conventional loans, so you will need to shop around to find a hard money lender with terms that work for you.
As noted above, the primary criteria for securing a hard money loan is the underlying value of the property once it has been renovated. If the property is estimated by the lender to have sufficient value after rehab, they may give you the loan. The worst-case scenario is if you fail to get the project done and the lender has to sell the property to get its money back. This can be a profitable deal for the lender if it has done its homework.
Your credit rating is of less import, but you can expect to pay interest rates as high as 15% if you have a credit score well below 680. Rates for people with 740+ credit may be as low as 10%.
Depending upon the online mortgage lender, you can expect to put down at least 25% on the real estate deal. The lender wants you to have money in the deal so that you will get the project done.
The lender also will want to know your plans for the house. You need to show a good plan to the lender that shows that you will be able to turn a profit and pay off the loan.
Most real estate investors use a hard money loan to fix a property and flip it for a profit. Or, they may use the hard money loan to get the property fixed. Then, once it can qualify for conventional financing, he will pay off the hard money lender and get a conventional or FHA loan to rent out the property.
Take-Away with Hard Money Lenders
Hard money loans are an attractive way to get some real estate deals funded quickly. Make sure you have a property that you will be able to make a sufficient profit on so that you can attract a lender to fund your deal. Today's private mortgage lenders are advertising more attractive hard money loans than we have seen in many years.
Recent Article Posts