What Is a Jumbo Mortgage Loan?
A jumbo loan is a non-conforming loan that is too large to be purchased by Fannie Mae and Freddie Mac. In most areas of the US, any loan larger than $417,000 is considered jumbo. These types of mortgages are typically used by wealthier borrowers to buy larger homes. It is considered a 'non-conforming loan' because it does not meet government requirements for purchase in the secondary loan market. This is important because the secondary mortgage market is a major reason that most people can get loans at affordable rates. Fannie Mae purchases loans from regular lenders, which allows them to offer more jumbo loans to more new homeowners. First time home buyers are eligible for jumbo programs in all markets if the applicant meets the underwriting requirements.
Jumbo Mortgage Rates Dropped to All Time Lows
It is very important to find out what the jumbo loan limits are in your state and MSA area because the guidelines and pricing can be significantly different than conventional products. You don't want to be shopping for a home and assume you have more "purchase power" than you have. Find out what the standards and requirements are for jumbo loans in your region now. Nationwide can match you with mortgage lenders that specialize in jumbo home loans and con-conforming mortgages with no application charges or hidden fees.
A jumbo loan exceeds conforming loan limits so they are not as well qualified for secondary market purchasing. Jumbo loans have requirements just like regular loans:
10% down payment on jumbo home loans up to 1.5 million
80-10 Jumbo loan programs with No PMI
20% down in most cases without using an equity loan or paying mortgage insurance
Documented income requirements from traditional lenders
Minimum credit score generally of 640 for prime jumbo interest rates
Non-prime jumbo options with credit scores as low as 580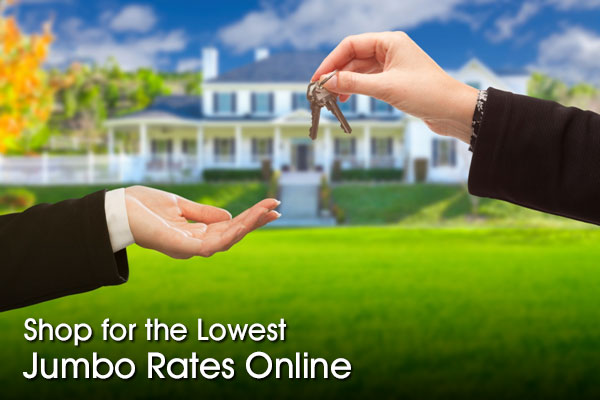 Shop for the Lowest Jumbo Rates Online
Due to economic stimulus efforts by the federal government since 2008, jumbo mortgage ceilings have been raised in some cases. The US Congress authorized a short term increase on jumbo, non-conforming loans in higher cost areas, based upon the median sales prices. This change has provided greater financial flexibility for people who live in higher cost regions in California for example. In some areas there, the highest conforming loan limit as of 2013 was $729,000. This remains the current loan size limits on jumbo mortgages. The most popular term for the jumbo is the 30-year mortgage, but we are seeing a surge in non-conventional requests for the 15-year mortgage. We continue to hear whispers of 3% rates so find out what today's rates on jumbo loans for your credentials.
What Are the Benefits of Jumbo Home Loans?
Jumbo loans are as easy to obtain as regular, conforming mortgage loans, if you have a good credit history and have sufficient income and down payment.
Also, a jumbo mortgage can help consumers to buy a more expensive dream home faster. This is a significant advantage for people who have larger incomes that they want to put into a home.
With a jumbo loan, you do not need two or three loans. This makes buying your home simpler; in the past, borrowers had to find two or more lenders to buy their house.
There also are many jumbo loan products to choose from.
Jumbo refinancing can lead to big savings. Some people have a regular mortgage that they refinance into a lower adjustable jumbo mortgage, saving them hundred of dollars per month.
Jumbo loan interest rates have dropped in recent years, as well, and are more affordable than ever.
Some lenders are making excellent jumbo loan offers in 2016, with lower fees and faster processing. These types of loans are riskier for the lender, but the lender stands to make major interest profits over the life of the loan.
Ask about lender paid options available on a mortgage refinance with no closing costs.
What Are the Disadvantages of Jumbo Mortgage Loans?
These types of loans are higher risk than regular mortgage loans, and lenders will charge a higher interest rate to borrow higher amounts of money.
Higher interest rate than a conforming loan, due to risk and inability to sell the loan on the secondary market.
Jumbo loans usually feature adjustable rates because the fixed rates are too high for most people. This means that after a few years, a borrower may see a balloon increase in mortgage payments. This is in place to minimize risks to lenders due to the size of the loan. You would usually have to refinance the mortgage at that point.
Overall, a jumbo mortgage loans is a good option for a borrower with a higher income, good credit and wants to buy a more expensive home.