Current 30-Year Mortgage Rates
See Competitive Thirty Yr. Home Loan Offers
For over a decade, Nationwide has been matching consumers with offers for some of the lowest 30-year mortgage rates available online for conventional, FHA, VA and jumbo home loans. With 30-year mortgage rates breaking records again this year, our lenders suggest fixed rate terms. Now is a truly amazing time to lock into a 30-year loan. With money this cheap, you can afford to buy the home you want rather than settling on a home because of mortgage payments. Borrowers like the thirty-year mortgage option because the payments are low and the term features a responsible fixed interest rate for the duration of the term. Most financing advisors are strongly recommending the 30-year mortgage rate today, because the interest rates are so low.
Find Out How to Get Approved for the Lowest Mortgage Rate in 30 Years!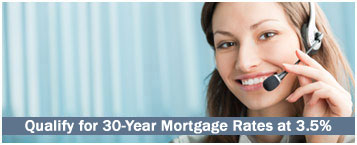 30-Year FHA Mortgage Rates
30-Year VA Mortgage Rates
Thirty-Year Jumbo Loans
Fixed 30-Year Home Loan Rates
30-Year Conventional Home Loans
30-Year Home Equity Loans
The Federal Reserve announced that key interest rates would remain unchanged. This will ensure popular programs like the conforming and government programs would remain affordable with record-low 30-year mortgage rates for 2017 and 2018. If you think you may move in 3 to 5 years, ask about the ARM mortgage programs, like the 3/1 and 5/1 ARM.
Let Nationwide help you find the lenders who can figure out which home loan program makes that most sense for your situation. Our volume continues to help our customers get the best pricing available on current 30-year mortgage rates. Whether you or buying a house or just refinancing for a lower payment, we can help you save money and feel confident that you have the best mortgage for your situation.