8 Things to Help You Get a Mortgage Loan with Credit Problems
Have you fallen on hard times with a job loss or reduction in hours? Perhaps you have made some financial mistakes and your credit took a hit. You still may be able to get a bad credit mortgage even with some substantial credit problems. Banks and mortgage companies were forced to adjust their credit standards because of the financial crisis that hammered the U.S. a few years back. Just recently we started to see more aggressive lending emerge with affordable mortgages for people with bad credit, past bankruptcies and even foreclosures.
Read on to learn about your mortgage options if you have credit problems.
#1 Look at FHA Mortgages
A conventional home loan may not be available to those who have credit problems, as they may be too risky for lenders. However, the Federal Housing Administration or FHA can be a great option for a potential homebuyer with credit problems. For over 8 decades they have been insuring bad credit mortgage loans.
While the FHA does not lend money, it offers insurance for lenders by guaranteeing they will pay off your lender if you default on the mortgage. For the lender, this lowers their risk for lending to someone with poor credit. It also greatly improves the chances that your mortgage application will be approved.
Many people with credit problems can be approved for an FHA mortgage loan. Even if you have a bankruptcy or short sale on your credit report, you may be able to be approved after a two-year wait.
#2 Make It Short Term
Getting a mortgage with credit problems is possible but it will cost you more over the long haul. If you decide to do it, make it a temporary solution. After you have paid on your mortgage for a year, your credit profile should be substantially better, if you are being financially prudent in other areas of your budget. You should be able to refinance into a lower cost mortgage.
#3 Get an ARM
If you get a mortgage with a lower credit score, you should at least think about an adjustable rate mortgage or ARM, as the rate on a fixed loan will be quite high. A short-term ARM of three or five years should help to keep your mortgage payments more reasonable. There is no reason to be scared this type of loan if your plan is to only keep it for a short period while your credit score rebounds. In most instances, it makes sense to only consider keeping a bad credit mortgages only as long as you to.
The major risk to an ARM is that the interest rate will rise after a few years. However, this is not considered a major problem by many experts if you are intending to keep the loan for a short term. It is very important for you to manage your finances well with an ARM so that you can refinance with a better credit score in a few years.
#4 No Prepayment Penalty
Some sketchy lenders may try to talk you into getting a loan with a prepayment penalty. This allows your lender to collect more money from you if you pay it off early or make extra payments. Prepayment penalties are a bad deal for consumers and you should never agree to it, regardless of what your credit score is. Anything that discourages you from reducing debt is a bad idea. Even most subprime lenders have stopped requiring penalty for an early pay off on home loans for bad credit.
If you are able to pay more per month on your mortgage, please do so.
#5 Increase Your Credit Score
If you have credit problems, you clearly need to work on increasing your credit score. Even a small increase of a few points can help. While you are in your higher cost mortgage loan, you should be working overtime to boost your score.
The first step is to order copies of your credit report from TransUnion, Experian and Equifax and look for anything that is inaccurate. You should dispute anything that is not correct and this will help to increase your score quickly.
Also, work on paying down your overall debt and make all of your bill and credit card payments on time each month.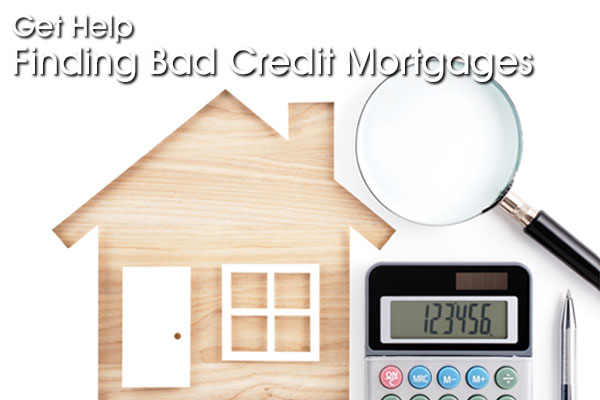 #6 Put More Down
One of the best ways to make you a lower risk for a lender is to put down more money at closing. If you have savings built up, this can really help you get a mortgage more easily. Lenders want to have assurance that you will pay them back. And the more equity that is in the home, the more comfortable they will feel. Down-payments remain a very important factor for evaluating risk. The more a borrower deposits as a down-payment the less of a risk the underwriter will consider that applicant.
Another benefit of putting down a larger down payment is that you will not need to shell out money each month for private mortgage insurance or PMI. This is a requirement for all homeowners who put down less than 20% of the cost of the loan.
As far as how much to put down, it depends. Some people put down 5%, 10% or even 20%. The minimum for FHA insured loans is currently 3.5%. You can accept down payment help from friends and family but it must be a gift and not a loan. If you suffer from really bad credit, then you may be required to put more down. There are a handful of subprime lenders that offer mortgages for people with bad credit if the borrower can come up with more money down.
#7 Get a Co-Signer
If you have credit problems, you can ask a family member with good credit to co-sign a loan with you. Note that this agreement will mean that your family member is obligated to pay your debt if you cannot. If you default, both of you will suffer negative financial consequences.
By trying some or all of these tips, we think that you will be able to get approved for a mortgage, even if you have credit problems.
#8 Consider Other Lenders
Many of the subprime lenders have gone out of business since the financial meltdown, but there still are legitimate subprime lenders out there to consider, such as Chase Mortgage Bankers, Wells Fargo Mortgage Bankers and BMO Harris Bank Mortgage Bankers.
Mortgage brokers have access to countless lending programs and can be your best bet if you have so-so credit.