Comparing the FHA Streamline to HARP Refinance Mortgage
If you want to refinance your mortgage to a new, low rate, you might be thinking of an FHA Streamline or HARP refinance. Both of these mortgage refinance programs offer really great benefits to borrowers who qualify. You can save money on your monthly payments and build equity in your home.
But how do the two refinance programs compare? Which one is the one for your situation? Learn more below about the pros and cons of the HARP refinance and the Streamline insured by FHA.
Streamline Refinancing Requires No Appraisal
There is No LTV Requirements with a HARP Refinance Mortgages
FHA Allows Lower Credit Scores than HARP
Rates on FHA and HARP are similar
About HARP Refinance
HARP stands for the Home Affordable Refinance Program, and it has helped many homeowners who were underwater on their mortgage. This means that they owed more on the home than they could sell it for. These homeowners usually had a lot of trouble qualifying for a regular mortgage refinance program. This is because they had little equity or even negative equity.
HARP allows qualifying underwater homeowners that have a loan that is backed by Fannie Mae or Freddie Mac to refinance at a lower interest rate, even if they were underwater. The HARP refi program allows borrowers to refinance their mortgage at the appraisal value when they bought the home, which is obviously a huge benefit.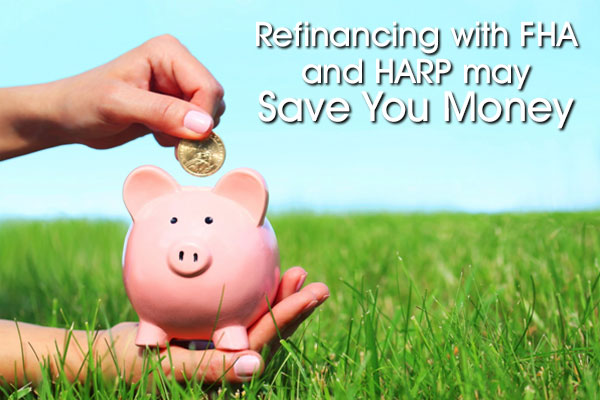 One of the key things to understand about HARP is that it is for homeowners who are current on their mortgage. It is not for people who are behind on their payments and are facing foreclosure. If that is you, make sure you contact your mortgage lender as soon as possible to try to work things out.
To qualify for HARP, you must meet these criteria:
Must be underwater on your mortgage
Must be current on your mortgage with no more than one missed payment in the last year
You cannot have any missed payments in the last 180 days
If you used an earlier version of HARP, you are ineligible for today's HARP program
HARP has been a popular program that was started in 2009, right after the mortgage meltdown. On average, borrowers who refinance through HARP are able to save $150 per month on their mortgage payments. Whether you should do a HARP refinance or not will depend upon your exact situation. Do not forget to factor in your closing costs, as that can add several thousand dollars to the transaction.
About FHA Streamline
The FHA Streamline Refinance is similar to HARP; it allows some homeowners (in this case, those with an FHA mortgage) to refinance at a lower rate. In most cases, the borrower initially came up with a 3.5% down-payment on a FHA loan, so in most cases the homeowner would not have much equity earned in their house. The big advantage of this program is that it allows FHA mortgage holders to refinance quickly and easily. This is because the FHA Streamline process does not require most of the documentation that a regular refinance requires. According to FHA, the following information is not required to refinance an FHA mortgage with the Streamline program:
Verification of employment
Verification of income
Credit check
Appraisal of home
The FHA streamline program has been one of FHA's most popular programs ever. It is much easier for people to qualify for a mortgage refinance because there is no credit check or verification of employment or income. This is significant for many borrowers because after the last recession, many people lost their jobs and a great deal of equity in their home. Many thought that they would lose their home to foreclosure, but this FHA program has prevented many of those foreclosures.
You might wonder why FHA does this. It is of course not out of kindness. Rather, FHA insures mortgages, so if a borrower defaults on a loan, the FHA has to pay off the lender. It makes a lot of financial sense for FHA to do all it can to reduce the numbers of foreclosures on its books. By helping homeowners stay in their homes whenever possible, FHA is also helping itself. To refinance with FHA, you have to use a lender that is approved by FHA. All approved mortgage lenders have gone through a HUD screening process. Another difference from HARP is that the FHA refinance usually involves a reduction in the principal owed.
You should speak to mortgage lenders about the HARP refinance and FHA streamline refinance program. Note that the FHA refinance program is only for FHA mortgages. If your mortgage is backed by Fannie or Freddie, you need to use the HARP refinance program. Whether it makes sense to refinance depends upon how much money it will save you every month. If it will save you $100 or $200 per month, you need to weigh that against what it is going to cost in closing costs.
If you decide that it is worth it, refinancing with either of these programs can really make a big difference for most homeowners. Staying in one's home is nearly always better than foreclosure.