Top Government Mortgage Loans in 2018
Buying a home for the first time can be a challenge. Between the paperwork, fees, down payments and number of people involved, getting to the closing table can feel like running a marathon!
But running the 'mortgage marathon' is easier in 2018 because there are a number of government mortgage loans and other programs that can help you. Even if you have little down payment, lower income or so-so credit, you still may be able to buy a home this year financed by government home loans!
Here are the best government mortgage loan programs you should know about:
Federal Housing Administration (FHA)
This is the go-to government mortgage loan program for those with average credit and little saved for a down payment. It is a great fit for first time home buyers who lack equity for that down payment.
The Federal Housing Administration does not give you a loan itself. It actually guarantees a large chunk of the borrowed funds. This allows FHA-approved lenders to loosen their mortgage acceptance standards. With a loan that is backed by FHA, you may be able to get a FHA loan with a 3.5% down-payment.
To qualify for that low-down payment, you need to have a 580-credit score or higher. Ideally, a 620 to 640 credit score will allow you to have more lenders to choose from.
In terms of rate, FHA loans typically carry a rate lower than the market average. You do need to pay mortgage insurance for the entire life of the loan, which is a downer. That is why once you get 20% equity in your property, you should work to have good credit of 680 or higher so that you can refinance into a conventional loan without mortgage insurance.
FHA loans also allow you to get your down payment in the form of a gift, so in a sense, this CAN be a 100% financing loan.
In most cases, FHA loan rates are very competitive with minimal closing costs as well.
People who have poor credit often can be approved for an FHA insured loan, and a bankruptcy or foreclosure is not an obstacle. You do need to wait up to two years after those negative events, however. It doesn't hurt to speak with a few lending professionals before submitting a FHA loan application on the internet.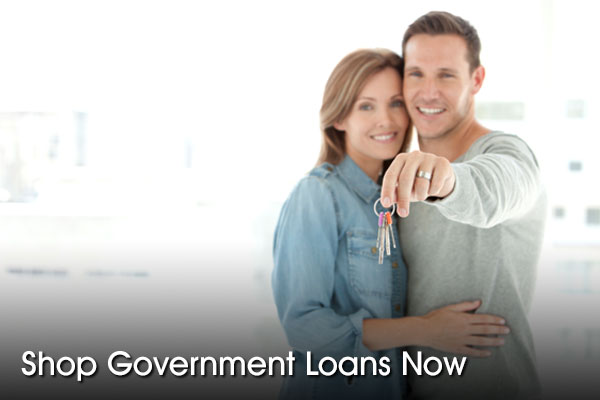 Veterans Affairs (VA)
Military vets and active military have an even better option than FHA – VA. The VA helps active duty, vets and surviving spouses to purchase homes. VA loans are very generous and flexible. Usually, 100% financing is available and there is no mortgage insurance. Rates are low, too.
VA home loans usually only require you to have enough income to afford the loan, and have a reasonable amount of other debt. Some VA-approved lenders may have higher requirements, but if you have enough income to pay for the loan, you probably can find a lender that can help you.
There is an upfront VA loan funding fee that has to be paid, but it can be wrapped into the loan amount in most cases.
If you can qualify, the VA loan is one of the few 100% financing loans available on the market today. Those with poor credit may need to shop around to various VA-approved lenders to find one that will give you a loan. But if you have a credit score of 600 or higher, you should be able to find one that will give you a 100% financing loan.
US Department of Agriculture (USDA)
Another 100% financing loan offered by the government is the USDA loan program. USDA loans are made for people with lower credit and incomes who are buying in a 'rural area.' Your property needs to meet the USDA definition of 'rural,' but this is more flexible than you might think.
It is not necessary to buy a home on a farm. There are many suburban areas near major US cities that meet the USDA meaning of 'rural.'
This program features low interest rates and 100% financing. There are many USDA-approved lenders, and people with very low incomes may qualify to get a home loan offered by the USDA itself.
Good Neighbor Next Door
This government mortgage program was once called the Teacher Next Door program. Today it has been expanded to include other public servants such as law enforcement, firefighters and EMTs. This program is sponsored by HUD; it currently allows 50% discounts off of the list price for homes that are in areas of communities that are being revitalized.
Interest rates and down payments are affordable. The buyer of the property only needs to commit to living in the home for three years. The homes that qualify are listed on the Good Neighbor Next Door website.
Dollar Homes
HUD also offers $1 homes that have been purchased from FHA foreclosure lists. This is not a large number of homes, but there are homes that are available here for a very low price. We recommend that any homes that you consider from this list be carefully inspected by a professional to determine what types of repairs need to be made.
Fannie Mae and Freddie Mac
These are government-backed mortgage providers that provide various low-down payment and low interest rate options for people with lower credit and incomes.
Many of the programs offered by these government entities through their approved lenders have 5% down payment programs. But today there are also some 3% down programs available.
As with FHA loans, you will have a higher number of loan options with a credit score in the 680 range, but keep looking at various lenders if you have a lower score than that.
Find out if PACE financing could help you make your house more energy efficient.
The Bottom Line on Government Home Loans
The US government knows that a robust and growing housing market is a boon for the US economy. More people owning homes means a stronger economy because people buy things for those homes. People buying homes also means more activity for home builders and renovators. So, the government provides plenty of support for the mortgage and housing industries in 2017.
Check out the above housing programs today and see if you can enjoy your piece of the American dream in 2017.
References: HUD Homestore. (n.d.). Retrieved from
https://www.hudhomestore.com/Home/GNND.aspx